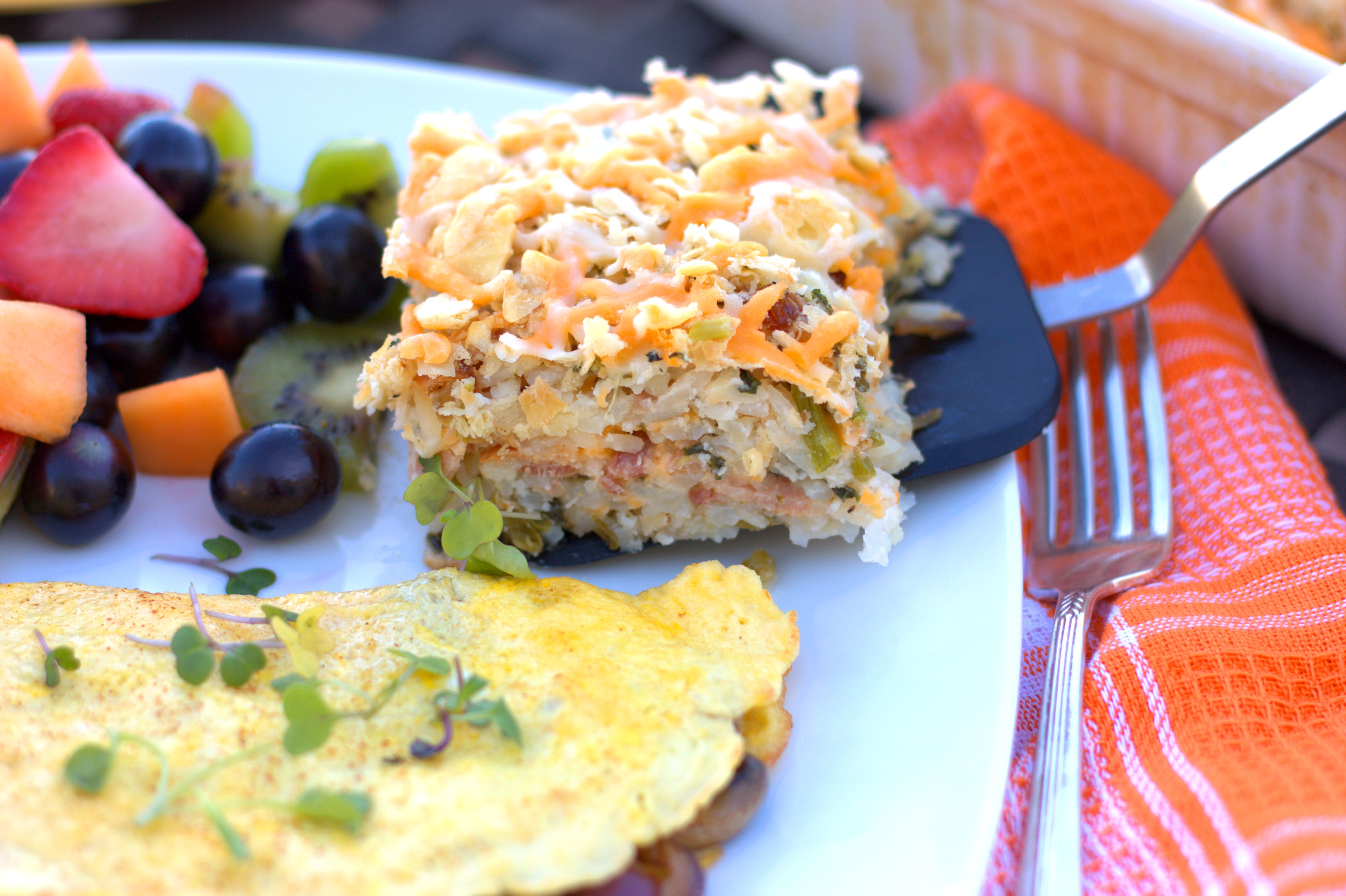 I love the draw of the TV show Chopped – either it is the awe of the unusual ingredients the contestants have to work with, or shock of ingredients I can't imagine having to use to craft a master recipe. Like most of us, I have wondered what it would be like to try my hand at the competition.
Recently, Food Network paired with Sargento cheese to sponsor a 3-round content with various "basket ingredients". I entered round 3, which required contestants to use the Sargento® Chef Blends 4 State Cheddar, kale, bacon, and oyster crackers. While I didn't make it to the final competition, I was a winner with my family in the recipe I created – this 4-State Cheddar, Bacon, & Kale Hash Brown Casserole.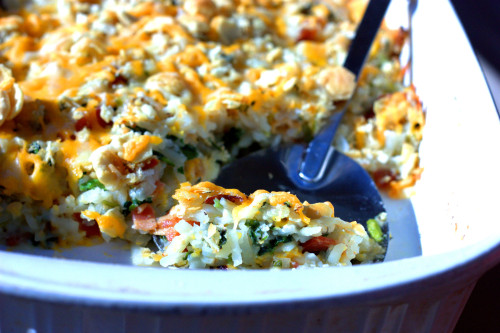 I was inspired by a typical potluck dish – "funeral potatoes". A decadent dish of hash browns and cheese, topped with a crunchy cereal crust is a often a favorite at church potlucks, family BBQs, and yes funerals. I decided to take the dish up a notch by stirring in a bit of kale and bacon, and by swapping the corn flake toping for oyster crackers. I also lightened it up, while maintaining the creaminess by using blended cottage cheese.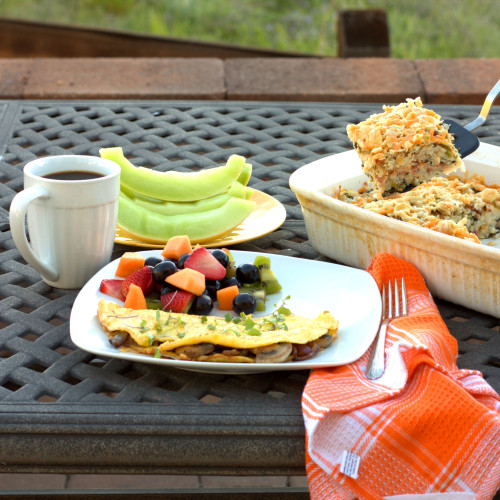 The resulting 4-State Cheddar, Bacon, & Kale Hash Brown Casserole can easily be served as a side for either breakfast or dinner. Quite honestly, I don't know which meal is my favorite to serve this dish – let me know which you prefer!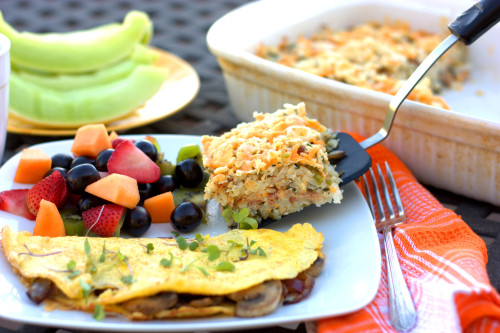 The finalists in the cooking contest battled it out live for the judges – you can view the results at this link.
---
4 State Cheddar®, Bacon, & Kale Hash Brown Casserole
¾ pound hickory smoked bacon
2 cups low-fat cottage cheese
2 tablespoons unsalted butter
1/3 cup diced shallot
1 tablespoon freshly minced garlic
30 ounce bag frozen, shredded hash browns, partially thawed
10 ounce bag of frozen kale, thawed and well drained
½ teaspoon black pepper
2 and 7/8 cups shredded Sargento® Chef Blends 4 State Cheddar® cheese (about 1 ½, 7.5oz bags), divided
1 cup oyster crackers, crushed
Preheat the oven to 375 °F. Place the bacon on a baking sheet and bake until crisp, about 30 minutes. Remove from the oven and drain on paper towels. Reduce the oven to 350 °F.
Place the cottage cheese in a food processor and blend until smooth; set aside.
Add the butter to a medium sized skilled and heat until melted. Add the diced shallot and cook, stirring until translucent and begin to brown, about 4 minutes. Add the garlic and cook until fragrant, about 2 minutes, then set aside. Chop the cooled, cooked bacon and add to a large bowl along with the hash browns, drained kale, pepper, and 1 and 7/8 cups of the Sargento® Chef Blends 4 State Cheddar® cheese blend (1 bag). Pour the shallot and garlic mixture over the hash browns, and add the blended cottage cheese. Stir until well mixed, then spread into a pre-greased 9-inch by 13-inch casserole dish. Top the casserole with an even layer of the crushed oyster crackers.
Bake in the oven for 40 minutes, then remove and sprinkle with the remaining 1 cup of Sargento® Chef Blends 4 State Cheddar®. Return the casserole to the oven and continue to bake until it bubbles around the side, about 20 additional minutes. Remove from the oven, cut into slices and serve. Makes 12 servings.
(648)