Last year my Punch Box Birthday Cake was well received, so I thought I would do another "cake" idea to celebrate by daughter's birthday at school.  Like many schools, it is sensitive to food allergies, so edible treats for birthdays are not allowed. 
Instead, birthdays can be celebrated with small trinkets.  This is where my Giant Cupcake comes in.  I have fashioned mini treat bags to look like slices of cake, topped with a mound of "frosting". As each student takes a slice (i.e. treat bag) they find a trinket and stickers inside.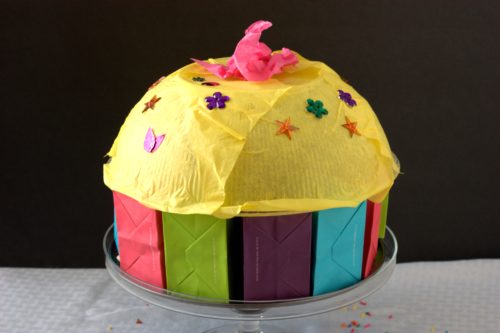 Not only is this a fun way to celebrate a birthday, it is a fun project to make with your birthday boy or girl.  My daughter had fun "frosting" the giant cupcake, which made this all the more special.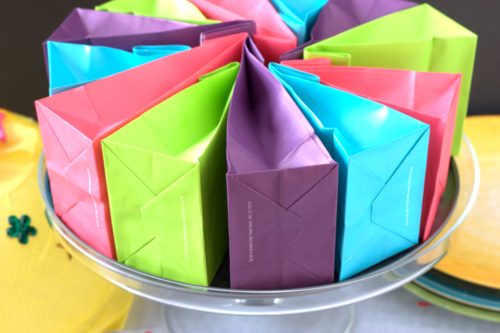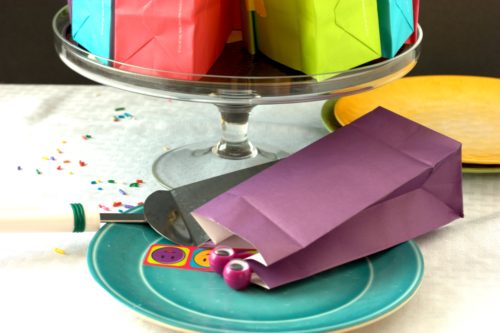 Now I just have to decide if I make two Giant Cupcakes to serve all 24 kids in her class, or come up with a second treat . . . .
Classroom Treat Giant Cupcake
1 plastic, 10" diameter cheap plastic bowl ( I bought mine at the Dollar Store)
White glue
Foam brush
2 sheets of tissue paper (one for frosting, another for the cherry)
Confetti or sticker gems
12-13 mini treat bags
Masking tape
Goodie bag treats
Bottom of 10" diameter spring form pan (or 10" round cardboard circle)
 
Place the plastic bowl open side down.  Lightly spread glue on bottom of bowl with a foam brush and smooth squares of first tissue paper over sides to "frost" the bowl.  Glue a small ball of second tissue paper on top like a cherry.  Glue small gems or confetti on sides like sprinkles; let dry.  Place trinkets in bags, then fold over top, half using one fold and the remaining using two folds.  Gently tape down fold with masking tape. Place two strips of masking tape on spring form pan, sticky side up.  Arrange treat bags in a circle, alternating bags in with one fold and two folds. Gently place bowl on top (open side down) on top.
Each 10-inch round cake holds 12-13 mini bags. 
(120)