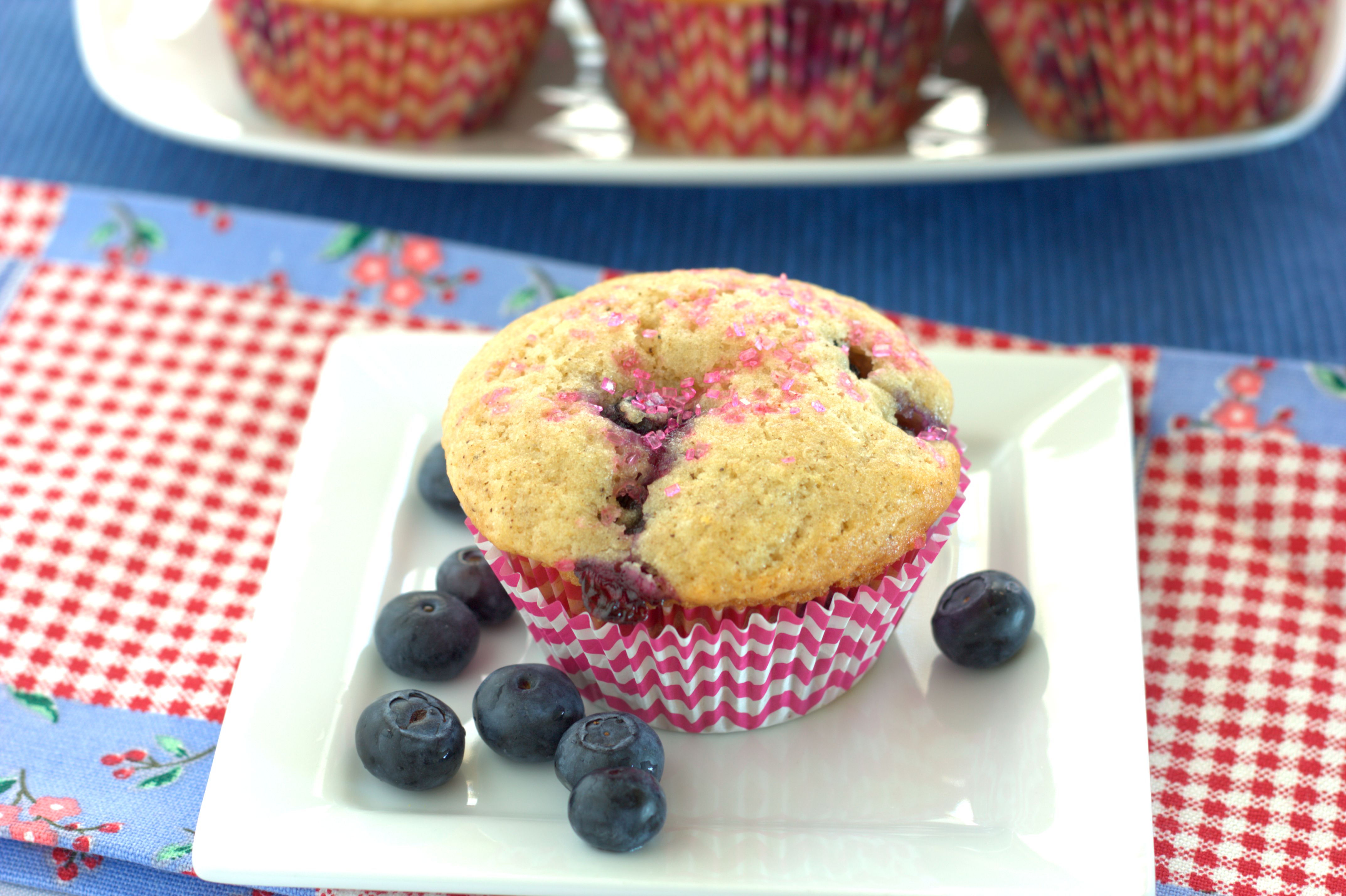 I am in trouble. I don't know if my kitchen is big enough for more than one foodie. Perhaps I should backup . . . a few weeks ago I ventured out to Party City to pick up some straws for my Grasshopper Soda Floats and spent way more time than I could have imagined walking up and down the supply isles. Slowly. But it wasn't just me, I had dragged my 4 year-old daughter with me. Surprisingly she didn't make a peep when we walked down the party favor and candies galore isle. No, she begged until I bought the pink sparkling sugar and pink chevron baking cups seen in the photos. See what I mean?
Building around the pink accents, I decided to try the Blueberry Muffins found in the America's Test Kitchen The How Can It Be Gluten Free Cookbook. I have found this book to be the best gluten-free resource to date, since it has a detailed description of what does and doesn't work for all sorts of gluten-free baking recipes. It has replaced my gluten-free baking frustration with delightful and executable treats.
I followed the recipe as written, with a few minor changes: I swapped the vanilla extract with almond extract and the cinnamon with ground cloves in triplicate. Oh yeah, and I traded the turbinado sugar for the pink sparkling sugar.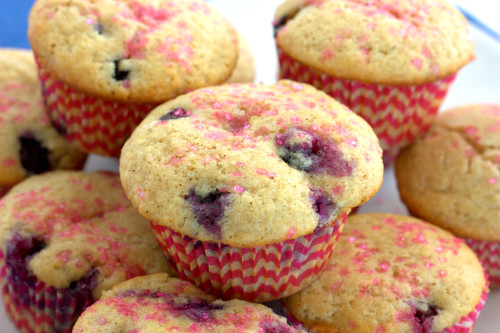 The end result is scrumptious blueberry muffins that appeal to everyone. These muffins aren't dry like your typical gluten-free fare, but instead have just the right amount of crumb and buttery mouth feel. According to America's Test Kitchen, the muffins don't keep very long, but I don't think that will be a problem. Each member of my family ate two blueberry muffins for breakfast, which means come tomorrow morning we will be fighting over the last few remaining.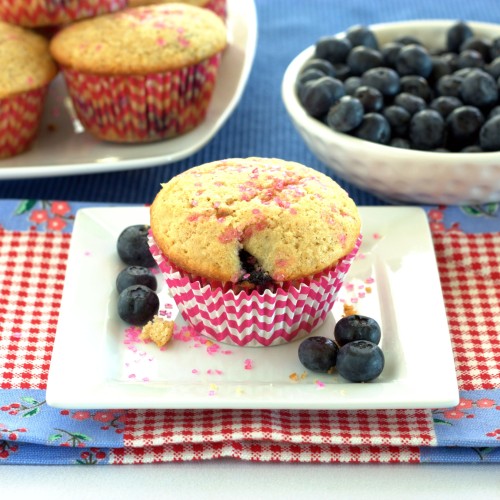 ---
Gluten Free Blueberry Muffins
11 ounces gluten free all-purpose flour (1 3/4 cups plus 2/3 cup ATK Gluten Free Flour Blend) *see below
1 tablespoon baking powder
1/2 teaspoon salt
3/4 teaspoon ground cloves
1/4 teaspoon xanthan gum
3/4 cup granulated sugar
8 tablespoons unsalted butter, melted and cooled
1/2 cup plain whole-milk yogurt
3 large eggs
1 teaspoon almond extract
7 1/2 ounces (1 1/2 cups) blueberries
2 tablespoons turbinado sugar or colored sparkling sugar
Whisk flour blend, baking powder, salt, cloves, and xanthan gum together in large bowl. In separate bowl, whisk granulated sugar, melted butter, yogurt, eggs, and vanilla together until well combined. Using rubber spatula, stir egg mixture into flour mixture until thoroughly combined and no lumps remain, about 1 minute. Gently fold in blueberries until evenly distributed (batter will be thick and stiff). Cover bowl with plastic wrap and let batter rest at room temperature for 30 minutes.
Adjust oven rack to middle position and heat oven to 375 °F. Line 12-cup muffin tin with baking cups or spray with vegetable oil spray. Using ice cream scoop or large spoon, portion batter evenly into prepared muffin tin. Sprinkle turbinado or sparkling sugar over top. Bake until muffins are golden and toothpick inserted in center comes out clean, 16-20 minutes, rotating pan halfway through baking.
Let muffins cool in muffin tin on wire rack for 10 minutes. Remove muffins from tin and let cool for 10 minutes before serving. (Muffins are best eaten warm on day they are made, but they can be cooled, then immediately transferred to zipper-lock bag and stored at room temperature for up to 1 day. To serve, warm in 300-degree oven for 10 minutes. Muffins can also be wrapped individually in plastic wrap, transferred to zipper-lock bag, and frozen for up to 3 weeks. To serve, remove plastic and microwave muffin for 20-30 seconds, then warm in 350-degree oven for 10 minutes.)
*note: I used the America's Test Kitchen (ATK) gluten free flour blend (recipe is found in the same cookbook). Other popular gluten free flours can be used as substitution with similar results.
(949)