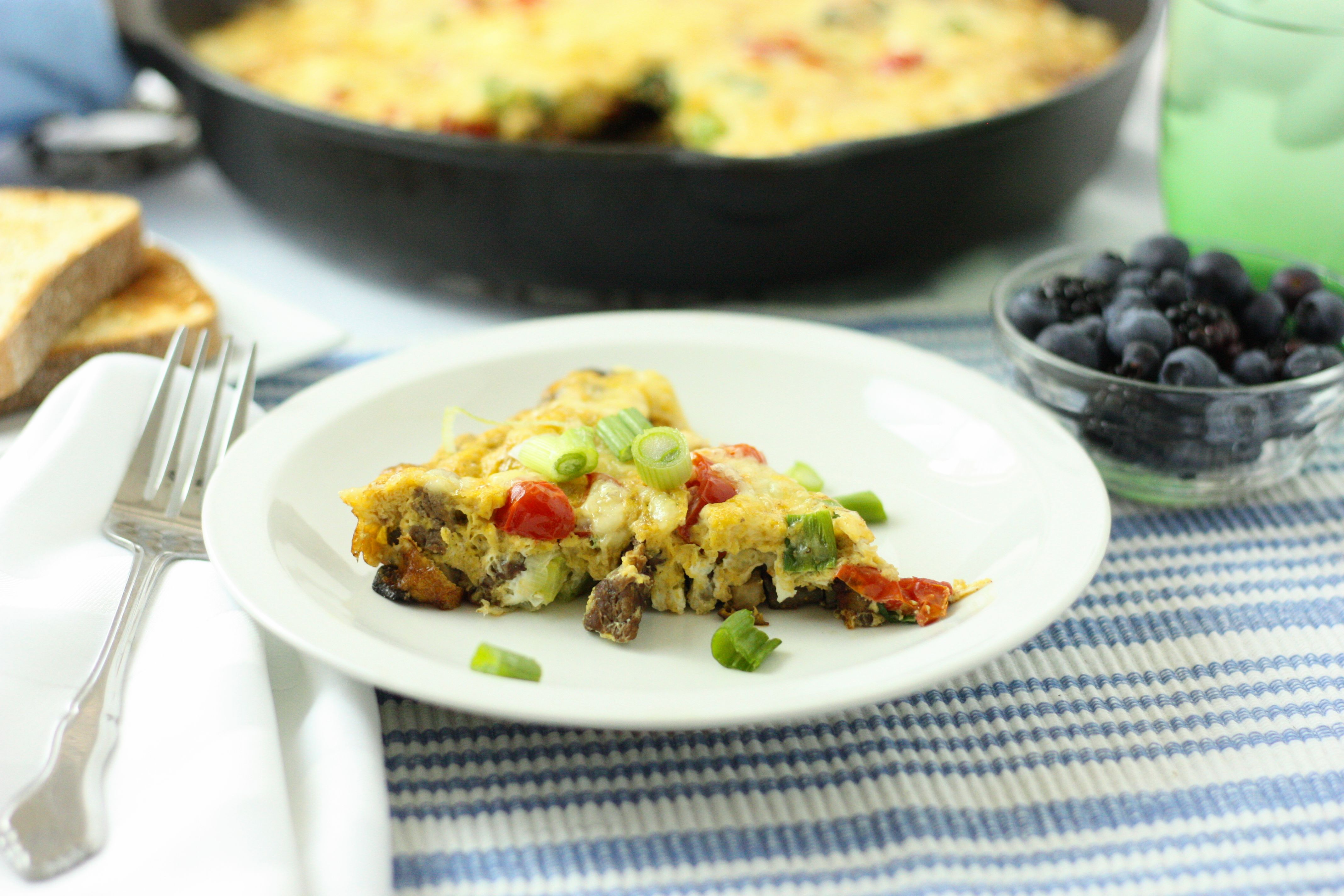 The first recipe contest I have entered this year is the Healthy Solutions Spice Blends Recipe Challenge.  As a busy, working mom I love the added time-saving feature of premixed spice blends.  With over 15 spice blends to chose from, you are sure to find something your family will enjoy – even those on a low salt or low sugar diet.
It was tough to decide which spice blend to feature, but I ultimately selected the Bold Beef Rub since my mouth watered just thinking of all the new recipes I could create.
My Steak & Mushroom Frittata uses the Bold Beef Rub in two places – as a coating on the skirt steak pieces before they are sauted and as the flavoring in the eggs.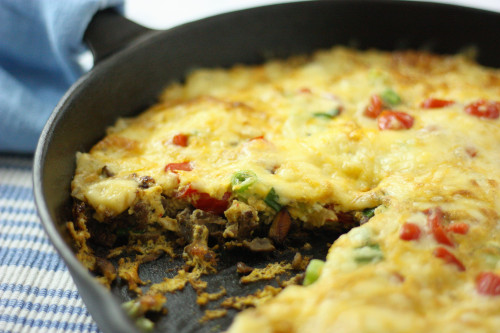 This one-pan breakfast dish is a sure crowd pleaser! The robust flavor of the Bold Beef Rub added great depth to the frittata, and the generous portion of mushrooms and other vegetables made the dish seem hearty without making it too heavy. I'm sure that once you try this steak & mushroom frittata you'll be tempted to try all of the Healthy Solutions spice blends!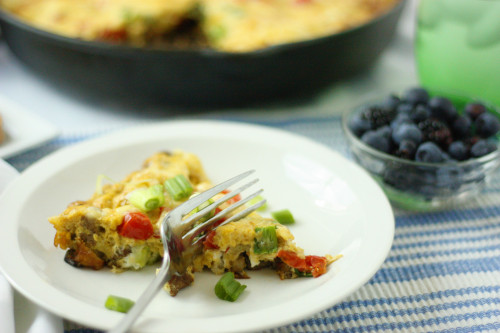 ---
Steak and Mushroom Frittata
6 large eggs
1/8 cup half & half
2 teaspoons Healthy Solutions Bold Beef Rub, divided
2 tablespoons unsalted butter
½ lb skirt steak, cut into bite sized pieces
½ lb baby Portobello mushrooms, diced
10 grape tomatoes, diced
½ cup diced green onions
1 ½ cups shredded Swiss cheese (6 ounces)
Preheat the broiler. In a medium sized bowl, whisk together the eggs, half & half, and 1 teaspoon of the Bold Beef Rub; set aside. In a separate bowl, sprinkle the remaining Bold Beef Rub over the skirt steak pieces and toss to coat.
Melt the butter in a large (12-inch) cast skillet over medium heat. Add the steak and cook, turning often, until the pieces are evenly browned and the meat cooked to medium, about 2-3 minutes. Remove the steak from the skillet and let rest on a plate, meanwhile add the mushrooms to the skillet and saute until browned and reduced in size, about 4 minutes. Return the steak to the pan, then add the diced tomatoes and green onions in an even layer. Pour the egg mixture over the steak mixture and then evenly top with the cheese. Cook over medium-low heat until the sides are set but the top is still runny, about 3-4 minutes. Place the skillet under the broiler and cook for another 3-4 minutes or until the eggs are set, puffed, and slightly browned. Remove from the oven and serve immediately.
(872)