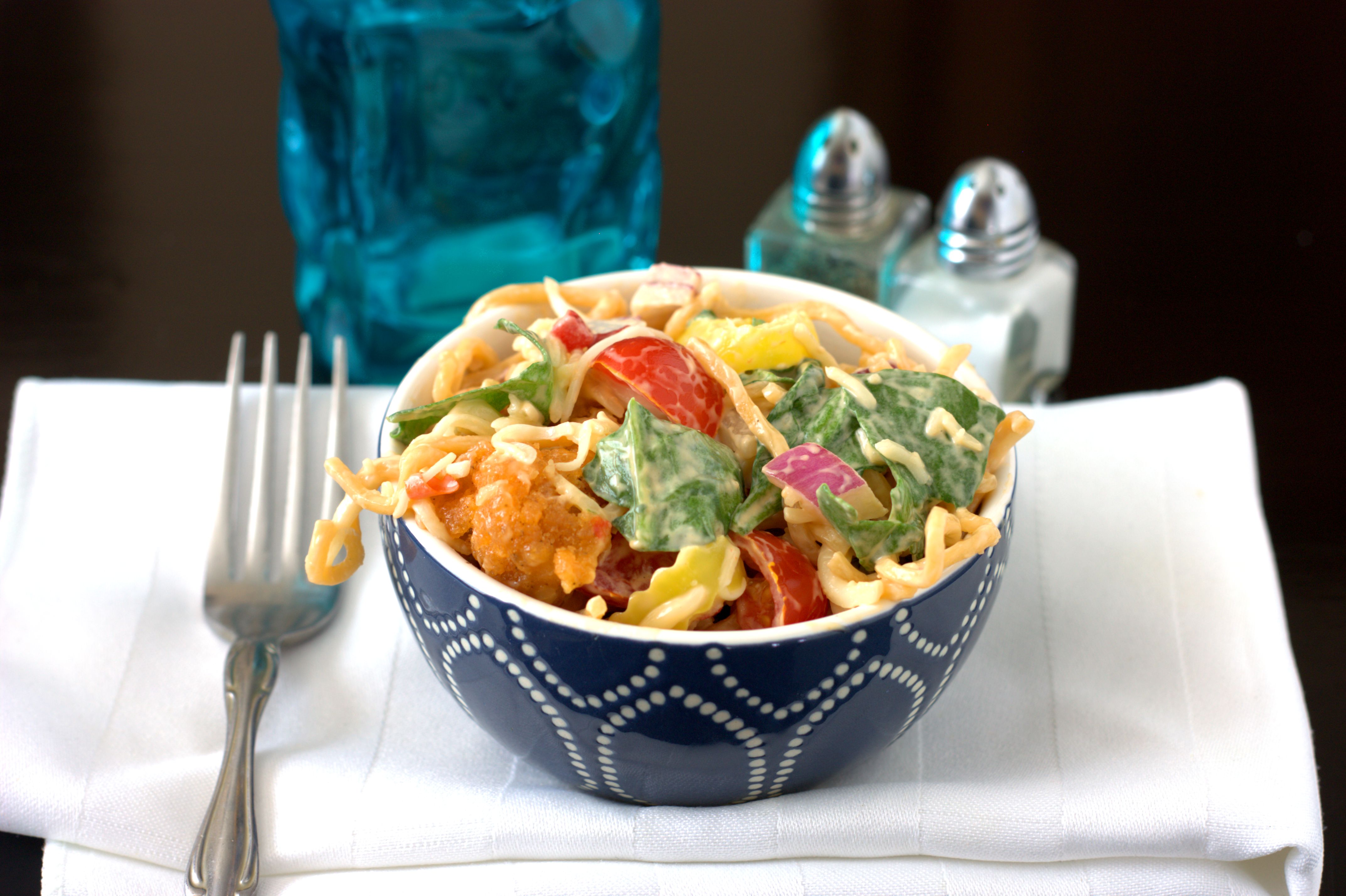 My latest cooking contest challenge was to use any one of the Fortune Asian noodles in a cold salad or casserole for their Blogger Recipe Challenge. I chose to go with their Hot & Spicy noodles for a cold salad creation, hoping to capitalize on the built in flavor of the sauce.  After some kitchen tinkering this Hot & Spicy Hero Salad was born, which is a cold salad version of the classic hero sandwich.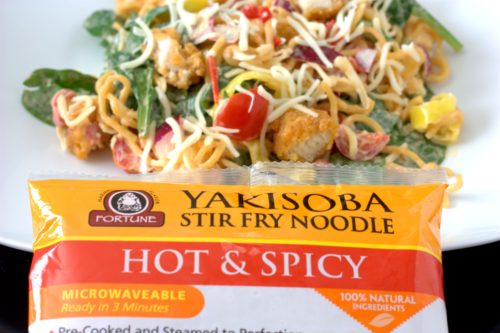 The salad is stocked full of colorful mix-ins that add tons of flavor: mild pepper rings, pimentos, red onions, tomatoes, baby spinach, mozzarella, and chicken.  The star of the salad is the hot & spicy sauce, which is used in the dressing as well as in to cooking of the noodles.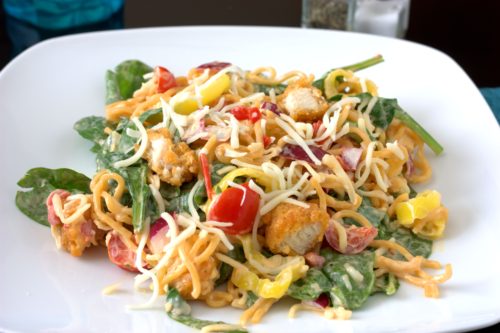 While this may sound complicated, it is really easy to put together.  The Fortune brand noodles are precooked and only take an additional 3-4 minutes to prepare. Similarly, the popcorn chicken pieces only take a few minutes to cook, which means cooking really only consists of a bit of chop and stir time.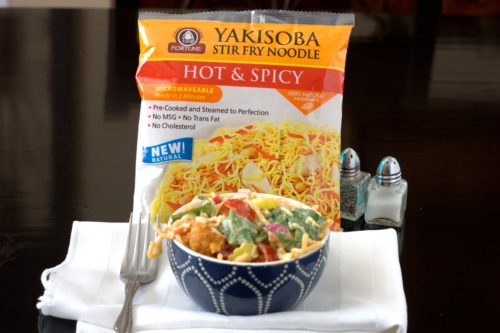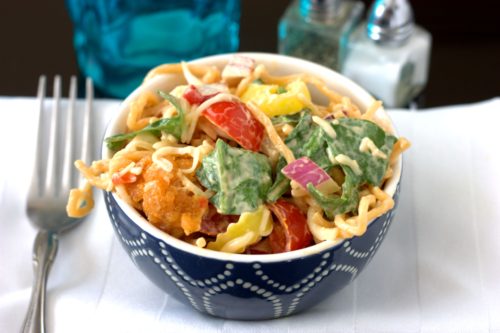 Fortune has many other noodles to choose from, and some other great recipes being submitted for the contest.  You can find the recipes and other details on JSL food's facebook page or their twitter page.  Many big grocery stores carry the Fortune noodles, including Safeway, Albertson's, Shaws, Star Markets, Tom Thumb, and Target. I encourage you to give them a try!
---
Hot and Spicy Hero Salad
½ cup mayonnaise
One 7.7 ounce package of Fortune Brand Hot & Spicy Yakisoba stir fry noodles
4 ounces frozen popcorn chicken pieces
½ cup diced red onion
½ cup quartered baby tomatoes
¼ cup jarred mild pepper rings, drained
¼ cup jarred pimentos, drained
2 ounces fresh baby spinach
¾ cup shredded mozzarella
Place the mayonnaise in a small bowl, then add two teaspoons of the sauce package from the noodles, reserving the remainder of the sauce package.  Stir the mayonnaise until the sauce mix is completely incorporated; set aside.  Place the noodles and the remaining sauce in a microwave safe bowl along with ¼ cup of water.  Microwave on high for 4 minutes, stir, then drain and let cool. Place the popcorn chicken pieces on a microwave safe plate and microwave on high for 2 minutes.  Once cooked, cut chicken into bite size pieces.  Roughly cut the noodle in quarters then add to a large bowl, along with the red onion, tomatoes, pepper rings, and pimentos.  Pour the mayonnaise over the noodles and stir to coat. Add the spinach, chicken, and mozzarella and stir gently until everything is coated with the dressing and the ingredients are mixed.  Divide between two plates and serve.
(341)