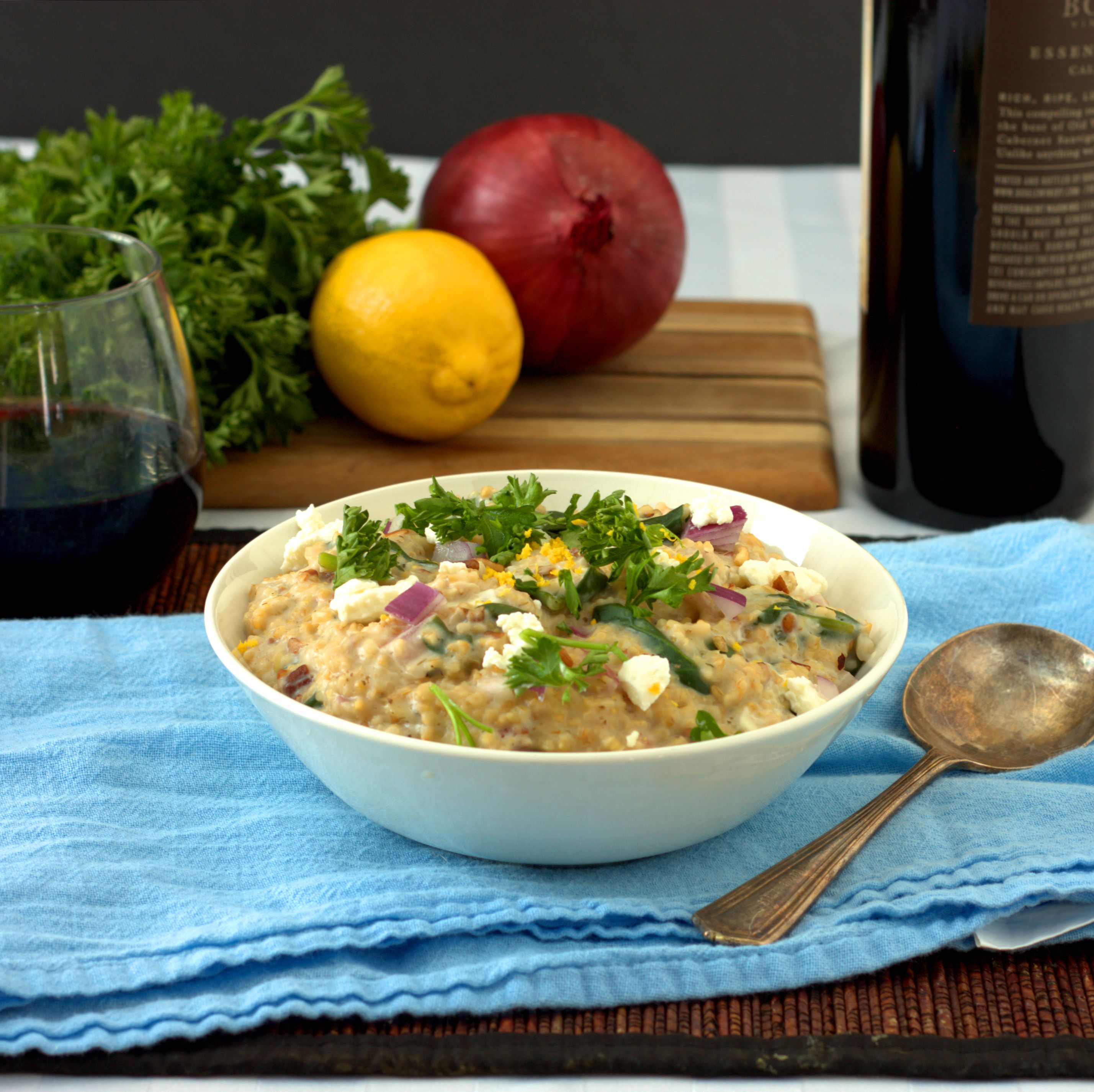 I've mentioned before that I love when I can use a premixed spice blend as a time saving measuring in my cooking. That is one of the reasons I enjoy the Healthy Solutions Spice Blends Blogger Challenge.  I get my creative cooking thinking cap on and experiment with a new spice mix, with the goal of creating a recipe that blends healthy eating with tasting great while upholding the low salt and low sugar goal of the spices. Challenge accepted!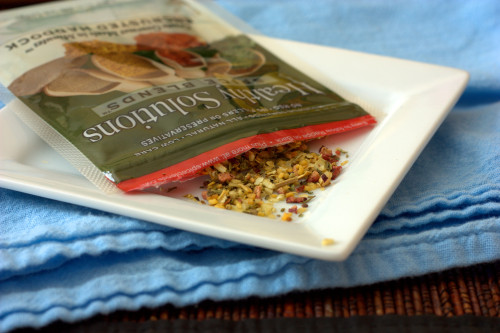 Out of the 16 different blends offered by Healthy Solutions Spice Blends, I chose to use the Encrusted Haddock (which is a mix of garlic, celery, onion, and dried cranberry) since I felt it could be used in a wide variety of dishes. While I think this spice mix would be great for both chicken or seafood, I chose to make a meatless dish as my entry – Spinach and Goat Cheese Steel Cut Oat Risotto.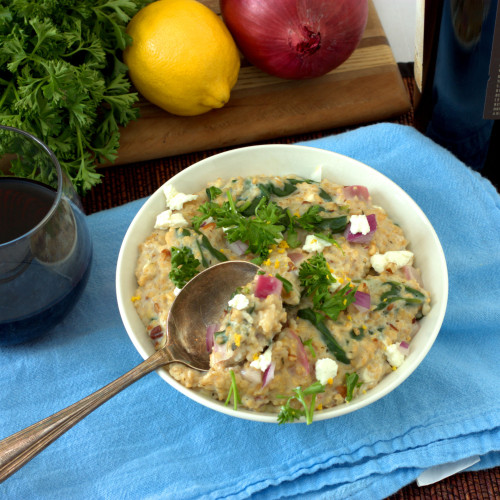 As compared to an Arborio rice risotto, steel cut oats are a much healthier choice. Steel cut oats pack a fair amount of protein, fiber, and iron per serving, making them a great meat substitute for a meal.  I was also able to keep my Spinach and Goat Cheese Steel Cut Oat Risotto true to the theme of low salt/low sugar by using an unsalted boxed stock.  When I surveyed the grocery store most of the unsalted box stocks had only 40-70 mg of sodium per 1 cup, which is well below the cut-off for low sodium items.  Similarly, goat cheese falls into the category of low sodium. See – eating healthy CAN still taste great.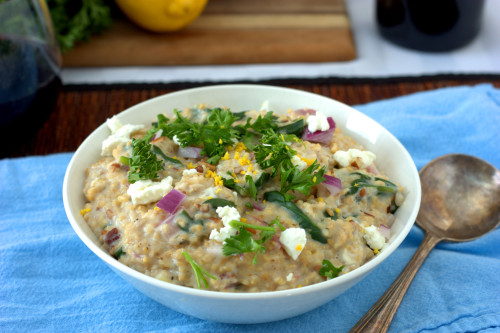 Much like an Arborio rice risotto, I ladled stock into the steel cut oats, letting the stock get absorbed before the next addition.  Once all the liquid had been absorbed and the oats were tender-chewy, I stirred in the fresh spinach, Encrusted Haddock seasoning, red onions, pecans, and goat cheese. Simple, yet a healthy, impressive, and satisfying dish. Enjoy!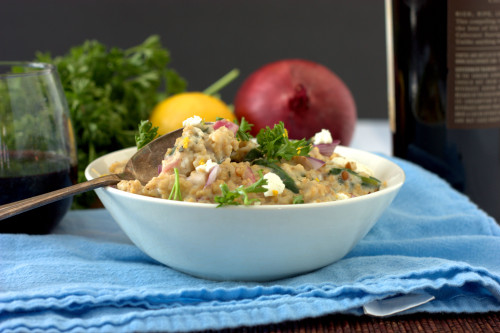 ---
Spinach and Goat Cheese Steel Cut Oat Risotto
4 cups unsalted chicken stock
1 cup steel cut oats
Zest and juice of 1 lemon (juice is equivalent to ¼ cup lemon juice)
2 ounces fresh baby spinach
1 ounce pecan bits
¼ cup diced red onion
1 tablespoon Healthy Solutions encrusted haddock seasoning
4 ounces creamy goat cheese, crumbled
Chopped parsley for garnish, if desired
Additional lemon zest for garnish, if desired
Heat the chicken stock in a medium sized sauce pan and keep warm. Add the steel cut oats to a large sauce pan (~ 3 quarts), add one ladle of the warm stock and heat over medium heat.  As the stock is absorbed, add another ladle of stock, stirring frequently.  Repeat until all the stock has been added to the oats, adding the lemon juice with the last bit of stock.  Once the stock and lemon juice have been absorbed and the oats are tender and chewy (about 20-30 minutes), remove from the heat. Next, stir in the spinach until wilted, about 1 minute.  Then stir in the lemon zest, pecans, red onion, Healthy Solutions encrusted haddock seasoning, and goat cheese until well mixed. Transfer the Spinach and Goat Cheese Risotto to two serving bowls, sprinkle with parsley and additional lemon zest if desired, and serve.
(616)