Sometimes I feel the need to infuse more vegetables into my diet, and this week was one of those times.  Perhaps it is the generous amount of jelly beans I have eaten, or it could just be that the jewel like color of the eggplants at the grocery store were beckoning me. Whatever the reason, I stocked up on fresh eggplant, roma tomatoes, and celery.
I also happened to have my 3 year old along for the ride and he wanted to take home a sampling of nearly every bin in the bulk aisle (good thing he happened to be viewing the legume and rice side and didn't turn around to see the gummy items in the nearby bins). I was happy to obliged and returned home with red lentils, among other dried staples.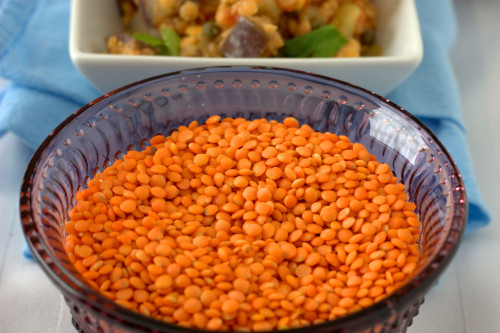 I decided to pair the vegetables and the lentils together for an easy to sack lunch of Caponata Red Lentil Salad. If you have never had caponata, it is an Italian dish made with eggplant and other vegetables that are coated in a sweet and sour sauce. Typically, onions, celery, tomato paste, and capers are included and the sauce is a sweetened vinegar.  I made my caponata with fresh tomatoes instead of paste to give it a lighter taste, and simply stirred in my al dente red lentils to make the salad.  It has been a refreshing lunch to pack this week, and I feel good knowing that my meal is super healthy!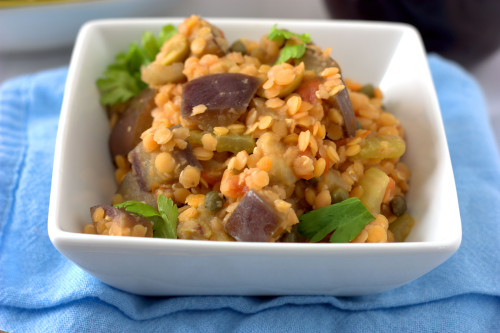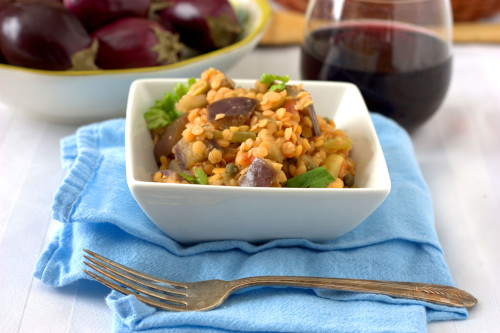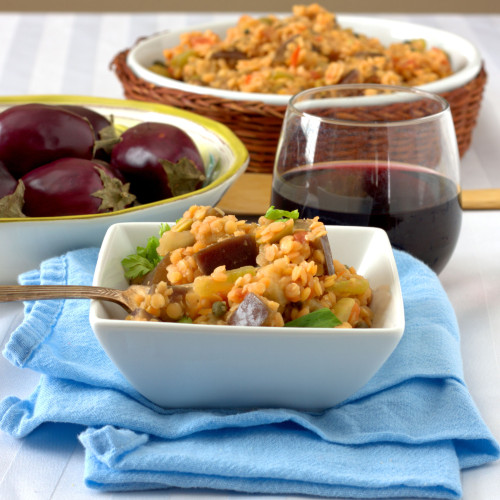 Caponata Red Lentil Salad
¼ cup olive oil
1 cup chopped yellow onions
1 cup chopped celery ribs
1 large eggplant, cut into cubes (~1 pound)
1 cup diced tomato, divided
6 ½ cups water, divided
1 teaspoon salt
2 cups red lentils
1 cup chopped green olives
¼ cup capers
¾ cup red vinegar
3 Tablespoons white sugar
Add olive oil to a large saute pan and heat over medium heat. Once the oil is hot, add the onions and cook for 6 minutes, then add the celery and cook for six minutes longer, stirring frequently.  Add the eggplant, half of the tomatoes, and ½ cup of water and cook for 10 minutes, stirring frequently.  Add the remainder of the tomatoes and stir for another 10 minutes.
While the vegetables are cooking, prepare the lentils.  Add the 6 cups of water and salt to a 3 quart pan and bring to a boil.  Add the lentils and cook for 8-10 minutes, or until the lentils are tender chewy but still remain their shape.  Drain the lentils and add to a large bowl.
Once the vegetables have cooked down, remove from the heat and add to the bowl with the lentils.  Add the olives and the capers to the bowl.  In a separate bowl, stir together the vinegar and sugar and then pour over the lentil mixture.  Stir the lentils to coat and mix evenly with the vegetables.  Chill before serving, preferably overnight to let the flavors marinate.
(518)