Since I pack lunch for work everyday, I usually attempt to make larger quantities of dinner to be able to take leftovers as my meal. However, some weeks dinner is such a success that I am left with a hodge podge of ingredients and nothing to take as a quick lunch. This week I decided to use my random leftover items – cooked rice, diced red onion, and diced ham – and created a Ham Fried Rice.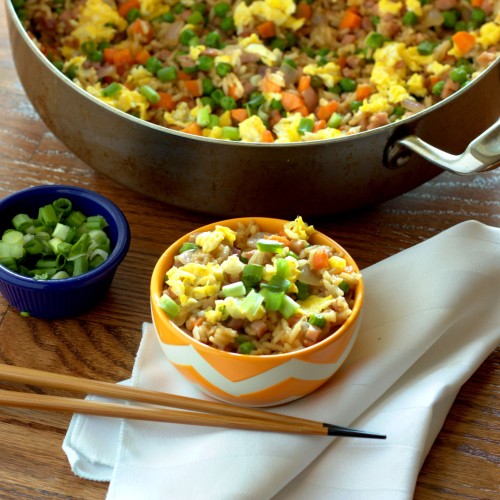 My fried rice typically changes a bit each time I make it, so I decided to do a quick search to see how my fried rice recipe(s) compare to others out there. One of the blogs that caught my attention was the one on gimmesomeoven.com, since I agree with many of her tips. She recommends using precooked rice (my favorite too, but probably just because it is easier) and adding oyster sauce. By coincidence I used similar veggies to the recipe on gimmesomeoven.com (though in higher quantity) and I decided to try her tip of using butter instead of an oil.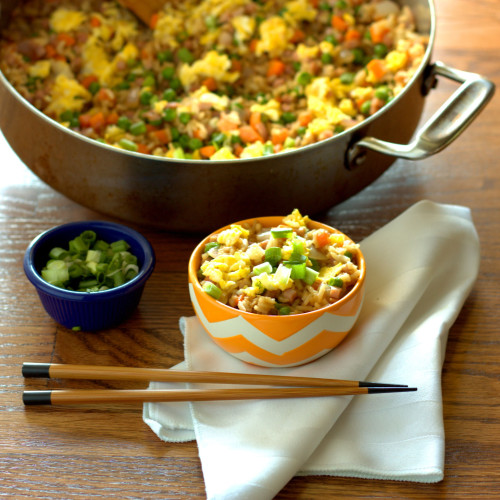 I ended up loving the result (and so did my husband). The oyster sauce wasn't too overpowering, and it was filling enough that I wasn't hungry 15 minutes later (which is a good thing, since I am usually starving by mid-morning and struggle to not scarf down my lunch by 11am. Being ready for a second lunch around 2pm wouldn't be ideal). The ginger was just a gentle hint, so if you like ginger go ahead and add a bit more. My Ham Fried Rice was such an easy dish to make to supply a few lunches this week, that I think I am going to add it to my go-to rotation.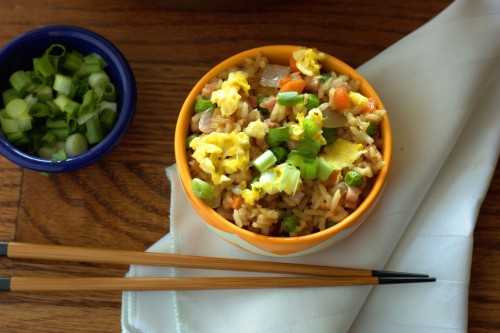 ---
Ham Fried Rice
4 tablespoons butter
1 cup diced carrots
1 cup diced red onion
½ lb frozen peas, thawed
8 ounces diced ham
4 cups cooked long grain rice
4 tablespoons soy sauce
1 tablespoon oyster sauce
1 teaspoon freshly grated ginger
2 large eggs
4 green onions, chopped
Add 4 tablespoons butter to the pan and heat until melted over medium-high heat. Add carrots, and onion, and saute for 3 minutes or until onions begin to soften. Add the peas and ham, and saute for 1-2 minutes longer. Finally, add the rice, soy sauce, oyster sauce, and ginger, and stir until combined. Continue stirring for an additional 3-4 minutes to fry the rice. Keep warm.
Coat a non-stick pan with cooking spray then heat over medium heat . Add eggs, and cook until scrambled, stirring occasionally. Remove egg, and stir into rice mixture. Serve, garnishing with sliced green onion.
(1476)