My latest cooking contest endeavor is the "Stir It Up Holiday Blogger Mixology Challenge" hosted by Stirrings and if proving to be a fun way to kick off the holiday season.  Stirrings makes premium cocktail mixers and rimmers and challenged bloggers to develop a creative, attractive, and delicious holiday cocktail.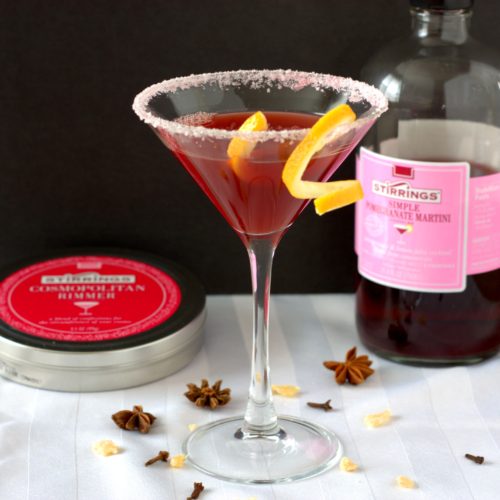 One of the first things that comes to mind for a go-to holiday drink is a warm and spiced concoction. To add to your winter beverage repertoire I off the Mulled Pomegranate Martini.
Mulling means to sweeten, spice, and warm a drink.   For this cocktail I mulled the Stirrings® Simple Pomegranate Martini Cocktail Mixer and orange juice with cloves, anise, nutmeg, and ginger. After simmering for a few minutes, the mixer is strained and combined with a cinnamon-sugar vodka to add depth to the spice profile. The end result is a Mulled Pomegranate Martini that is a well-rounded delight.
The martini is served in a martini glass rimmed with Stirrings® Cosmopolitan Rimmer (which adds color and a slight hint of citrus) and garnished with an orange peel twist.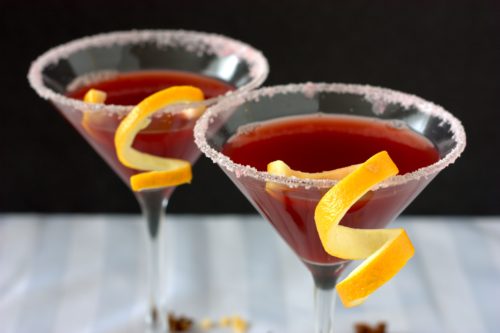 I can't wait to experiment with the other Stirrings® products. You can find additional recipes on their social media sites (Pinterest, Instagram, Twitter, and Facebook).  Some of the locations that sell the Stirrings® products include: Hazel's Beverage World, Davidson's Liquors, Argonaut Wine & Spirits, Keg Liquors, Whole Foods Wine & Spirits, and Applejack Wine & Spirits.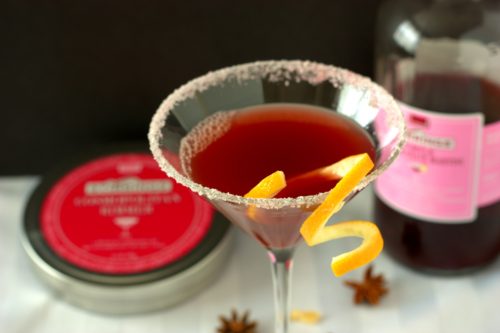 Mulled Pomegranate Martini
7 ounces Stirrings® Simple Pomegranate Martini Cocktail Mixer
2 ounces pulp-free orange juice
15 whole cloves
3 whole star anise
1 whole nutmeg
1/3 teaspoon crystalized ginger
3 ounces cinnamon-sugar vodka
Garnish: Stirrings® Cosmopolitan Rimmer
Garnish: 2 Orange peel twists
Rim two martini glasses with Cosmopolitan Rimmer. Place the pomegranate mixer, orange juice, cloves, anise, nutmeg, and ginger in a medium sized, non-reactive sauce pan.  Bring to a simmer and simmer for 10 minutes (liquids will reduce by 1/3).  Remove from the heat, strain, and add to a cocktail shaker along with the vodka and shake vigorously. Pour into the rimmed martini glasses, dividing the drink evenly between the two glasses. Garnish each glass with an orange peel twist and serve.
(583)