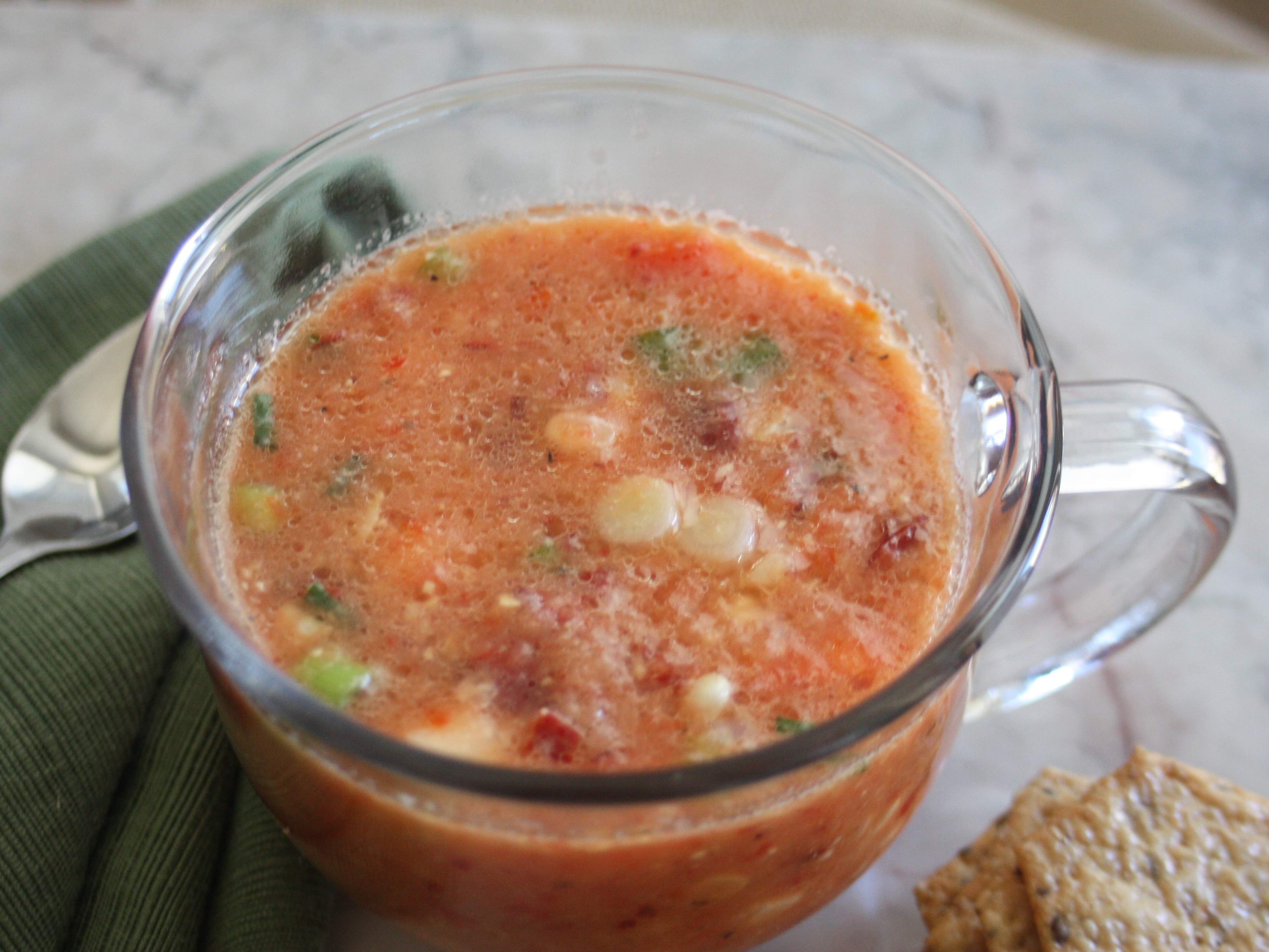 As is typical, I brought home a bounty of fresh vegetables from the local farmers market this week. Since there is no time like the present, I decided a refreshing gazpacho was in order for lunch.
Gazpacho, a chilled soup originating from Spain, typically consists of pureed tomato, chopped vegetables and a garnish of croutons or hard-boiled eggs. I've taken a more liberal approach to my version of gazpacho today, and replaced the tomato with zucchini and sweet peppers.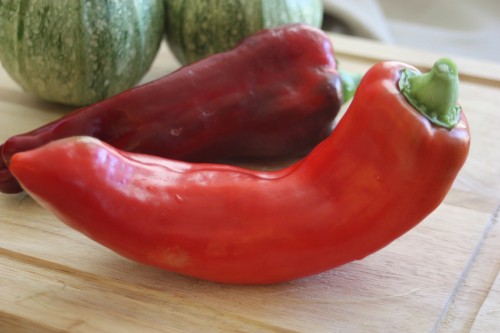 I started with two globe zucchini, two sweet red peppers (one Italian Bullhorn and the other Aconcagua) and one ear of Peaches & Cream corn.
I decided to serve the soup in the globe zucchini, so I cut the tops off the squash and scooped out the insides, saving the insides for the soup. Next I diced the peppers after removing the seeds and membranes, and then cut the corn kernels off the cob.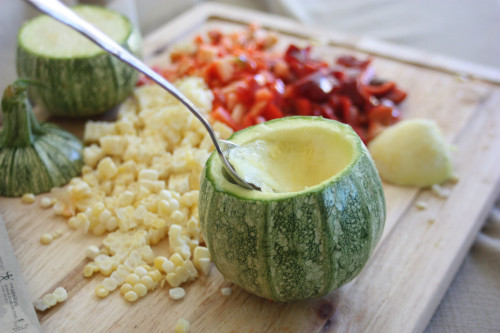 I reserved a bit of the peppers and corn to stir into the soup later, and placed the rest in a food processor with the zucchini meat and water and pureed until smooth. I then poured the soup into a large bowl, and stirred in the remainder of my ingredients, including green onions and horseradish.
To serve, I poured some into by globe zucchini bowls, making sure to include crackers on the side. This zucchini-pepper gazpacho was just as refreshing as the tomato-based variety, and a most tasty lunch!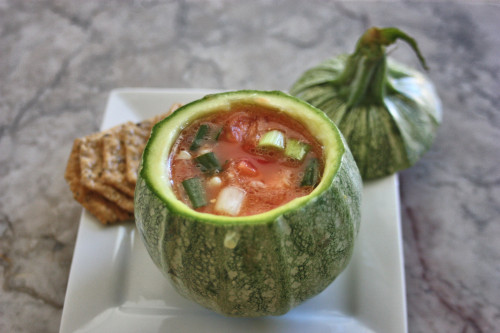 ---
Zucchini & Sweet Pepper Gazpacho
2 globe zucchini
1 ear sweet corn
2 sweet red peppers
3 green onions, diced
1 cup water
2 tablespoons olive oil
2 teaspoons grated horseradish
2 teaspoons salt
½ teaspoon garlic powder
¼ teaspoon black pepper
Cut off the top of the globe squash and reserve, then scoop out the insides of the squash, leaving about ¼ inch shell. Place the squash meat in a food processor and refrigerate the squash bowls and bowl tops until ready to serve. Remove the corn kernels from the ear of corn, and then remove the sees and membranes from the peppers and dice the peppers. Reserve ¼ cup of both the corn and peppers, and add the remainder to the food processor. Blend the squash, corn, and peppers until smooth, and then pour into a large bowl. Stir in the remainder of the ingredients and chill until ready to serve. Serve in the squash bowls, or cups.
(758)