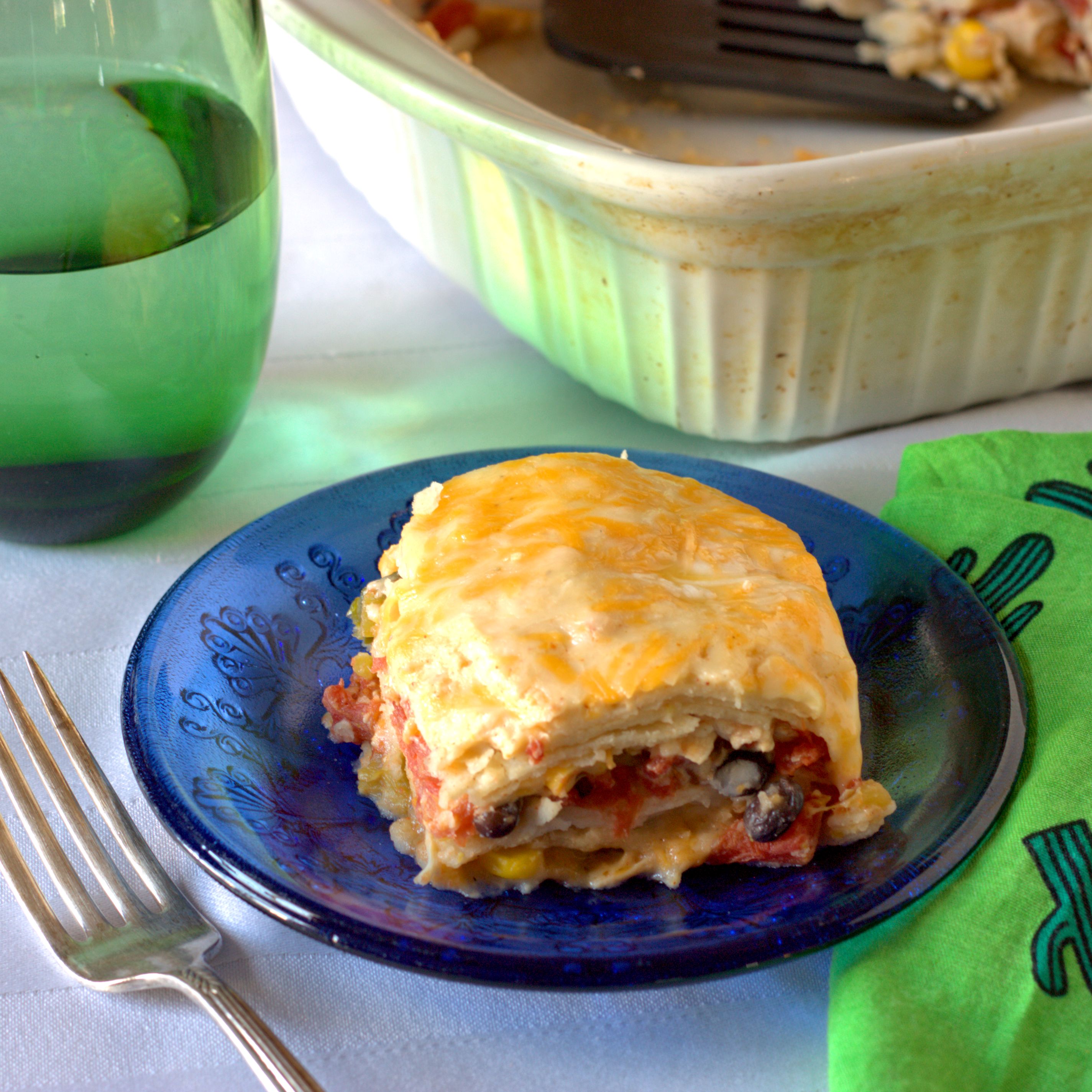 Each week my church small group does a potluck lunch and we rotate the entrée. Amazingly, we all love – and tend to gravitate towards – Mexican inspired dishes. A group favorite is chicken enchilada casserole. Since it is such a hit I figured it was about time I experimented with a recipe of my own.
One of the first things I wanted to try was ramping up the quantity of vegetables. I had a bag of frozen southwest blend vegetables that fit the bill. Plus the corn, black beans, chilies, red peppers and onion in the mix added a great pop of color.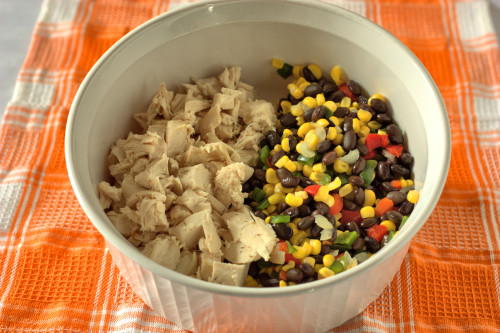 I also decided to use shredded pre-cooked rotisserie chicken as a time saving step. I typically get more than 2 cups of chicken from the rotisserie chicken I buy, which means I was able to get two meals out of my chicken by using the remaining chicken and bones to make homemade soup.
To build the casserole I layered corn tortillas, my chicken & vegetable blend, cream sauce, and cheese in three layers.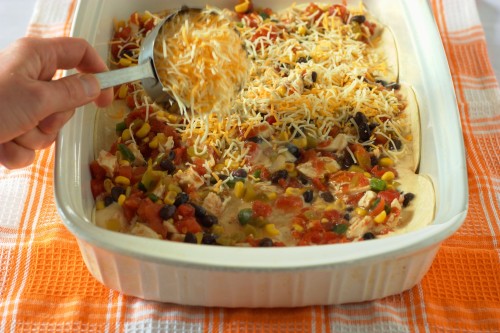 The resulting chicken enchilada casserole was declared a winner by my family. I can't wait to make it for our church group!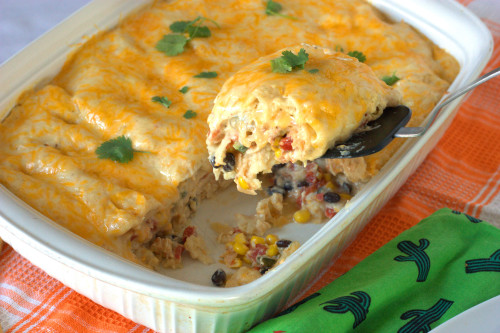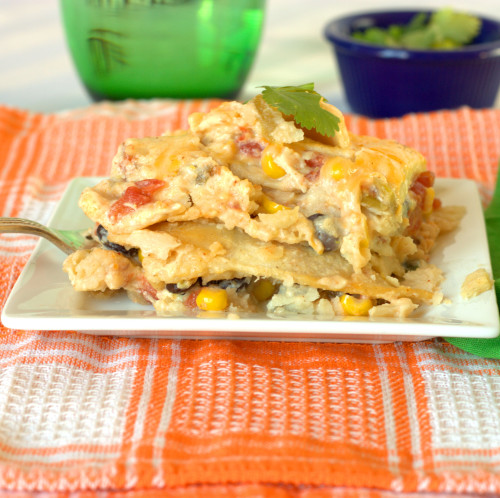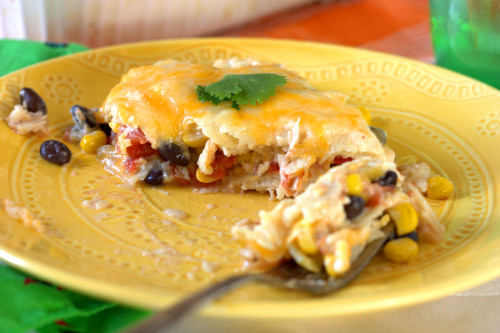 ---
Chicken Enchilada Casserole
2 cups shredded, pre-cooked rotisserie chicken
28 ounce can rotel, drained
14 ounce bag of frozen southwest blend vegetables, thawed (~2-3 cups)
1 can (4 ounces) diced green chilies, drained
3 tablespoons butter
3 tablespoons flour
2 cups chicken broth
1 cup sour cream
2 teaspoon fiesta lime Mrs. Dash
¼ teaspoon salt
18, 6-inch diameter corn tortillas
3 ½ cups Mexican shredded cheese blend
Preheat oven to 350 ° F. Prepare a 9 x 13-inch baking pan by lightly spraying with cooking oil. Set aside.
In a large mixing bowl, mix together the shredded chicken, drained rotel, vegetables, and chilies; set aside.
Heat butter in a large saute pan over medium-high heat. Add flour, and whisk to combine. Cook for 1 minute until lightly browned, stirring frequently. Add half of the chicken stock, and whisk until combined. Then add the remaining chicken stock, and whisk until combined and thickened, about 2-3 minutes. Let the mixture cool slightly, then stir in the sour cream, fiesta lime Mrs. Dash, and salt.
To assemble the enchiladas, place 6 tortillas in the prepared baking pan so that they cover the bottom of the pan. Spread about 1/3 of the cream sauce evenly on top of the tortillas. Sprinkle half of the chicken evenly on top of the sauce, followed by 1 cup of shredded cheese. Repeat with a second layer of tortillas, cream sauce, chicken, and cheese. Then add a final layer of just tortillas, cream sauce and cheese.
Cover the casserole with aluminum foil. Bake for 20 minutes. Then remove the aluminum foil and bake for an additional 15 minutes, uncovered, until the cheese is melted and begins to brown around the edges and the casserole is cooked through. Remove from the oven, cut into squares and serve.  Refrigerate any leftovers.
(1107)