A few months back, my husband challenged me to create a great tasting yet low-fat salad dressing.  Of course, I accepted the challenge and came up with this Pear Vinaigrette.  For my attempt I wanted to try to avoid the typical thickeners of xanthan gum or guar gum.  What I turned to instead was . . . . baby food!  My thought was that the smooth puree would make a great base for a vinaigrette that would hopefully avoid separation.
I paired this Pear Vinaigrette with a semi-sweet salad made with pecans and apples or berries. We enjoyed the results, though the real question is – will I be brave enough to try a different puree? I think it will be more challenging to create a dressing with a savory puree.  Perhaps that will be the real test – in this quarantine time, what unique, outside of the box dish will come out of our kitchens next?
In the meantime, if you are looking for other great dressings you can try some of my other recipes: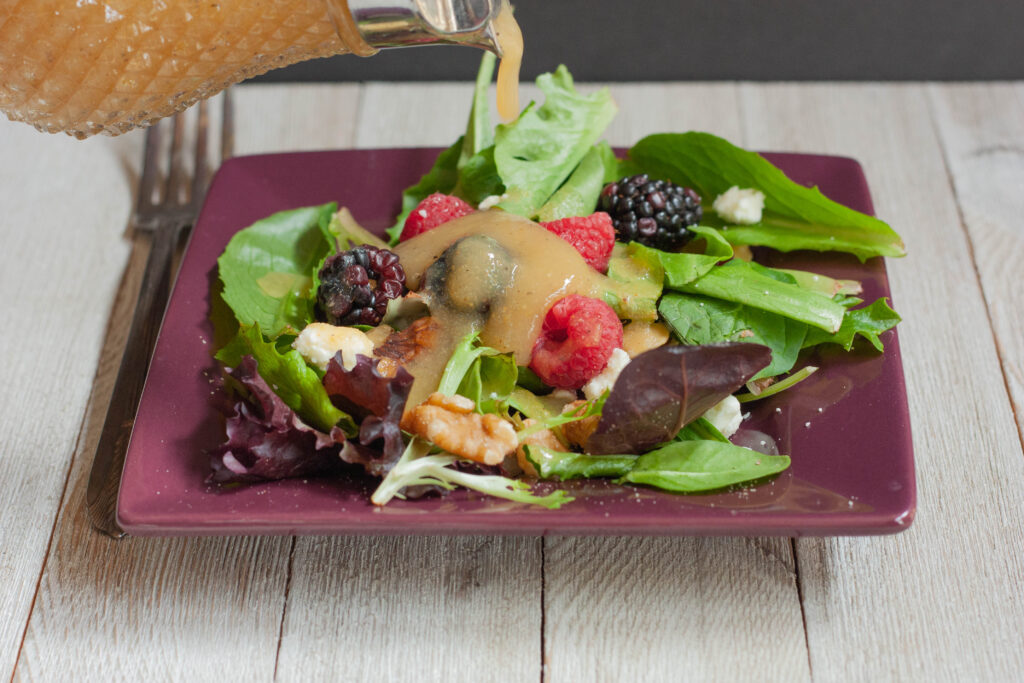 ---
Pear Vinaigrette
2 Tablespoons white wine vinegar
4 ounces pear pureed baby food
¼ teaspoon onion powder
1/8 teaspoon salt
1/8 teaspoon black pepper
Mix all ingredients together until well mixed. Store in sealed container in refrigerator when not using.
(298)