I don't know why I didn't try these bar cookies sooner. The recipe has been sitting in my saved recipes to try for eons and is super easy. In addition, it is truly a crowd pleaser.  Perhaps I always passed it by, since it was published in a December magazine addition and it never won out against all the other "have-to-make" cookies at Christmas time.  Thanks to this quarantine I don't have all the ingredients to try a new cake, nor do I want to use too many eggs on one recipe as my stash is running low. These Rocky Road Bars came to the rescue.
Now these bars will be an anytime cookie. Take for instance, this first batch. I gave them a festive, Easter look with some leftover sprinkles, but I can see them being a staple on a camping trip or used to celebrate any other holiday with color coordinated decoration.
The recipe as it was originally found in Family Circle (did you realize that Family Circle stopped production at the end of 2019? I didn't until I went to search for a link to the recipe) made a LARGE batch; I cut it down to a third and added extra chocolate to account for the fact that I only had plain graham crackers.  My modified recipe is what is written below.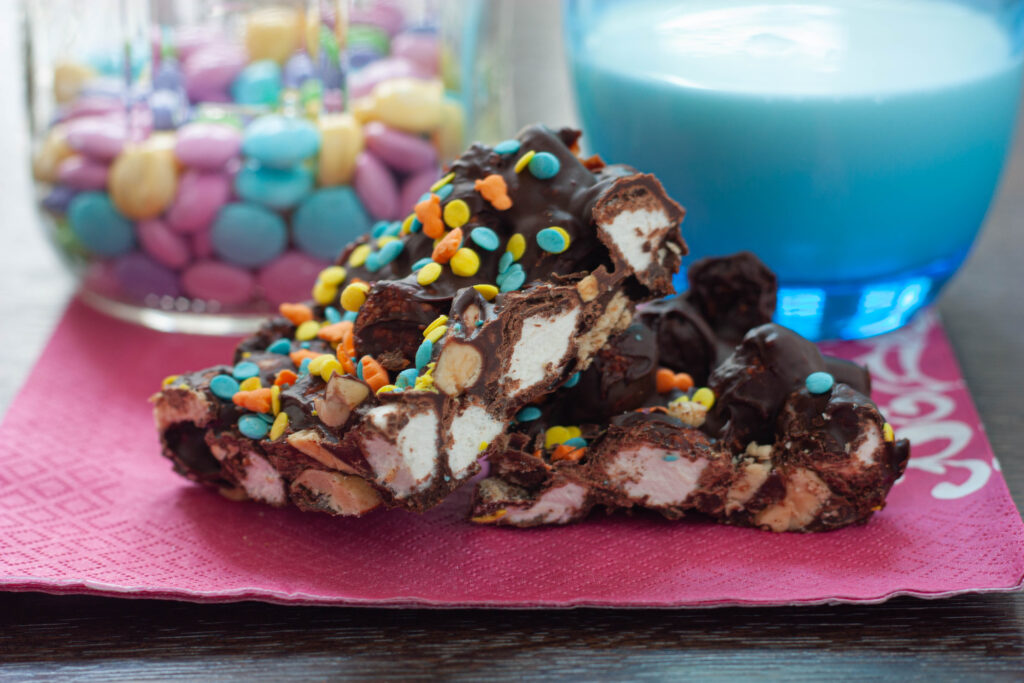 ---
Rocky Road Bars
10 ounces semi-sweet chocolate chips
2 ounces mini marshmallows
1/3 cup dry-roasted peanuts
2 whole graham crackers, broken into bite-size pieces
Line an 8-inch square baking pan with foil and coat with cooking spray. Gently melt the chocolate, then stir in the marshmallows, peanuts, and graham cracker pieces to coat. Pour the mixture into the prepared pan and spread evenly. Place the pan in the refrigerator for 1-2 hours or unto the bars are completely cooled. Remove the foil from the pan, peel off the foil and cut into 9 bars.
(109)