I am most used to American potato salad that has a mayonnaise based dressing (such as my Jackie's Potato Salad), so when I had the opportunity to try some authentic German potato salad I found it a refreshing version.  I was tempted to recreate the salad, so after browsing and splicing together some other recipes (such as the salads from Marth Stewart and The Daring Gourmet), below is what I created. None of the recipes I surveyed used green onions, but I thought they were a great addition in the version I tried so I have swapped parsley for green onions.
What I was most surprised with in the creation of this recipe was the ease of boiling the potatoes whole and then slicing them. Make sure to not overcook the potatoes as the time limit makes sure that the outside edge is not too crumbly.
For my German Potato Salad I simplified the bacon addition by using pre-crumbled bacon rather than cooking the bacon myself.  While this eliminated the possibility to use some of the bacon grease to saute the onions, I think it is a worthwhile time saving step if you are trying to get the dish on the table in short order.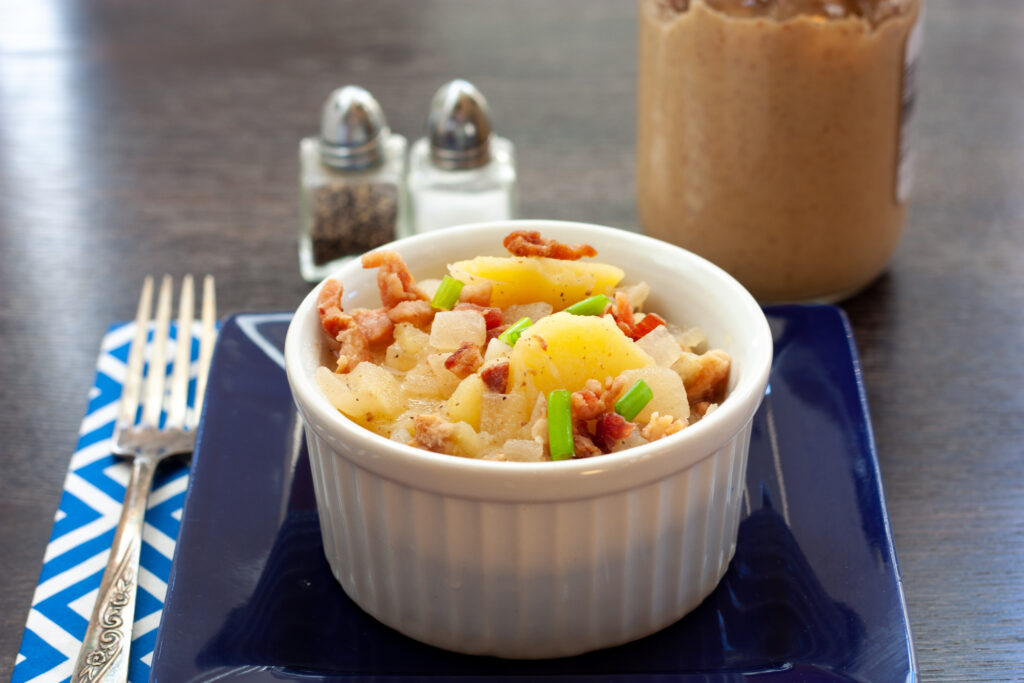 German Potato Salad
3 lbs Yukon gold potatoes,~ 2 1/2 inch diameter
1 tablespoon butter
1 yellow onion, chopped
1 tablespoon brown sugar
2 cups beef bullion
½ cup white vinegar
2 teaspoons beer mustard or Dijon mustard
¼ teaspoon salt
¼ teaspoon black pepper
½ cup crumbled bacon bits
Diced green onions, if desired
Peel potatoes and place in large pot and just cover with water. Bring to a boil and boil 10 minutes. Remove from water and slice into ¼ inch slices and place in a large ceramic bowl.
Melt butter in in medium sized pan and add onions. Brown for 10 minutes, then add sugar, stock, vinegar, mustard, salt and pepper and bring to a boil. Remove from heat and pour over potatoes; Add bacon bits and gently stir to combine. Serve, with sliced green onion if desired.
Note: Some German potato salad recipes mention that the potatoes should be allowed to steep for at least an hour, or overnight. I do feel that the flavor is even better the second day. Just reheat before serving.
(107)