The pictures and recipes for muffaletta always look so good to me. I love all things with olives, so a recipe that is basically devoted to showcasing olive tapenade is right up my alley. Over the last few months I have been wondering if I could create a recipe that had all the same flavors of a muffaletta, with an easier delivery than a sandwich stacked inches high. Thus, my Muffaletta Spoon Bread was born.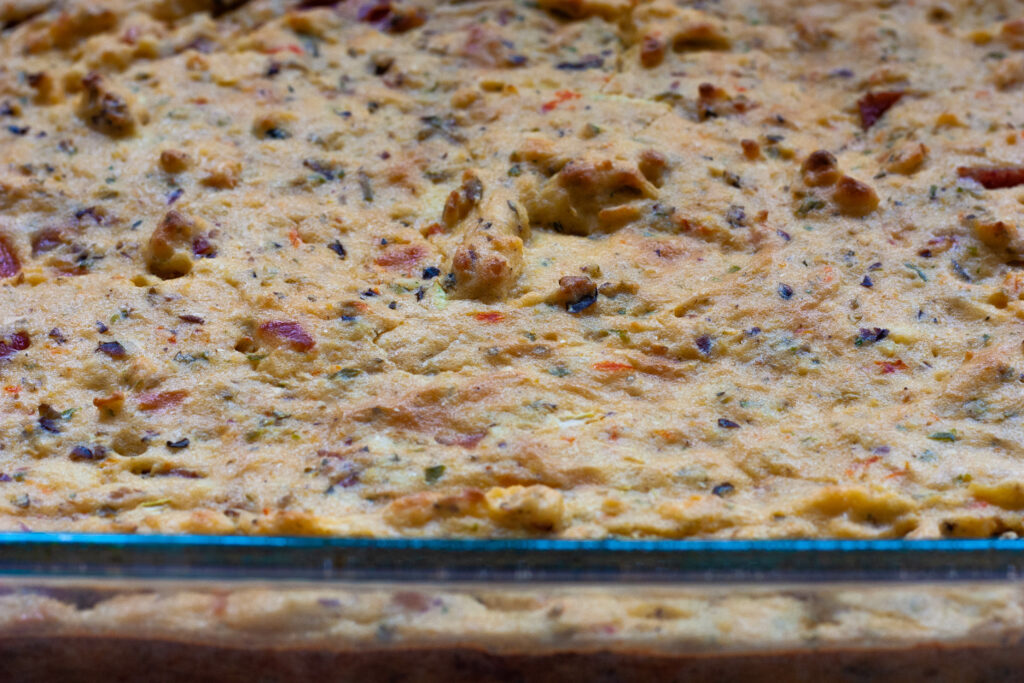 Spoon bread can be described as polenta that has been elevated to a soufflé. It isn't really bread at all, since it is rich and custardy, requiring a spoon (or fork) to eat it. For my Muffaletta Spoon Bread I have folded in my olive tapenade, which I made by marrying together the olive salad recipes from Damaris Phillips and Women's Day Magazine, and a bit of hard salami and provolone. I reviewed a variety of spoon bread recipes before I started, and most seemed to follow three parts liquid to 1 part cornmeal, 1-2 teaspoons of baking powder, and 2-3 eggs. For this recipe I went with the ratios as found in the spoon bread dressing recipe in Carla Hall's Soul Food.
My husband and I deemed the recipe delicious. It is just as decadent as it's namesake sandwich, but in my opinion is an easier way to serve a crowd!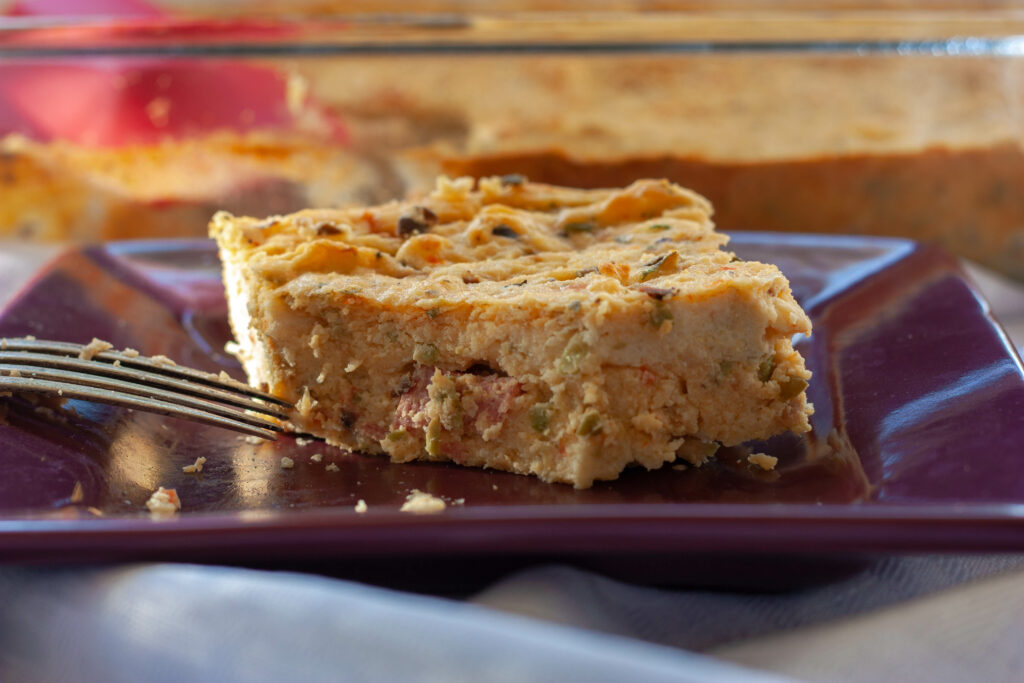 ---
Muffaletta Spoonbread
¾ cup pitted castelvetrano olives, drained
½ cup pitted black olives, drained
½ cup giardiniera, drained
½ canned roasted red pepper, drained
1 celery stalk, leaves removed
2 tablespoons fresh flatleaf parsley
2 cloves fresh garlic
2 tablespoons non-pariel capers
¼ cup olive oil
2 tablespoons red wine vinegar
1 teaspoon Italian seasoning
3 ounces provolone cheese, chopped
3 ounces hard salami, chopped
2 cups half and half
1 cup water
1 tablespoon sugar
1 cup corn meal
1 teaspoon baking powder
3 eggs
Preheat oven to 375 º F. Grease a 3 quart baking dish (9-inchs x 13 inch pan).
To make the olive tapenade, place the first eleven ingredients (olives through Italian seasoning) in a food processor and chop until fine; set aside.
Add the half and half, water, and sugar to a large saucepan and bring to a boil. Gradually add the cornmeal, whisking constantly. Remove from the heat and let cool slightly (about 10-20 minutes). Stir in the tapenade, cheese, salami, and baking powder. In a separate bowl, beat eggs with a mixer on high until light yellow and foamy (I used a tall glass and my immersion blender). Gently fold egg mixture into the cornmeal mixture until incorporated. Pour into the prepared baking dish.
Bake for 20-25 minutes or until puffed, golden brown, and top springs back when lightly touched. Serve.
(110)