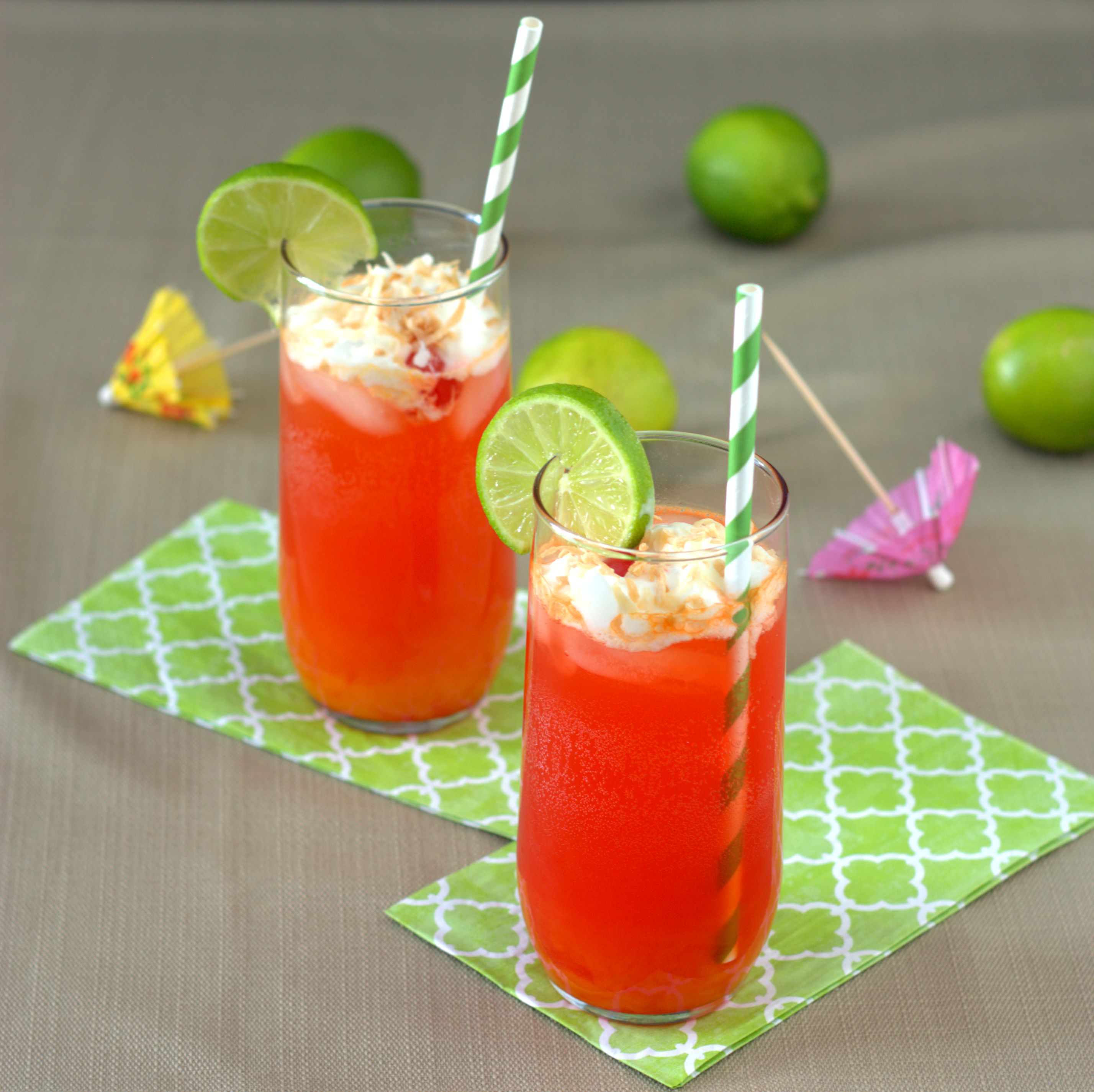 Sigh.  The springtime weather in the Denver area has been crazy this year, with multiple storms each dropping over a foot of snow, all in the last month. My husband has nearly listed our home for no other reason than to escape to someplace warm.  If we can't enjoy our patio or an impromptu jaunt to somewhere tropical, we might as well enjoy a drink, my Coconut Mango Coolers, that tricks us into thinking we are on vacation.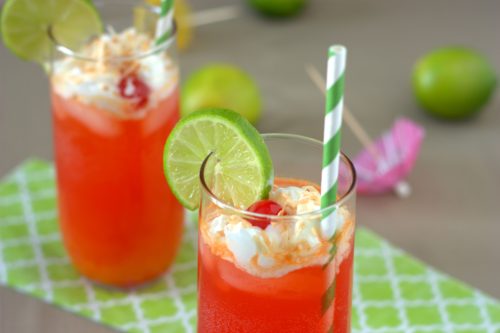 These Coconut Mango Coolers are something I whipped up as an entry for the Master of Mixes At-Home Mixology Challenge last year. Master of Mixes has approximately 20 different non-alcoholic mixer flavors to choose from, making it easy to create a whimsical cocktail or mocktail. I chose the Mango daiquiri/margarita mix to build my Coconut Mango Coolers. The drink is layers of a coconut flavored beverage (vodka or coconut milk), lime syrup, grenadine, mango daiquiri/margarita mix, and lemon-lime pop which created a stratified look that resembles a sunset.  The drink is garnished with whipping cream, toasted coconut, one maraschino cherry, and a lime wedge. With my Coconut Mango Cooler in hand, I can almost forget the piles of snow on the ground.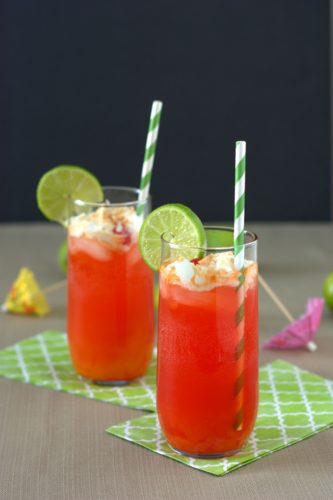 ---
Coconut Mango Cooler
½ cup ice cubes
1.5 ounces coconut flavored vodka (or coconut milk for a non-alcoholic drink)
1 ounce sweetened lime syrup
1 ounce grenadine
4 ounces Master of Mixes Mango Daiquiri/Margarita Mixer
4 ounces lemon-lime flavored carbonated beverage
Aerosol whipped topping (~1/4 cup)
1 teaspoon toasted sweetened, shredded coconut*
1 maraschino cherry
1 lime slice
Add the ice to a Collins glass.  Next pour in vodka, lime syrup, grenadine, Master of Mixes mango daiquiri/Margarita mixer, and lemon-lime carbonated beverage.  Stir gently to mix.  Top with a swirl of whipped cream, then sprinkle with toasted coconut and top with the cherry.  Add the lime slice to the rim of the glass and serve. Makes one serving.
*To make toasted coconut, preheat oven to 350°F.  Spread 1 cup of sweetened, shredded coconut on a baking sheet.  Bake for 8-10 minutes, stirring once, or until coconut is light brown.  Let cool and store in an air tight container.
(619)