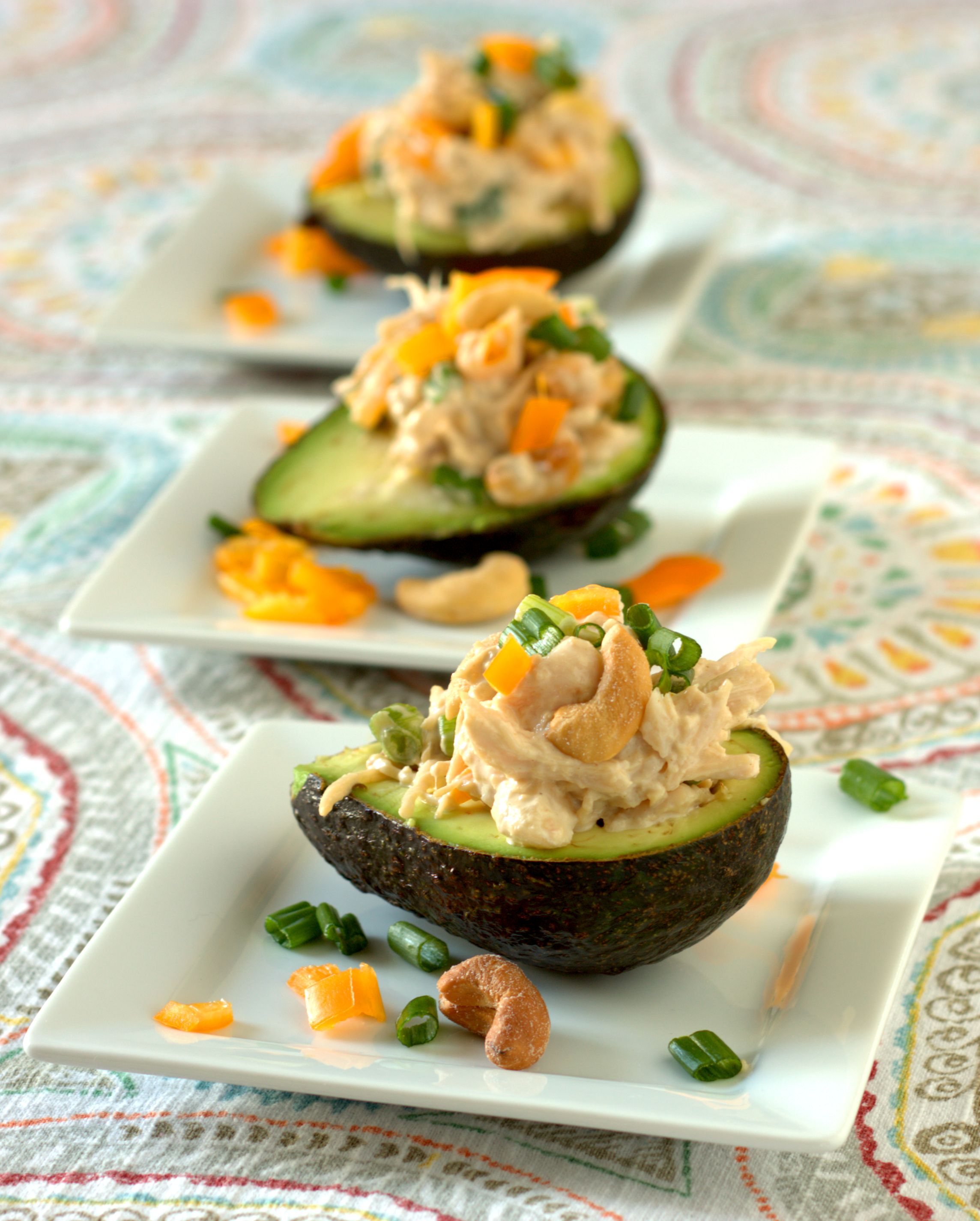 I love cashews.  I think they are my favorite nut, perhaps because they had a seat at our holiday get-togethers growing up.  My grandfather would set them out in a bowl where the adults had gathered and I couldn't resist snagging a few for myself.  They are perfectly salty and creamy, and I find it disappointing that there are so few when you have a container of mixed nuts.
This Cashew Chicken Salad Stuffed Avocados is a result of merely wanting – and buying – a copious amount of cashews.  I figured it was better to incorporate some into a dish rather than scarfing them down by myself.  We often eat chicken salad in my house for lunch, so why not shake it up a bit and make a cashew chicken rendition?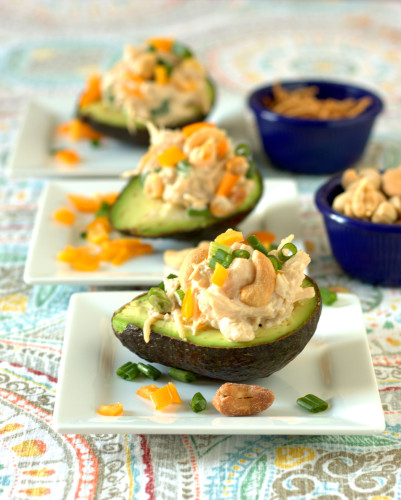 A bit of soy sauce, ginger, and rice vinegar added to mayonnaise form the creamy dressing, and cashews, green onions, orange pepper, and water chestnuts add just the right amount of texture, crunch and flavor to the chicken salad. Serving the salad as a stuffing to avocados was just another fun way to break out of the lunchtime rut.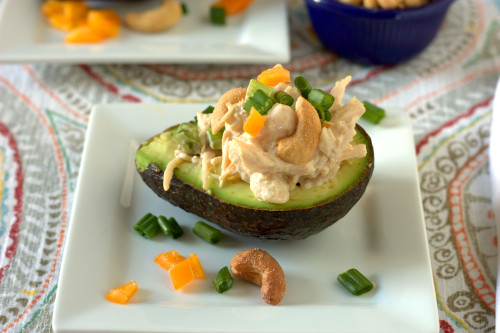 I served the Cashew Chicken Salad Stuffed Avocados with some rice noodles and cashews on the side so that my family could add as much or as little as they wanted.  The dish was an instant hit, even with my two little kids. Lunchtime success!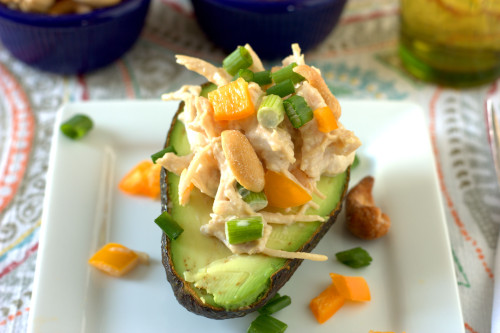 P.S. If your New Year's resolution has you trimming fat from your diet, try the Cashew Chicken Salad over arugula instead of avocados (though note that avocados pack a lot of nutrients, so they shouldn't be vilified for their fat content!) . My husband and I thought this was just as yummy over greens (plus I was out of avocados after the photos seen here and the salad was requested again by the hubby).
---
Cashew Chicken Salad Stuffed Avocados
12.5 ounce canned chicken, drained
4 green onions, diced
¼ cup diced orange pepper
1/3 cup salted cashew pieces
¼ cup diced water chestnut
½ cup mayonnaise
1 tablespoon soy sauce
½ tablespoon rice vinegar
1 teaspoon ground ginger
4 large, ripe avocados
Crispy rice noodles (optional)
Additional cashews (optional)
Add the canned chicken, onions, pepper, cashew pieces, and water chestnuts to a large bowl; set aside.  In a separate, small bowl, whisk together the mayonnaise, soy sauce, vinegar, and ginger until a smooth sauce forms. Pour the sauce over the chicken mixture and stir to coat and mix the ingredients well. Slice the avocados in half lengthwise, remove the pits and then place the sliced avocados cut side up.  Evenly divide the chicken mixture between the avocados, stuffing the pit cavity.  Serve with rice noodles or additional cashews, if desired.
(529)