The start of the New Year brings renewed, optimistic goals in addition to wishes of good will for family and friends. As I mentioned in last year's lentil salad post, there are some food dishes that are traditionally eaten on New Year's Day as a symbol of good luck. One such dish is a combination of black-eyed peas, greens (such as collard greens or another leafy item), and a pork item, such as bacon. While the history of the tradition may be a bit murky, and its true impact on good fortune untraceable, I embrace the opportunity to consume a food item that I haven't thoroughly explored – the black eyed pea.
Instead of making a traditional Hoppin' John or salad, I opted for a pasta dish, which I have dubbed Lucky New Year Penne Pasta. I also swapped collard greens for chard and ham hock for prosciutto for an Italian rendition of the prosperity trio.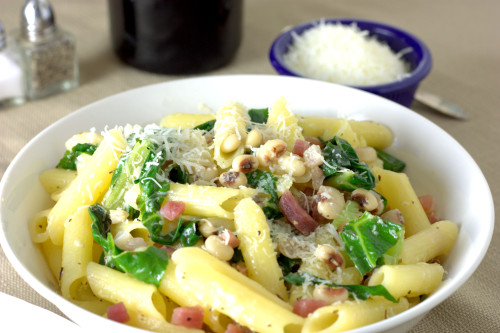 I added the black eyed peas to my pasta water prior to the pasta, to make sure they had extra time to soften, and I added the chard at the last minute of cooking to just barely wilt the greens. The pasta gets smothered in a lemon butter sauce that is flavored with onions, prosciutto, basil, and pecorino Romano, giving it a fresh and light taste.
My exploration of a newer food – the black eyed pea – made me realize that I should use it more often. It has a mild taste, which means that it can easily be masked by stronger ingredients while offering a budget friendly way to add needed protein and fiber.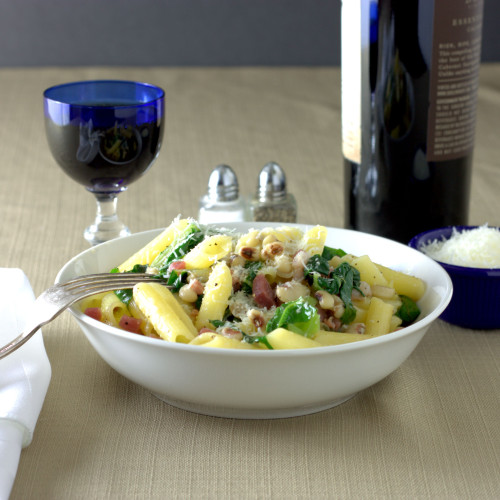 Whether you try my Lucky New Year Penne Pasta, sample another unique black eyed pea dish (such as this curry from Strength and Sunshine), or opt out of "lucky" dishes all together, may your New Year bring success and happiness!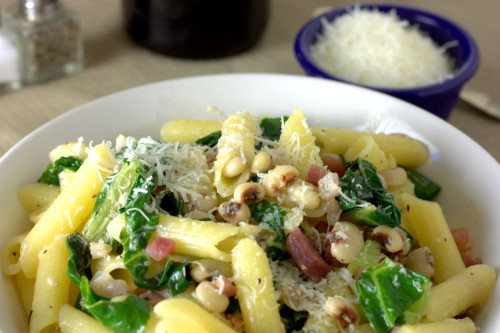 ---
Lucky New Year Penne Pasta
4 ounces frozen black eyed peas
12 ounces gluten free penne pasta
1/2 cup butter, divided
1 cup diced, yellow onion
½ cup lemon juice
1 teaspoon dried basil
¼ teaspoon Salt
1/8 teaspoon pepper
4 cups chopped green chard
4 ounces diced prosciutto
½ cup Pecorino romano (plus more for serving)
Bring water to a boil in a large pot. Add the black eyed peas and boil for 10 minutes. Add the pasta and boil for an additional 11-13 minutes, or until tender. While the pasta is cooking, melt ¼ cup of butter in a non stick pan, and add onions. Saute onions for 8-10 minutes, or until just begin to brown. Add the remaining butter, lemon juice, dried basil, salt and pepper to the onions and bring to a simmer. During the last minute of cooking for the pasta, add the chard, then drain the pasta once the chard has wilted and turned vibrant green; transfer to a large bowl. Add the prosciutto to the butter sauce, saute for 1 minute, then pour over the pasta and stir to coat. Sprinkle on the pecorino Romano and stir to coat. Serve with additional pecorino Romano, if desired.
(655)