One of the cooking contests I am currently experimenting for is the Our Family Garden applesauce contest.  This contest has been so much fun, in part due to the enthusiasm of the host.  He has been giving contestants frequent insights into their products and business, making it a joy to share my cooking hobby with them. 
The other reason this contest has been so much fun is that the applesauce line is amazing.  Their products taste like your favorite, homemade batch – so much so that I had to be diligent to bake with it, rather than eat it right out of the jar.
One of my favorite recipe creations so far was an Apple-Cheddar Bread.  The bread is sweet, with a hint of savory, even with using the unsweetened applesauce. I loved the end result, as did my kids.  They kept requesting slices, which meant we polished off the loaf in under 24 hours.  I enjoyed eating it warm as an afternoon snack and as a breakfast treat.  I can't wait to hear which way you prefer to eat this delightful Apple-Cheddar Bread!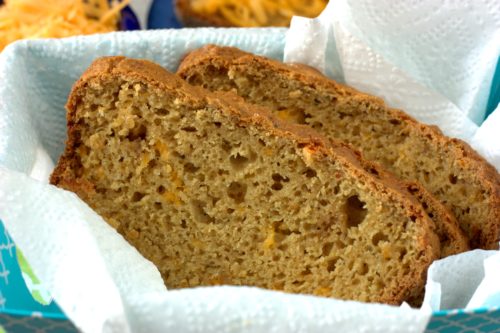 ---
Apple Cheddar Bread
2 cups flour (plus some for dusting pan)
1 teaspoon baking soda
½ teaspoon baking powder
1 teaspoon dried basil
½ teaspoon salt
1 cup unsweetened Our Family Garden applesauce
4 tablespoons melted butter, cooled
2 large eggs
1 cup shredded, sharp cheddar
Preheat oven to 350°F.  Grease a 9-inch by 5 inch loaf pan and then dust with flour.
In a medium sized bowl, mix together the 2 cups of flour, baking soda, baking powder, basil, and salt; set aside.  In a separate large bowl mix together the applesauce, melted butter, and eggs and stir to mix evenly.  Gently stir in the flour mixture in small batches until it is all incorporated.  Gently fold in the cheddar, then pour into the prepared loaf pan.  Bake for 45 minutes or until a toothpick comes out clean.
Let cool to desired temperature, then cut to serve. Can be served warm or cold.
(161)