My daughter was successful in finishing kindergarten as a word warrior (a title based on the number of first grade words she knew). In our house, this title earned her a dinner of her choosing.   We meandered through the grocery store, and one of the items she picked out was peewee potatoes.  For her special dinner, I roasted some of the tiny potatoes (they are about the size of grape or cherry tomatoes) and contemplated how else I could serve them.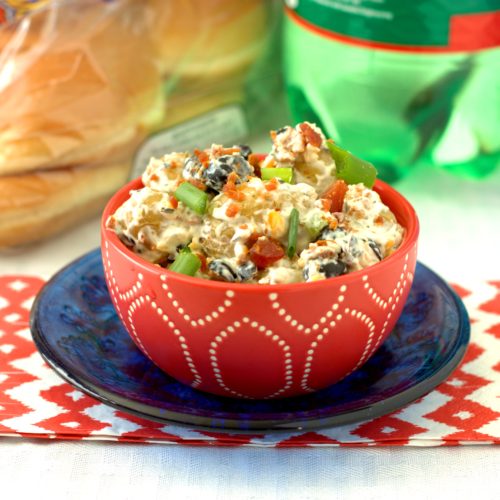 One idea that came to mind was a potato salad that didn't involve chopping and boiling.  Hence, the Baked Potato Salad was born. The mini potatoes are roasted whole, and then stirred together with some chive cream cheese, bacon bits, black olives, green onions, and cheddar cheese for a crowd pleaser of a dish.
The Baked Potato Salad was such a hit with my husband, I'm sure the next time I make it I will need to double the recipe to have enough for guests!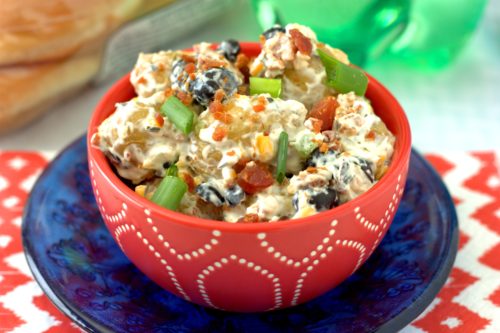 Baked Potato Salad
1 ½ pounds peewee potatoes
4 ounces whipped, chive cream cheese
One 2.25 ounce can sliced, black olives, drained
¼ cup shredded sharp cheddar cheese
¼ cup real bacon bits
¼ cup diced green onions
Preheat the oven to 375°F.  Rinse the peewee potatoes, then spread them out on a large, greased baking sheet.  Bake for 20-25 minutes, or until tender and begin to brown slightly.  Remove from the oven and let cool.
Place the cooled, baked potatoes in a large bowl, add the cream cheese and stir to coat.  Add in the remainder of the ingredients and stir to mix.  Refrigerate until ready to serve.
(230)