Surprisingly, fall in Colorado has stayed relatively warm.  Despite the lack of cooler nights, I have gotten into the fall spirit.  Perhaps it is the pumpkin flavored everything you see popping up in the grocery stores, but I felt a squash based supper was in order.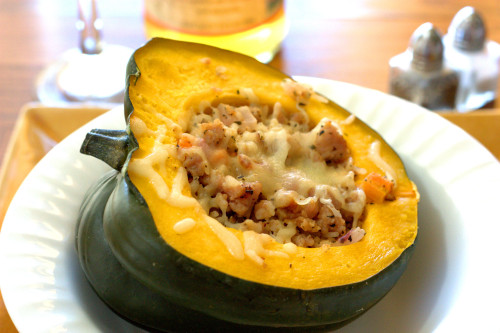 Why not celebrate the start of fall with a Bratwurst Stuffed Acorn Squash dinner?  In particular, I thought my kids would get a kick out of the boat-like shape and maybe actual eat more or the acorn squash than typical. I also decided to ramp up the fall fest theme by using uncased, ground pork bratwurst. When combined with the onions and carrots, and seasoned with cloves, fenugreek, and basil the dish perfumed the house with delicious smells and made me want to throw on a sweater to get into the spirit of fall, despite the 85 °F weather.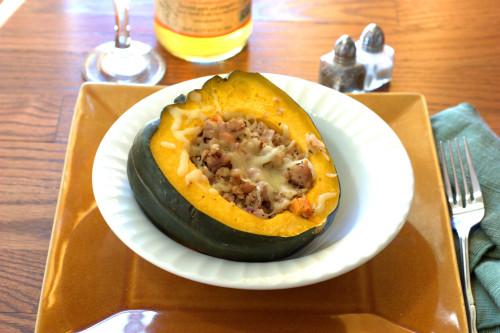 The Bratwurst Stuffed Acorn Squash was a great break from the typical grilled dinners we have been enjoying lately.  It also reminded me to occasionally find ways to make dinner fun for the kiddos, especially when trying new foods or ones they haven't had in a while.  Do you have a favorite, kid-fun dinner idea?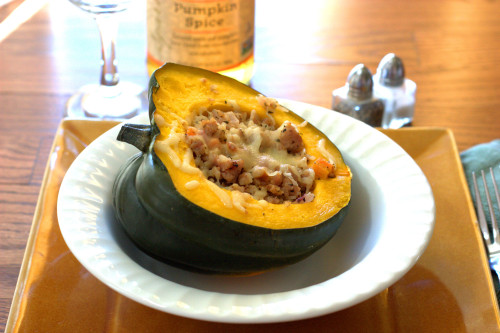 ---
Bratwurst Stuffed Acorn Squash
3 medium sized acorn squash, halved and seeded
1 lb German style bratwurst ground pork, uncased
4 tablespoons butter
1 cup diced red onion
½ cup diced carrot
1 cup precooked long grain rice
1 teaspoon ground basil
1/2 teaspoon fenugreek
1/8 teaspoon ground clove
1 cup shredded mozzarella
Preheat oven to 375 °F. Add an inch of water to a roasting pan and place the acorn squash halves cut side down. Bake for 45 minutes or until squash is tender yet still holds its shape.
Meanwhile make stuffing by first frying pork sausage until light brown. Remove pork and add to a large bowl. Melt the butter in the pan used to cook the sausage, then add the onions and carrots and saute them for 3 minutes. Add the rice and stir to coat, then remove from the heat and add to the pork. Add the fenugreek, cloves, and basil to the pork mixture and stir until well mixed.
Remove the squash from the oven, turn the squash cut side up and then fill evenly with the sausage stuffing. Sprinkle the cheese evenly over the top of the squash and return to the oven for about 10 minutes, or until the cheese is melted and the stuffing heated through.
Remove from the oven and serve immediately.
(1080)