In the winter months my family is a huge fan of soup. It is an easy, warm meal that we enjoy for both lunch and dinner, plus it is one of the best ways to get my kids to eat a variety of vegetables in one sitting. Typically, my go-to recipe is chicken soup, starting with homemade stock using leftover rotisserie chicken. These days I often use rice instead of noodles, to make the soup gluten free (and because it is an easy leftover addition). This month I decided to change it up a bit and added both wild rice blend and mushrooms, resulting in a hearty and stew-like consistency Chicken, Wild Rice, and Mushroom Soup.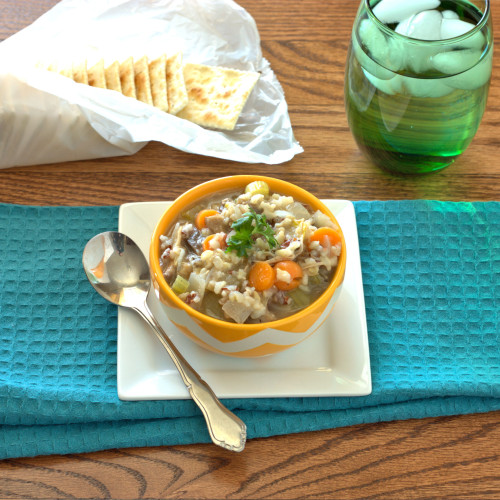 It is so good that sometimes I am torn between packing it up for my weeks-worth of lunches or actually leaving enough for the rest of my family to have some too. Since I love my family, I do share the batch, it just means that it doesn't last past 2 days in our house.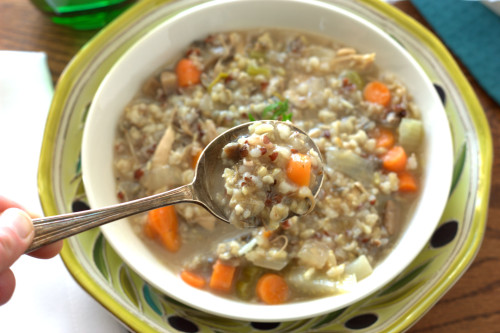 While I usually make my own stock, I decided to write the recipe below for pre-made stock for easier replication. I recommend tasting your soup for salt prior to adding the amount I have listed below since I tend to start from a low sodium base. The other great thing about this recipe is that it can easily be halved or doubled.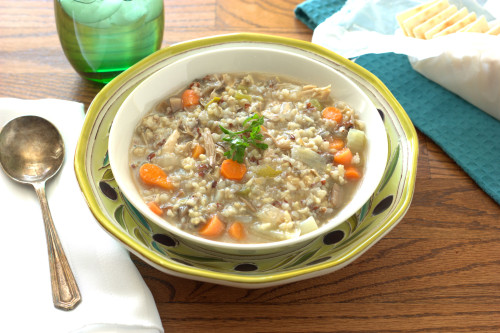 I'm looking forward to enjoying this soup – and others! – all winter.
---
Chicken, Wild Rice, and Mushroom Soup
2 tablespoons butter
1 lb mushrooms, chopped
16 cups chicken stock
3 cups diced carrots
3 cups diced celery
3 cups chopped, precooked chicken
3 cups wild rice blend
2 teaspoons salt
1 teaspoon black pepper
Melt the butter in a non-stick skillet, and cook the mushrooms until browned, about 15 minutes. Add the mushrooms, along with the stock, carrots, celery, and chicken to a large stock pot and bring to a boil. Once boiling, add the wild rice blend and reduce to a simmer and cook for 1 hour longer, or until the rice is tender and the soup has thickened. Stir in the salt and pepper. Serve; allow to cool and then store leftovers in the refrigerator.
(626)