I have been waiting all summer for fresh roasted chilies from my local farmers market. While I could roast peppers myself, you just can't beat the chilies roasted over coals in a hopper. Last week I was informed that there was only one more week of waiting, so I put my name down for two bags of their medium Anaheim roasted chilies, assuming it was the quart sized bags they had last year.
What I hadn't been told was that the list wasn't for small bags of chilies, it was for bushels. BUSHELS. I had ordered TWO bushels of roasted chilies. I ended up leaving the market with one bushel, with the assurance that the other would go fast (which I have no doubt, seeing as how many people ask for them).
In case you are wondering, this is what a bushel of roasted chilies looks like . . . Getting through the entire fifteen pound bag may take a while, and will be why chilies may be a frequent ingredient in future postings.
The first thing I wanted to make with my chilies was Chili con Queso, surprisingly with a cheese substitute – Cashew Cheese. Cheese makes up a generous portion of my diet, which is why eliminating dairy from my diet temporarily to rule out a food sensitivity was difficult, and the few dairy-free cheeses I tried didn't satisfy my craving. Thankfully, my cheese famine was short lived, though I'm always on the lookout for a good alternative, since some of my good friends have had to maintain a longer dairy hiatus.
Imagine my surprise when at a food event this April I stumbled upon cashew cheese.The unique aspect about the Beyond Better® product I picked up is that it is the only dried version on the market, making it a simple option to pack with you that requires only water for reconstitution. It is a diary-free, gluten-free, organic cheese substitute that actually tastes like cheese!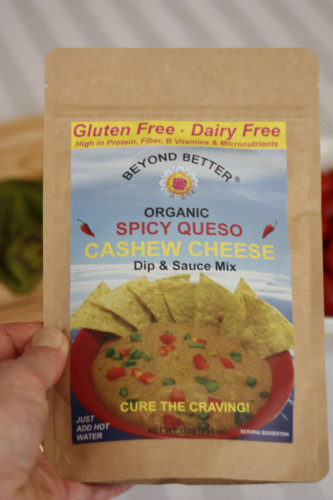 To make my Chili con queso, I cooked ½ pound of ground beef , then added the cashew queso dip and water,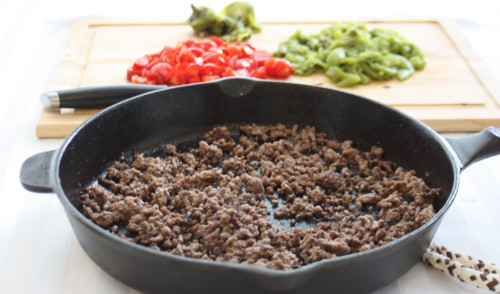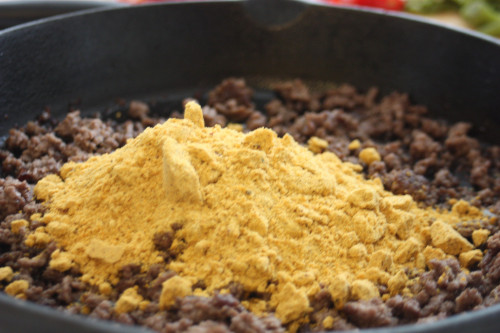 then I added a bit of the diced freshly roasted chilies and some diced cherry tomatoes . . .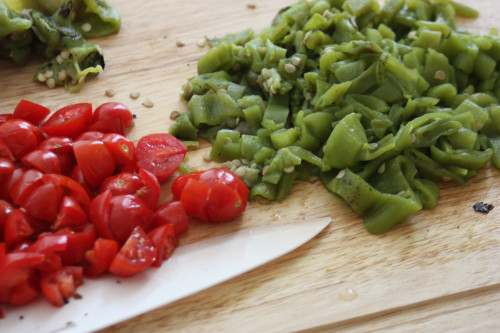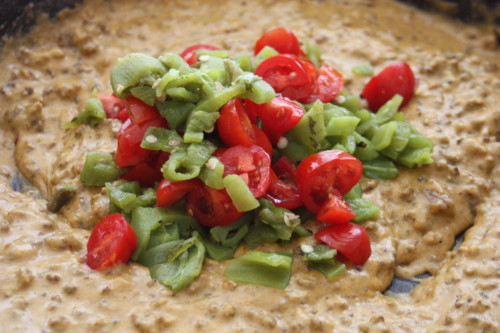 for a hearty, kid & husband approved, lunch of queso and blue corn chips.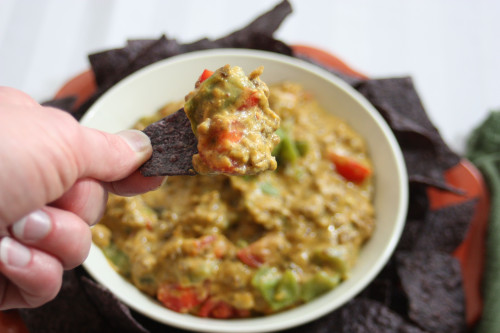 Now I just have to figure out what to do with the remaining 14 ½ pounds of chilies. . . .
---
Chili con Queso with Fresh Roasted Chilies and Cashew Cheese
½ lb ground beef
4 oz package of Beyond Better® Spicy Queso Dip
1 ½ cups water
½ cup freshly roasted chilies, diced
½ cup diced cherry tomatoes
Cook beef in a skillet over medium heat until fully cooked and browned, breaking it into small pieces. Add the queso dip and water and stir until no clumps remain. Heat for 1-2 minutes longer, until thick and bubbly. Stir in the chilies and tomatoes, and then remove from the heat. Serve with corn chips.
(4248)