The dessert my husband always makes room for is the cannoli. If he just hears the word his eyes light up in anticipation of one of his most favorite treats. The chocolate cherry cannoli cups I made as a just-because dessert have now earned an equal space in his heart as compared to the traditional version.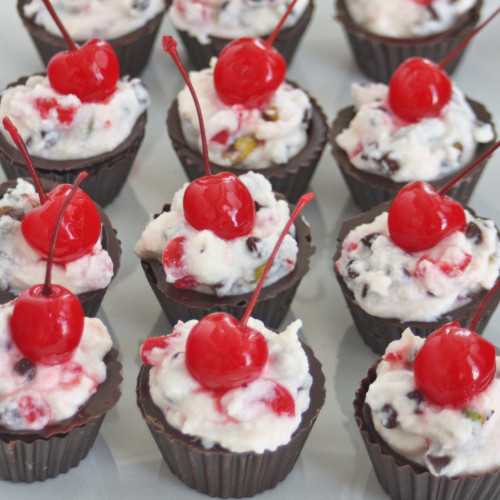 The first time I made the filling I didn't have time to make the typical forms, but that didn't stop him from enjoying them free-form.  A generous bowl in hand, our children thought he was eating yogurt and followed suit with their own miniature bowls. Clearly this family loves their cannoli! It was my husband's idea to put the filling in chocolate cups, which I have to admit is my favorite way to eat this cannoli filling. Not only do you get a perfectly sized bite of cannoli, it lends itself to a pretty presentation. I don't think I can get out of having these at all holiday functions from now on.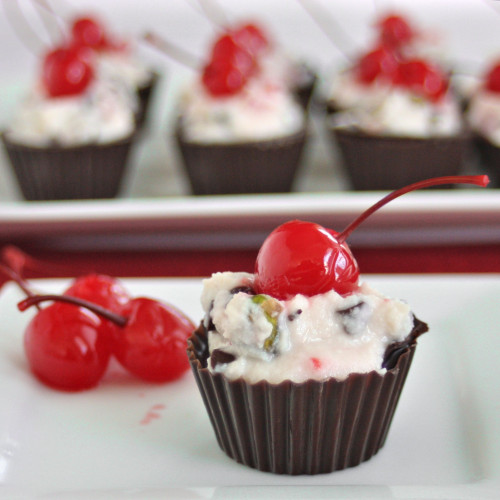 ---
Post Update:
As soon as my in-laws saw this post, they begged me to make some for dessert since they happened to be visiting.  I didn't have time to make more cups, but I did manage to find to good pre-made Belgian chocolate thins and pre-made cups at Cost Plus World Market.
The result was just as tempting as the home-made cups!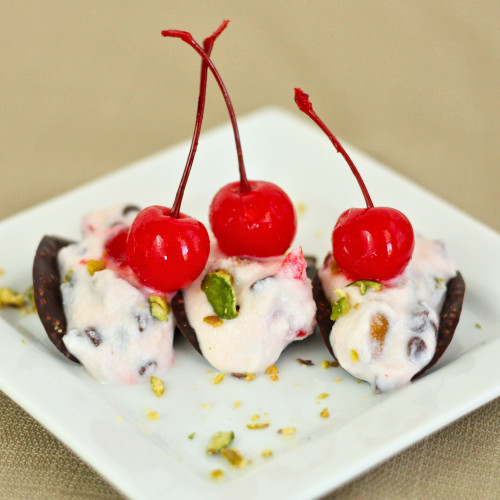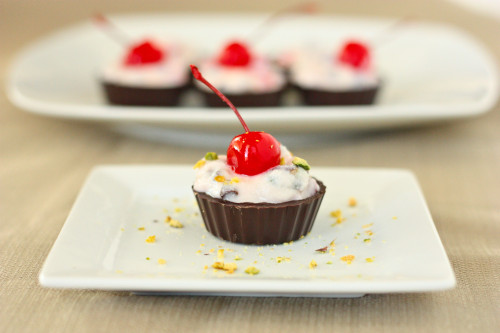 ---
Chocolate Cherry Cannoli Cups
2 cups ricotta
¾ cup powdered sugar
½ tablespoon cherry extract
½ cup shelled, whole pistachios
½ cup mini chocolate chips
36 maraschino cherries, divided
24 chocolate cups*
Place the ricotta cheeses and powdered sugar in a large bowl and stir together until the sugar is dissolved. Add the cherry extract, pistachios, and mini chocolate chips to the bowl. Remove the stem from twelve of the cherries and dice the cherries and add them to the bowl. Stir the ricotta mixture until all of the ingredients are evenly mixed. Refrigerate the filling until just before you are ready to serve the cannoli cups. Just before serving, divide the cannoli filling evenly between the 24 chocolate cups and then place one cherry on top of each cannoli cup. Refrigerate any leftovers.
* Chocolate cups can be purchased pre-made, or you can make your own with Wilton's melting chips and forms. I used only the bottom portion of a 3-D cupcake container mold to make my cups. Following the directions on the mold, I needed 16 oz. of dark cocoa candy melts (about 1 1/3 packages) to make 2 dozen cups.
(889)