I had so much fun with last week's easy, Halloween themed post I couldn't resist making another themed post. I had a few different ideas for a festive drink, but the one I was most excited about didn't quite work. As I was scrounging around the kitchen for a new idea I happened upon a box of vanilla pudding mix and this Goblin Smoothie was born. The package actually listed a recipe for a banana smoothie (the recipe here with two bananas and some granola mixed in and the dye omitted) which I thought could easily be modified for a Halloween treat. I had bought some plastic eyeballs to place garnish a treat and scare my kids ( I know, mean mom) and I thought this might be a great rescue to my festive drink attempts.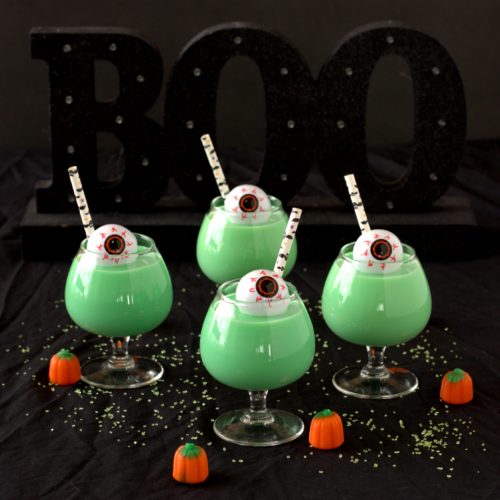 Add a bit of extra milk to the pudding package gives it a smoothie texture, yet it is thick enough to float the Halloween garnish on top. The classic flavor means that it will be a hit with a wide audience, and much to my surprise my kids thought the ghoulish garnish was funny. I guess I have to work harder to give them a fright!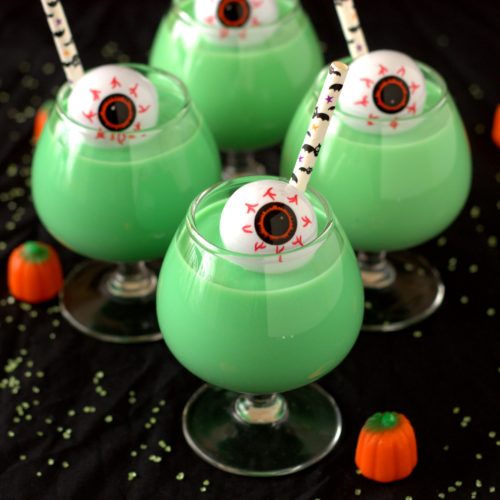 ---
Goblin Smoothie
One 4 ounce package of vanilla pudding
3 cups milk
10 drops green food coloring
4-5 Plastic eyeballs for decoration (or other ghoulish accents)
4-5 festive straws
In a large bowl mix together the vanilla pudding, milk and green food dye until smooth and even in color. Pour into 4-5 serving glasses and let set for five minutes. Gently place the eyeballs on top and add a festive straw. Refrigerate until ready to serve.
(1394)