Move over caprese skewers, a new, hotter appetizer is in town.  These Habanero Watermelon Skewers are just as easy and fun as their cousin. I happened to find hot habanero cheese at the grocery store this week and I was wondering how to work it into a dish.  It turns out this particular brand is super spicy so I wanted to balance the heat with some cooler ingredients.  Seeing the untouched, seedless watermelon on my counter, an idea started to form.  What if I created Habanero Watermelon Skewers?
The idea of blending cheese and watermelon might seem unusually, but it is actually a great balance of sweet and salty.  I have tried – and loved – this watermelon, feta, mint, and pepper salad from bhg.com. It seemed logical that another cheese + watermelon combo could be just as tasty.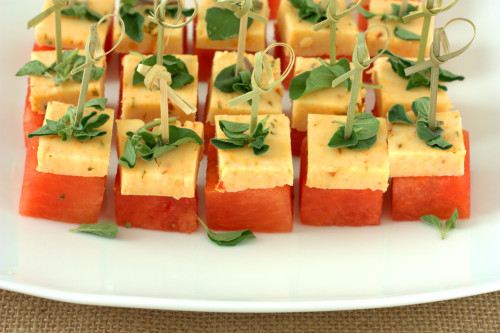 So I tried it.  Instead of basil, mozzarella, and tomato found in a caprese skewer, I used fresh oregano, hot habanero cheese, and watermelon.  It is a wonderful balance – the pepperiness of the oregano and sweet, juiciness of the watermelon are a good partner to the spicy cheese.  These Habanero Watermelon Skewers are sure to be a talked about item at your next gathering – just make sure that if some of your guests prefer a more mild spiciness that you heed the note listed in my recipe, below.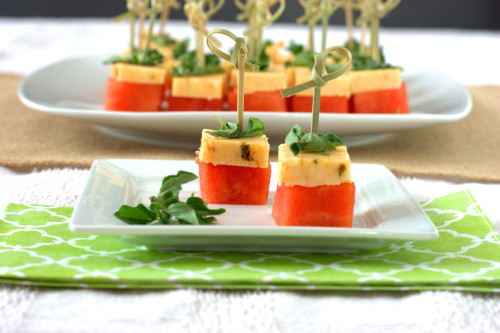 Habanero Watermelon Skewers
3 to 6 ounces of hot habanero cheddar cheese slices (* see note)
2 ½ cups seedless watermelon cubes (1inch x 1 inch x 1/2 inch), ~ 20
0.25 ounces fresh oregano
20 appetizer skewers
 
Cut the cheese into slices (see note, below). Place the watermelon cubes on a tray, then place a slice of cheese on top of each, and evenly divide the oregano leaves between the appetizers.  Place an appetizer skewer through each stack, anchoring the pieces together.  Refrigerate until ready to serve.
*note: The pictures use 6 ounces of hot habanero cheese, cut in 1 inch x 1inch x ~¼ in slices (5 rows lengthwise, 2 rows widthwise, and thickness cut in half).  The brand I used (Lucerne) was pretty hot, so if you prefer less heat I would recommend cutting the slices in half (1 inch x ½ inch x ~¼ inch) and centering on the watermelon.
(560)