Changing work schedules and the start of the school year has resulted in a desire (and need) to simplify prep of weekday meals and snacks.  Consequently, when I was reminded about muffin tin eggs I thought I should give a variation of the recipe a try. Since I had just found hash brown patties the same size as my mini loaf pan I knew that I just had to make an individual stacked egg soufflé.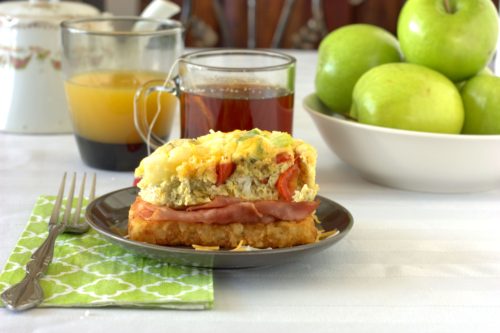 Using the muffin tin method of cooking the eggs lends itself to individualization of the mix-in ingredients.  If you don't happen to be a fan of tomatoes or onions – no problem! Swap in your favorite veggies.  The recipe I used as my guide suggested 12-15 minutes for muffin tin cooking, but I found I needed 20-25 minutes to set the eggs in the larger min loaf pans.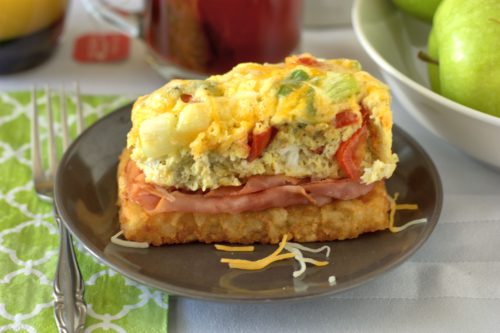 The layering of the hash brown patties, honey ham, and egg soufflé was a great balance of rich flavors in a manageable personalized portion.  The presentation and built-to-suit egg soufflés were also a hit with my guests!
---
Individual Egg Soufflé Stacks
8 large eggs
4 tablespoons butter, melted
½ teaspoon salt
½ teaspoon garlic powder
¼ teaspoon black pepper
½ cup diced baby tomatoes
¼ cup diced green onion
8 tablespoons shredded cheddar cheese blend
4ounces thinly sliced honey ham lunch meat
4 hash brown patties
Preheat oven to 350 °F.  Spray a small cookie sheet and a mini loaf pan (8 mini loaves) with nonstick spray.  In a large bowl, stir together the eggs, butter, salt, garlic powder, and pepper. Evenly divide the tomatoes and green onions between four of the mini loaf pans. Then, evenly pour the egg mixture over the tomatoes and green onions, and then top each with 2 tablespoons of cheese.  Place one ounce of honey ham in each of the remaining loaf pans, and place the hash brown patties on the cookie sheet. Place the loaf pan and the cookie sheet in the oven.  After 10 minutes, flip the hash brown patties and return to the oven.  Continue baking both until the eggs are set, about 20-25 minutes. Remove from the oven and then plate by topping each hash brown patty with one ounce of ham and one mini egg loaf.  Serve warm.
(414)