The weather in Denver has vacillated between 2 feet of snow and 65°F and sunny for a few weeks now, but I am hoping that we have finally put the mega snow storms behind us.  In trying to keep a smiling disposition regarding the weather, I have been dusting off my bbq recipes, like this Jackie's Potato Salad. It isn't overly heavy, and appeals to a wide crowd, making it a go-to in my book.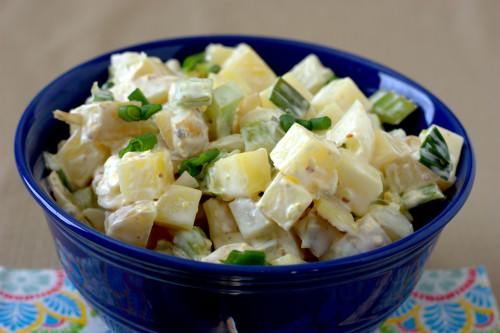 One of my preparation tips is to use a French fry cutter. Not only does this cut down on chopping time, once the potatoes pass through the French fry cutter it is a lot easier to cut evenly shaped cubes. Then once the potatoes are cooked, they are mixed with two types of onions, some celery, and relish. The dressing is a mix of mayonnaise, mustard, and malt vinegar for just the right zing. The only step left is to make sure my husband doesn't hoard the dish. Since no two recipes are the same, I'd love to hear what you stir into your potato salad!
---
Jackie's Potato Salad
2 ½ pounds Idaho or golden potatoes, skinned (if preferred) and diced into 1cm cubes
½ Cup finely diced green onion (about 4 stalks)
½ Cup chopped cocktail onions (about 16 onions)
½ cup diced celery
¼ cup sweet pickle relish
¾ cup mayonnaise
1 ½ Tablespoons spicy brown mustard
1 Tablespoon malt vinegar
  Place potatoes in a large pot and fill with enough water to cover potatoes.  Place over a medium-high heat on the stove and bring to a boil (about 15 minutes).  Cook at a boil for 10 minutes longer, or until the potatoes just become tender and cooked throughout without becoming too soft. Remove from the heat, drain, and rinse with cold water until the potatoes are cool to the touch. Transfer the potatoes to a large bowl and add the green onions, cocktail onions, celery and relish.  In a small bowl mix together mayonnaise, mustard, and vinegar. Pour over potatoes, and stir until the salad is well mixed and evenly coated.  Refrigerate until ready to serve.
(420)