This week's fun, Colorful ChoicesTM inspired dish is a Papaya-Peach Smoothie.  In addition to the challenge to eat colorful produce, two other factors contributed to my recipe:
(1)    I may have overbought a variety of fresh fruit this past week.  Peaches were a steal and it had been awhile since we had eaten papaya.  This was in addition to the wealth of apples, cherries, blueberries, and strawberries that I had stocked.
(2)    My daughter wanted to make a special treat to enjoy with her neighbor friends. She had suggested muffins or cupcakes. Since it is the middle of July I wasn't keen on the idea of firing up the oven, so sly mom that I am, I offered up the mommy-wants-to-use-up-excess-fruit smoothie idea instead.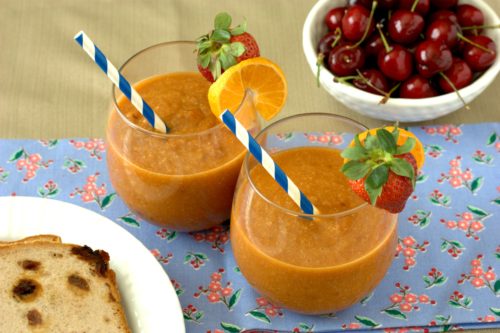 Keeping the smoothie simple, I used my food processor to blend papaya, peaches, almond milk, honey, flax meal, and Saigon cinnamon into a delicious treat that the whole family enjoyed.  The mix of papaya and peaches was the perfect blend of exotic and sweet tastes.  Just like in my Orange Creamsicle Kefir Smoothies, the flax meal amps up the omega-threes and fiber to make this Papaya-Peach Smoothie a healthy breakfast alternative.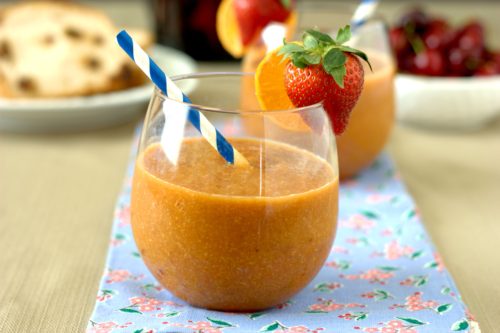 Now I just have to eat my way through the rest of our fruit!
---
Papaya-Peach Smoothie
2 cups chopped, ripe papaya
3 ripe peaches, pitted and chopped
½ cup almond milk
4 tablespoons flax meal
1 ½ teaspoons Saigon cinnamon
2 tablespoons honey
Add the papaya and peaches to a food processor or blender and mix until smooth.  Add in the rest of the ingredients and process until smooth again.
(648)