Thanks to Grandpa, my children associate weekends with special breakfast treats. Their favorite is pancakes, so in a moment of weakness I agreed to make some for them. That might seem like a funny recipe item to resist, however pancakes are the bane of my existence. I make them so infrequently that it usually takes me half the batch before I get into the rhythm of the perfectly brown flap-jack.
To differentiate my pancakes from Grandpa's, I dug out my ebelskiver. An ebelskiver pan has spherical indentations to make the Danish pancake treat – a round pancake that has a filling of jam or chocolate. I know what you are thinking. Why does someone who has a love/hate relationship with pancakes have a specialty pancake pan? My theory is that creating pancakes with a fun shape plus the bonus of a decadent filling is one of the ways to improve my pancake making (and consumption) skills. I think it may be working.
I decided to go with a classic flavor combination for my ebelskiver, resulting in these PB&J pancake puffs.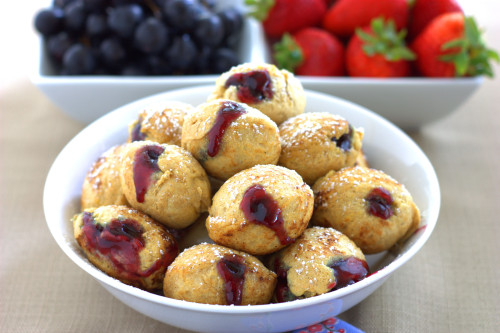 A light, peanut butter pancake batter is perfectly complemented by the Concord grape jam filling. A dusting of powdered sugar is all that was needed as garnish, and enticed even the adults to try these PB&J Pancake Puffs.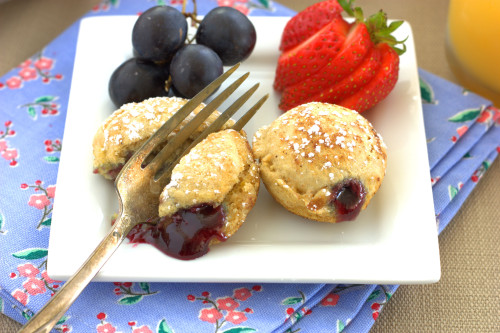 While they take a bit longer to prepare than your traditional pancake, I think the wow factor is worth it. Wouldn't this be a great way to celebrate dad and grandpa on Father's Day?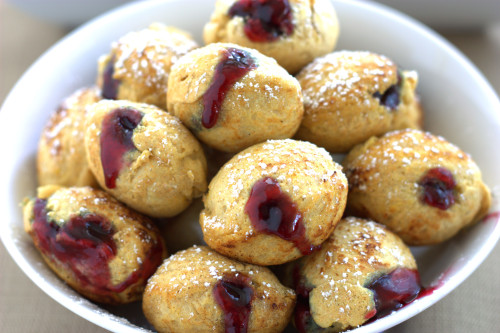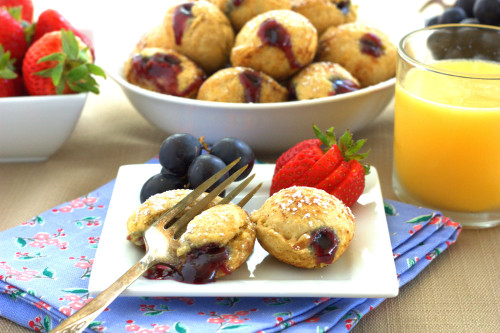 ---
PB&J Pancake Puffs
1 cups all-purpose flour (your favorite gluten free blend can be used, too)
2 tablespoons sugar
2 1/2 teaspoons baking powder
1/4 teaspoon salt
½ cup creamy peanut butter
1 large egg
1 cup milk
2 tablespoons melted butter
1 cup concord grape jam
Powdered sugar (optional)
In a bowl, mix flour with sugar, baking powder, and salt. In a small bowl, beat egg and peanut butter, then blend in the milk. Add liquids to dry ingredients and stir until evenly moistened.
Place an ebelskiver pan over medium-low heat. When pan is hot, brush pancake indents lightly with melted butter and fill each to slightly below the rim with batter. In about 1 minute, thin crusts will form on bottoms of balls (centers will still be wet); pierce the crust with a slender wood skewer and gently pull shell to rotate the pancake ball until about half the cooked portion is above the cup rim and uncooked batter flows down into cup. Cook until crust on bottom of ball is again firm enough to pierce, about another minute, then rotate ball with skewer until the ridge formed as the pancake first cooked is on top. Cook, turning occasionally with skewer, until balls are evenly browned and no longer moist in the center, another 2-3 minutes. Remove cooked balls from pan and keep warm. Repeat with the remainder of the batter. Once all the batter has been used, fill each pancake puff with the grape jam using a pastry injector/cupcake injector. Sprinkle with powdered sugar, if desired, then serve immediately (makes approximately 24 ebelskiver).
(600)