With the Super Bowl just around the corner, many of us are thinking about what finger food to serve as we gather friends to watch the big game.  An easy go-to is a spread of chips and dip, but all too often this poses a big threat to the renewed resolutions to eat better in the New Year. Why not add a few slimmed down favorites? For example, my Skinny Spinach and Artichoke Dip.
One of my favorite ways to trim down a recipe is with cottage cheese instead of a high-fat content item such as mayonnaise or sour cream.  For example, I have blended it and used it in my 4 State Cheddar, Bacon, and Kale Hash Brown Casserole, and I use it to substitute for ricotta in my lasagna.  I can't wait to try cottage cheese in these tropical smoothies  created by Wicked Noodle (don't they look spectacular?) and of course I often use it in dips, such as this one.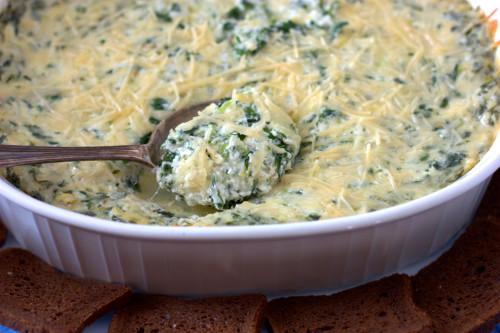 I have used my food processor to puree the cottage cheese until smooth, and then I stir in some chopped up artichoke, spinach, and shredded pepperjack cheese to give the dish some kick. A bit or parmesan is sprinkled on top to give it some extra color and flavor.  A mere 30 minutes in the oven produces a warm Skinny Spinach and Artichoke Dip that is just as satisfying as the higher calorie versions.  Only with this recipe you won't feel guilty if you scarf down a third of the bowl by yourself (like I did).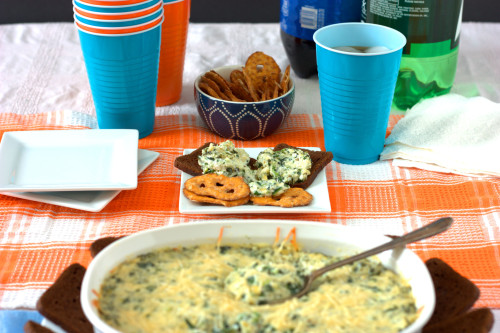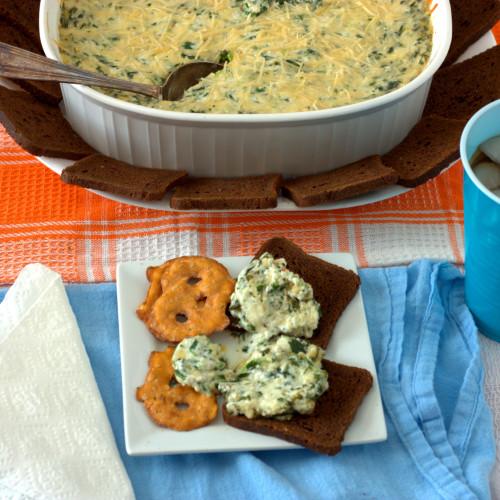 I'm sure the color scheme of my photos didn't escape you – how could I not put in a vote of confidence for the local Broncos?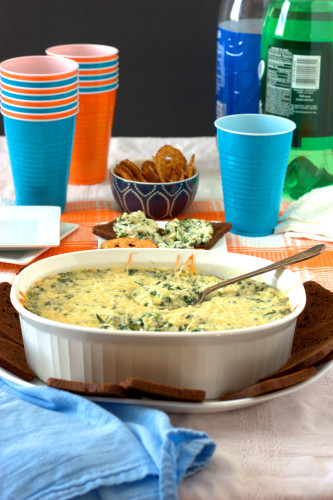 ---
Skinny Spinach and Artichoke Dip
24 ounce low fat cottage cheese
1 cup drained artichoke hearts canned in oil
8 ounces frozen spinach, thawed and well drained
4 ounces shredded  pepperjack cheese
2 teaspoons Worcestershire sauce
½ cup grated parmesan
Bread, crackers, or chips for serving
Preheat oven to 350 °F.
Blend  the cottage cheese in a food processor until smooth, and pour into a large dish.  Next pulse the artichoke and spinach in the food processor until small pieces are formed. Stir the artichoke, spinach, hot pepper cheese, and Worcestershire sauce into the cottage cheese until well blended. Pour the dip into a 1.5 quart ceramic dish, smooth the surface of the dip and sprinkle the parmesan cheese on top in an even layer.  Bake for 30 minutes or until bubbly and parmesan begins to brown.  Serve with rye cocktail bread, or chips as desired.
(480)