A few weeks ago on my post about popcorn I mentioned that my family had visited a specialty oil store in June.  One of the other items I picked up during this trip was blueberry balsamic vinegar. What I love about flavored vinegars is that you can often make a simple, extremely flavorful vinaigrette of only oil and vinegar, which is what I did for a Spinach and Salmon Salad with Blueberry Vinaigrette.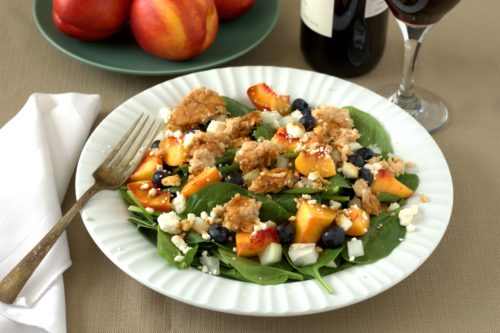 This salad is a powerhouse of good-for-you ingredients: spinach, blueberries, salmon, and onions.  The feta and nectarines, as well as the blueberry vinaigrette, add great color and balance the salty and sweet flavors.  For convenience and to keep the dish light, I opted to use salmon packaged in a pouch. I really like the latest trend of foil packaging instead of cans of salmon (and tuna) which eliminates the mess of draining water or oil.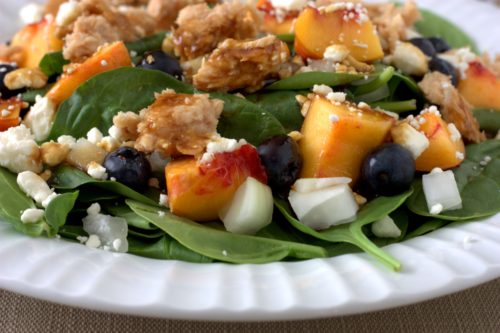 This Spinach and Salmon Salad is extremely easy to prepare.  In fact, the hard part for me is picking which flavored vinegar I want to try. Do you have favorite flavored vinegar?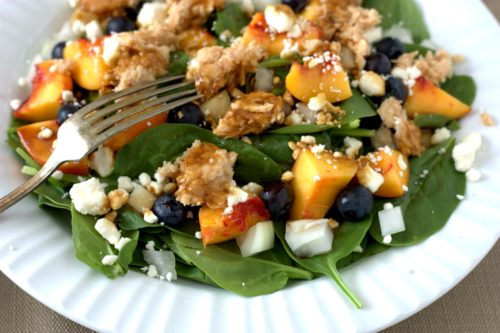 ---
Spinach and Salmon Salad with Blueberry Vinaigrette
4 cups fresh, baby spinach
½ cup fresh blueberries
½ cup diced Vidalia onion
½ cup crumbled feta
2 nectarines, pitted and cubed
5 ounce package of boneless, skinless pink salmon
2 tablespoons olive oil
2 tablespoons blueberry balsamic vinegar
Evenly divide the spinach between two plates, then evenly sprinkle the blueberries, onion, feta, and nectarines between both plates. Evenly divide the salmon and place on top of both salads. In a small bowl, stir together the olive oil and blueberry balsamic vinegar. Evenly pour the dressing over both plates and serve. Makes two salads.
(405)