For the first course at my Thanksgiving meal I usually start with a festive salad, but this year I wanted to try a soup. While smooth, root based soups typically abound for the holiday meal, I wanted to go for a chunky, curry corn chowder.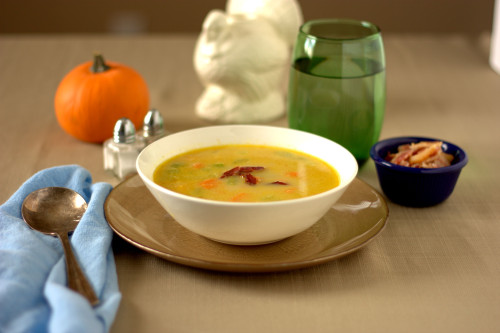 One of the key ingredients I wanted to use is sweet potatoes.   I LOVE sweet potatoes, but my husband doesn't care for them. Somehow that doesn't stop me from picking up a large bag full this time of year. My thinking is that if I sneak them into a soup so filled with other vegetables, maybe he won't even notice that they are there.
In addition to the sweet potatoes, I used a variety of other vegetables: carrots, celery, onion and corn, plus acorn squash to thicken the soup, eliminating the need for flour or corn starch (whoo hoo – gluten free!). To give it a kick, I stirred in just a bit of hot madras curry powder. Not only did it add just a hint of exotic flavor, it ramped up the golden hue of the soup.
The resulting sweet potato & curry corn chowder is a perfect start for a Thanksgiving meal – full of fall flavor yet not too rich that you can't enjoy the rest of your meal. But why wait for a holiday meal? It is easy to whip together and is a great addition to any dinner feast or a tired lunch box.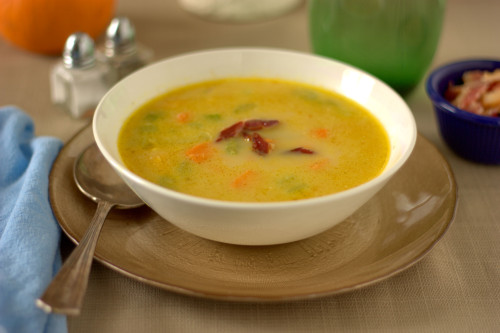 ---
Sweet Potato and Curry Corn Chowder
2 lb acorn squash
¼ cup butter
¼ cup diced shallots
1 cup diced celery
1 cup diced carrots
1 teaspoon freshly minced garlic
3 cups peeled and diced sweet potato
2 cups frozen corn kernels
4 cups chicken stock
2 cups cashew milk
2 teaspoons hot madras curry powder
1 teaspoon salt
Crumbled, precooked bacon (optional)
Preheat the oven to 350 °F. Cut the acorn squash in half and place cut side down in a 9×13 inch pan filled with 1 in of water. Roast for 1 hour or until flesh becomes soft.
In a large pot, melt butter over medium-high heat. Add the shallots, celery, and carrots. Saute for 3 minutes to soften, then add garlic and saute for 1 minute longer. Add the sweet potato, corn, stock, and cashew milk and bring to a boil. Boil for a few minutes or until the sweet potato pieces are tender. Scoop the acorn squash flesh from the skin (equals about 3 cups) and add to a food processor, along with 1 cup of hot liquid from the soup. Blend the acorn squash until smooth, and then add to the soup pot; stir to mix evenly. Add the curry powder and salt to the pot, stirring to evenly distribute. Ladle into bowls and serve with crumbled bacon, if desired.
(571)