When I read about tater tot waffles in a recent edition of Food and Wine magazine I knew I had to give them a try. To keep the treat to a manageable portion I decided to put a spin on it and make Tater Tot Bruschetta.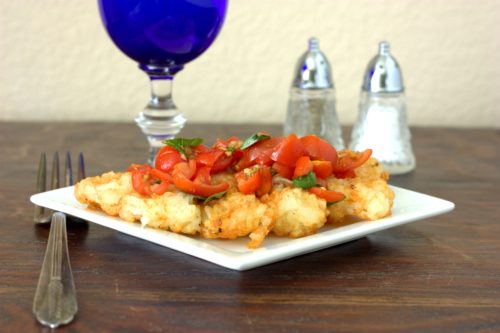 I followed the directions for the tater tot waffle recipe, using a rectangular waffle iron. I cut each waffle in half to serve as my bruschetta base, and then topped them with a heaping portion of diced tomatoes, basil, and garlic coated in a balsamic vinaigrette. While you do need a fork to eat it, I'm sure your guests won't mind.
My whole family loved the tater tot bruschetta, but I'm not surprised. Is there anyone who doesn't like tater tots?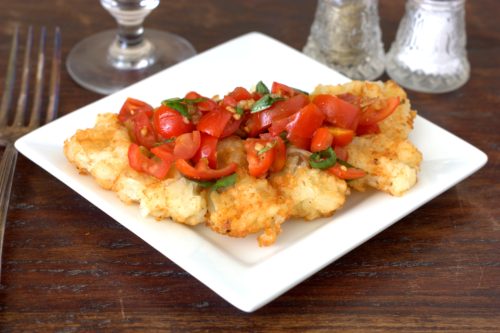 Tater Tot Bruschetta
1 pint baby tomatoes, diced
1 tablespoon minced fresh garlic
8 basil leaves, chopped
2 teaspoons balsamic vinegar
1 teaspoon olive oil
1/8 teaspoon salt
1/8 teaspoon black pepper
2 pounds tater tots, thawed
Heat waffle iron to high; preheat oven to 200°F.
While waffle iron is heating, mix together the tomatoes, garlic, basil, vinegar, oil, salt and pepper; set aside.
Cover the waffle iron surface with tater tots (mine measures 5.5 inches by 7 inches). Close and cook on high until nearly crisp, about 3 minutes. Open the waffle iron and fill in any holes in the waffle with more tots, then close and cook until golden and crispy, 3 to 5 minutes. Transfer to a baking sheet; keep warm in the oven. Repeat with the remaining tots (makes four waffles).
Cut the four waffles in half, top evenly with the tomato mixture and serve. Makes 8 servings.
(157)