Inspired by some festive Halloween pancakes, I decided to create a fun Thanksgiving Turkey Pancakes. This would be a great way to use up some of the candy eyes I bought for my Bat and Spider Cookies and please the kids with a special breakfast. In fact, when grandpa comes to visit they always look forward to his pancake with faces (a.k.a. candy cakes).
For these Turkey Pancakes I used a bit of food coloring to dye the pancake mix and then used condiment squeeze bottles to make a feather shape on the pan/griddle.  With this method, you can easily change out colors and get creative with shape.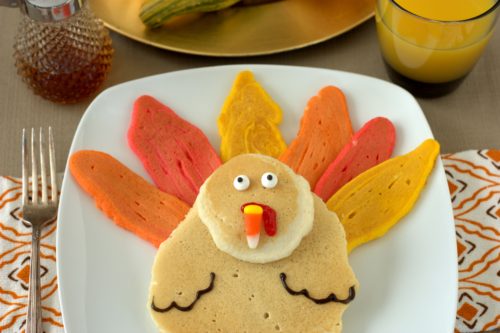 By making each feather separate I create the turkey shape one piece at a time, and then garnish with candy eyes, candy corn, and colored food decorating gel to complete the Turkey Pancakes. 
The kids thought they were a hoot, though they did tell me Grandpa is the one who makes fun pancakes. Oops – I guess I stepped on Grandpa's specialty.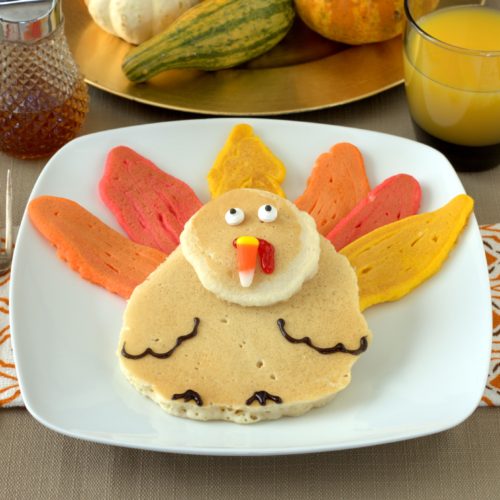 ---
Turkey Pancakes
2 cups pancake mix
Milk or water per mix directions
Red and yellow food dye
3 Condiment squeeze bottles
4 Candy eyes
2 pieces candy corn
Red decorating gel
Black decorating gel
 Mix pancake mix with water or milk according to package directions, then divide into four bowls. Use  the red and yellow food dye to color one bowl red, one yellow, and one orange.  Scoop the colored pancake mix into each of the three condiment bottles. Prepare a griddle or pan over medium high heat.  Once hot, use the squeeze bottles to pour the colored pancake mix onto the pan/griddle in the shape of feathers.
Remove from heat and set aside.  With the remaining uncolored pancake mix make two large and two small, round pancakes.
 To plate, evenly divide the colored feathers between two plates in a fan shape.  Place one large, round pancake on each, and then one small round pancake on top. Using the dab the back of the candy eyes with gel and place on the small round pancake, then place one candy corn in the middle of each small round pancake as a beak. Use the red gel to paint on a waddle, and use the black gel to draw on wings and feet and serve.
Note: Making each feather separate allows for better control. While you can make the feathers and body in one pancake, it is challenging to flip and gets heavy which can cause the pancake to tear.
(504)