If you like to add a bit of extra flair to your Valentine's Day meal, these Valentine Brandy Ball Cookies are right up your alley.  Much like the Christmastime favorite rum balls, these cookies are a no-bake option that are easy to whip up. Simply crush some vanilla wafers, add a few mix-ins, use brandy and corn syrup as binders and roll in powdered sugar – done! You'll have made a special treat AND have time to spare to spend with your loved ones.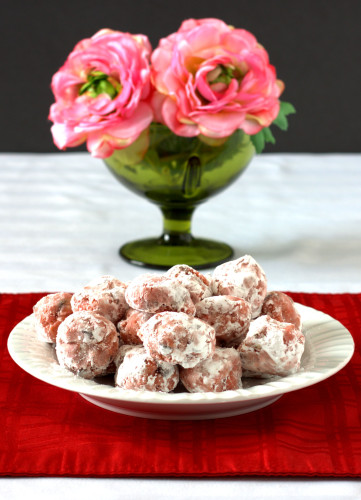 To make these Valentine Brandy Ball Cookies I started with a classic Rum Balls recipe (I chose Emeril's) and then tweaked it. More specifically, to make these cookies fit for the heart-filled holiday I did two things: (1) made them a pretty shade of pink and (2) incorporated chocolate and figs, which are considered to be aphrodisiacs (it can't hurt, right? Plus they added great texture). I also swapped the brandy for rum, giving the cookies a flavor similar to a really good fruit cake (and yes there ARE good fruit cakes – I will have to share mine next Christmas).
 The Valentine Brandy Balls got a nod of approval from my hubby (note: these do pack a fair amount of brandy per cookie and should be considered adults-only) and quickly disappeared from the plate. That means they make the cut for our at-home celebration next week, which will include my Lobster Bisque. With our meal planned, perhaps I should move on to choosing a gift for my love!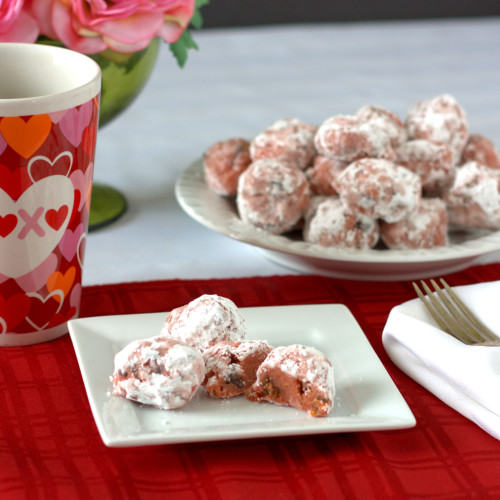 ---
Valentine Brandy Ball Cookies (a.k.a. Love Potion Bites)
2 ½ cups vanilla wafers, crushed to fine powder (10 ounces)
½ cup chocolate chips
½ cup diced dried Turkish figs
½ teaspoon allspice
1 ½ cups confectioner sugar, divided
2 tablespoons light corn syrup
½ cup brandy
10 drops red food coloring
 In a large bowl, mix together the crushed vanilla wafers, chocolate chips, fig pieces, allspice, and one cup of confectioners' sugar.  Pour in the corn syrup and brandy and stir until well mixed.  Add the drops of food coloring and mix until the dough turns light pink.  Refrigerate dough for at least three hours.
Place the remaining 1/2 cup confectioners' sugar in a shallow bowl or dish.
Using a tablespoon, scoop out portions of the cookie mixture and press into 1-inch balls. Roll the cookie balls in the confectioner sugar and place in an air tight container, separating layers of the cookies with wax paper.  Store in the refrigerator until ready to eat; makes 24 cookies.
(548)