Contest Note: By posting this recipe I am entering a recipe contest sponsored by the Wild Blueberry Association of North America and I am eligible to win prizes associated with the contest. I was not compensated for my time.
I find smoothies are a fun, easy way to get my kids to eat a quick and healthy breakfast which they believe is a real treat. Take for example this Wild Blueberry Tropical Smoothie. The base of wild blueberries adds intense flavor, has double the antioxidants of fresh blueberries, and adds beautiful royal hue, whereas the pineapple adds fiber and a hint of tropical flare. The mango kefir and coconut milk also help set the tropical tone, while adding protein, calcium, vitamin D, and vitamin B12 to the power drink. The addition of flaxseed meal ups the fiber once again and adds a serving of omega-3s. Finally, the lime zest and juice finishes off the drink to give it an over the top tropical taste. The result is a refreshing, satisfying and good-for-you smoothie the whole family will enjoy.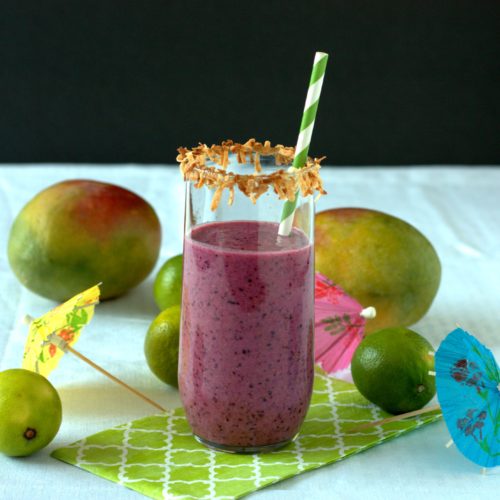 I couldn't help serving this Wild Blueberry Tropical Smoothie in a glass garnished with toasted coconut and whimsical straw. Even with a busy morning, the garnish doesn't take much time. Simply add sweetened, shredded coconut to a non-stick pan and cook over medium-high heat for 2-3 minutes, stirring frequently. A dab of honey is all it takes to get it to stick to the glass!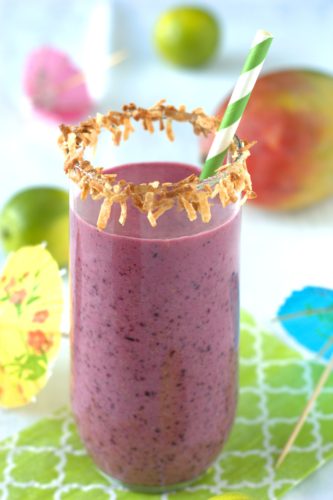 Wild Blueberry Tropical Smoothie
1 cup frozen wild blueberries
½ cup frozen pineapple slices
1 cup mango flavored kefir
½ cup coconut milk
4 tablespoons flaxseed meal
Zest and juice of 1 lime
Toasted coconut and honey for garnish (optional)
Place the wild blueberries, pineapple slices, kefir, coconut milk, flaxseed meal, lime zest, and lime juice in a blender. Blend until smooth. Pour into two garnished (If desired) glasses and serve immediately.
For garnish: add sweetened, shredded coconut to a non-stick pan over medium-high heat. Cook, stirring frequently, until coconut is light brown in color, about 2-3 minutes. To garnish glass, coat the rim of a glass with a bit of honey and roll in the toasted coconut.
#AD, #Sponsored, #WildYourSmoothie
(210)