I couldn't wait for The Saucy Mama blogger challenge to open this year.  I absolutely fell in love with the Saucy Mama products when I entered my Baked Tarragon Lemon Sea Scallops in last year's contest and I must admit I trolled their website the weeks leading up to this year's contest to make sure I didn't miss it.  The products I chose to experiment with in the kitchen were:
Saucy Mama Poblano Ranch Dressing

Saucy Mama White Balsamic & Honey Dressing

Saucy Mama Parmesan Marinade

Smoky Garlic Mustard

Champagne and Honey Mustard

Apricot Ginger Mustard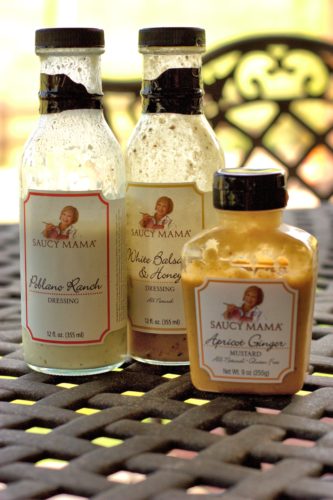 Once I tasted the Apricot Ginger Mustard I just knew I had to build a recipe around it.  The sweetness of the apricot and zing of the ginger are perfectly balanced, which I thought would make an excellent topper for salmon. I complimented the Apricot Ginger Mustard with a bit of Saigon cinnamon and I divided the cooking time of the salmon between searing for a textured crust and baking for even tenderness.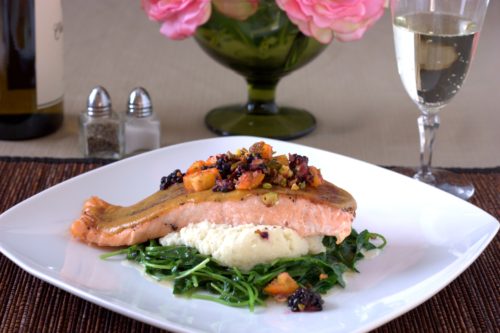 Even though the Apricot Ginger Salmon is the main attraction, I utilized two other Saucy Mama products in the equally as tasty accompaniments. A cauliflower puree with the consistency of mashed potatoes earns its flavor from the Poblano Ranch Dressing, and the watercress that has been wilted to tame its spiciness (and pack in more servings per plate) is tossed with a bit of White Balsamic & Honey Dressing.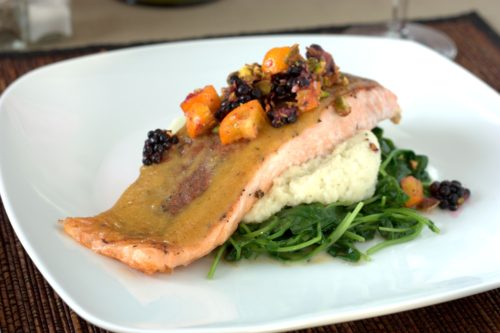 The plated dish, which was garnished with a dusting of kumquats, blackberries, and pistachios, made my husband utter an audible "wow", which is always a welcome compliment to any cooking contester.  Even better, he said he felt like he had dined in a fancy restaurant – I just hope the judges agree with his review!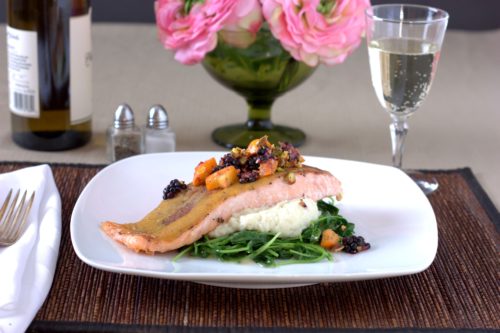 ---
Apricot Ginger Salmon with Poblano Cauliflower Puree, and Wilted Watercress
2 tablespoons crushed pistachio meat
4 blackberries, diced (~ 2 tablespoons)
2 kumquats, diced (~2 tablespoons)
1/8 teaspoon salt
1/8 teaspoon black pepper
½ teaspoon Saigon cinnamon
2, 6-7 ounce boneless, skinless salmon filets
8 ounces frozen cauliflower
2 tablespoons water
2 tablespoons Saucy Mama Poblano Ranch Dressing
2 tablespoons Saucy Mama Apricot Ginger Mustard
2 tablespoons unsalted butter
4 ounces fresh watercress leaves
2 tablespoons Saucy Mama White Balsamic & Honey dressing
Preheat an oven to 400°F.
In a small bowl, stir together the pistachios, blackberries, and kumquats; set aside.
In a separate small bowl, stir together the salt, pepper, and Saigon cinnamon; set aside.
Place the cauliflower and water in a microwave safe bowl with a lid and microwave for 6-8 minutes, or until cooked throughout.  Drain the cauliflower than add to a food processor. Process the cauliflower until rice sized chunks are formed, pour in the Poblano Ranch dressing and then process again until smooth; keep warm.
Place a cast iron skillet over medium-high heat. Pat the salmon filets dry, then sprinkle the salt mixture evenly over the top side of both filets, spreading with your fingers to cover the entire top evenly. Once the cast iron skillet is hot, place the salmon filets in the pan, salted side down, and sear for 3 minutes. Turn off the stove, flip the filets over, top each filet with 1 tablespoon of the apricot-ginger mustard, spreading evenly over the entire surface, then transfer the skillet to the oven and bake for 6 minutes.
While the salmon is baking, melt the butter in a large saute pan.  Add the watercress and cook for about 2 minutes, stirring frequently, until watercress is just wilted.  Add the Saucy Mama white balsamic & honey dressing and stir to coat.
To plate, divide the watercress between two plates, top with even amounts of the pureed cauliflower, then place one salmon filet over each pile of pureed cauliflower.  Evenly sprinkle the kumquat relish over both filets and serve immediately.
(351)