Let it be known that I am not a gardener. I had tried container gardening about a decade ago, which turned out to be a complete disaster.  I vowed to wait until I had more space and could have a raised bed garden.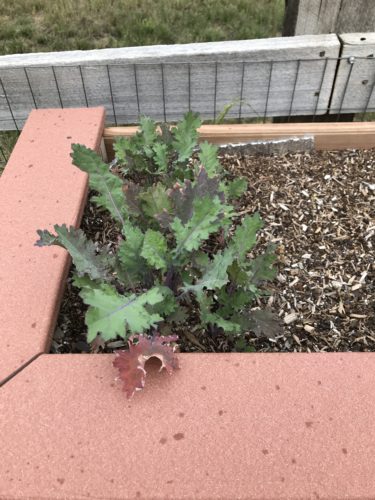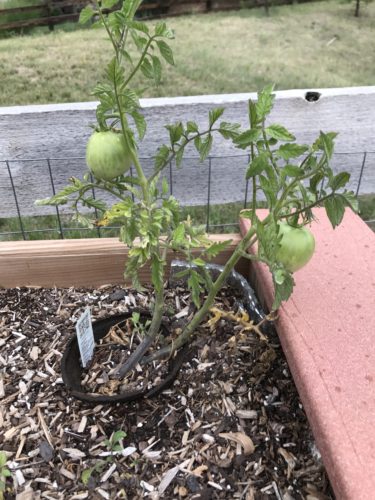 My husband and I finally got around to making a raised bed this summer.  We planted kale, spinach, green onions, and tomatoes – all mostly from seed.  We planted one seedling tomato plant since that was all that looked decent by the time we bought plants this year (we had extremely late May snow and hail in Colorado this year). We had high hopes and thought the kids would have a lot of fun watering the garden and watching the plants grow.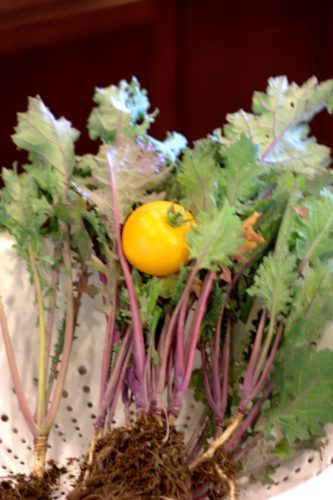 After a summer of cultivating we netted only a small bowl full of kale and 1 tomato. You may notice that I have two ripening tomatoes on my plant in the picture, but one lost its life to a curious kiddo who "gently squeezed it" and left a hole in its side.
To celebrate our bounty I made a kale and tomato salad with bacon-avocado vinaigrette (recipe below). While the serving shown is small, rest assured that I shared the tomato with the entire family.  We each got two, small slivers and declared that is was the best tasting and most expensive tomato we had ever eaten.
---
Bacon-Avocado Vinaigrette
1 small avocado
¼ cup white wine vinegar
1/3 cup avocado oil
1 slice of cooked, crisp bacon
½ teaspoon salt
¼ teaspoon black pepper
½ teaspoon minced onion
Place the avocado in a food processor and blend until smooth.  Add the vinegar, oil, and bacon and process again until smooth.  Stir in the salt, pepper, and minced onion.  Refrigerate until ready to use.
(145)