Broccoli Salad seems to be one of those dishes that is a go-to for potlucks and parties.  Most recipes though mix in raisins and are coated in a mayonnaise sauce, which I wasn't in the mood for this week. Instead, I opted for a Broccoli Salad that had more of a Mediterranean vibe.
 I mixed in feta, baby tomatoes, parsley, and walnuts for a refreshing dish. Oh, and did I mention bacon?  You can't go wrong with adding bacon to a Broccoli Salad.  A simple lemon juice and olive oil vinaigrette is all that is needed to dress the salad.  This dish was just as much of a hit as the classic recipe – why not give it a try at your next gathering?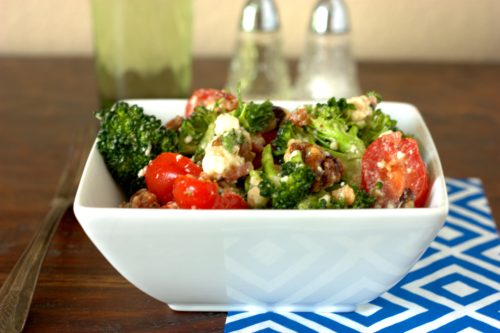 ---
Broccoli Salad
½ pound broccoli pieces
1 cup crumbled feta cheese
½ pound baby tomatoes, halved
½ cup curly parsley, chopped
¾ cup walnut pieces
¼ cup crumbled bacon
1/3 cup olive oil
2 tablespoons lemon juice
1 tablespoon sugar
½ teaspoon salt
¼ teaspoon black pepper
Place the broccoli, feta, tomatoes, walnuts, parsley, and bacon in a large bowl. In a separate dish, mix together the oil, lemon juice, sugar, salt, and pepper.  Pour over the broccoli and stir to combine until the salad is mixed and evenly dressed.  Serve; store any leftovers in the refrigerator.
(131)