The tradition of Bridal Showers over the last few centuries has been to help the new bride start off married life with some essentials, including those for the kitchen. At my bridal shower, this included a recipe from each attendee which they wrote on notecards and compiled in a book. The recipes ranged from personal favorites to easy camping concoctions and covered all categories.
One of my favorites in the book is the Chopped Veggie Salad added by my mom. She had found the recipe in Women's Day magazine and knew I had enjoyed it whenever she prepared the dish. I still enjoy the salad, as I find it is a refreshing combination, perfect for spring and summer gatherings.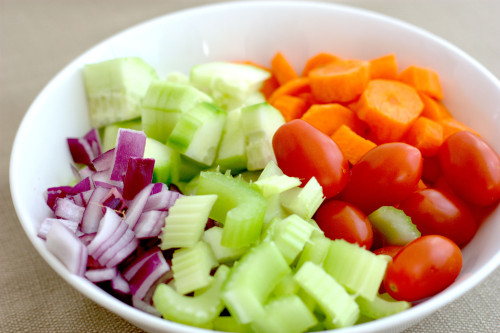 When I make my Chopped Veggie Salad, I stay close to the original recipe, with a few slight modifications. I like to double the amount of carrots and trade out the vinegar variety (I used a flavored balsamic for the one pictured). This time I also decided to use black radishes for an unusual pop of color.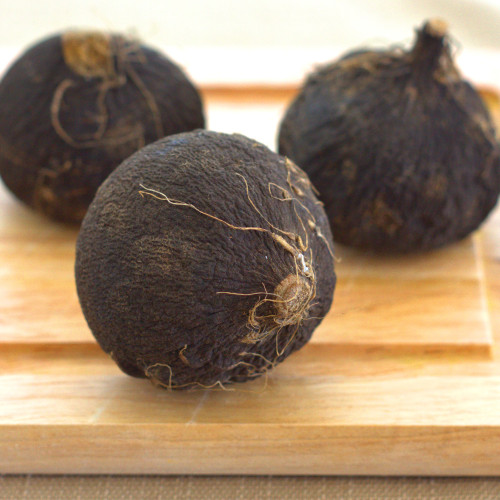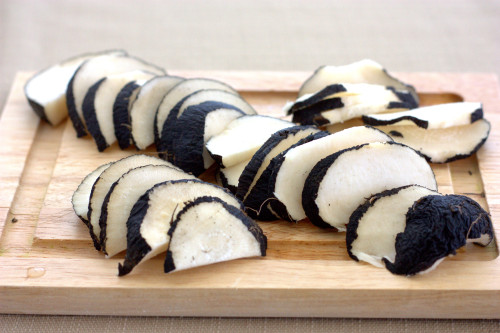 Black radishes add a pungent bite, a bit more so than the red variety. Their black skin is aesthetic only, as the dark skin gives way to a creamy white center. Make sure to buy firm black radishes, as they can get tough. If you can't find black radishes, don't worry, since all radishes taste good in this salad.  I can't think of any better way to get so many vegetables packed into one dish, while at the same time serving such a delicious dish that second servings are a must!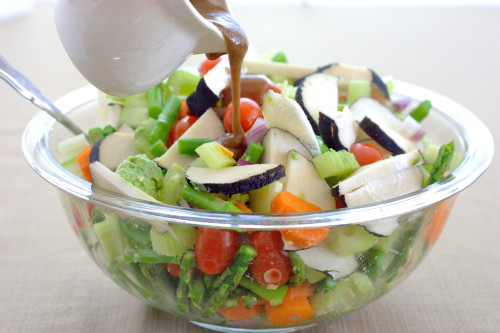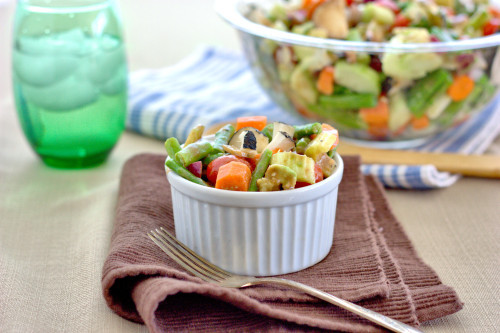 ---
Chopped Veggie Salad
Slightly modified from Women's Day
2 tablespoons Dijon mustard
2 tablespoons raspberry-balsamic vinegar
1 teaspoon salt
½ teaspoon pepper
1/3 cup olive oil
1 lb fresh asparagus, cut into 1-inch pieces
4 large carrots, peeled and sliced
2 ribs celery, sliced
1 cup black radishes, chopped (you can substitute any other radish)
1 medium cucumber, chopped
1 pint grape tomatoes
½ cup finely diced red onion
1 large firm-ripe avocado, peeled and chopped
In a small bowl, whisk mustard, vinegar, salt, and pepper until combined. Whisking constantly, slowly add oil until well blended; refrigerate until ready to use.
Bring a large saucepan of water to a boil. Add asparagus; cook 1 1/2 minutes. Add carrots and cook for 1 minute longer. Drain and chill in ice water. Drain again and pat dry with paper towels. Transfer to a serving bowl. Add remaining vegetables to bowl. Mix dressing (if separated), add to bowl, and toss to mix vegetables and coat. Serve immediately.
(855)