One of the ways I express my love for others is through the food I make. It doesn't matter if the recipe is detailed or easy, but that I have cared enough to put consideration and love into it.
Take, for example, a simple rice cereal treat. These treats were a staple on camping and climbing trips for my husband and I, back when we were dating.  They packed well and we both loved them.
This weekend I took a traditional recipe and swapped out 1 cup of rice cereal for 1 cup of sweetened, shredded coconut. Since my hubby loves coconut, you can bet they were a well-received treat. The kids loved that I went the extra step and cut out hearts and drizzled a bit of colored candy melts and sprinkles on the top.
Complicated? No. But did it show that I cared? You bet.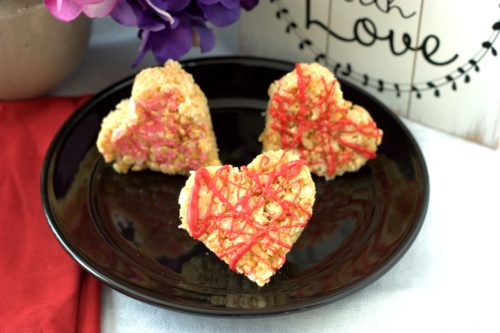 ---
Coconut Rice Cereal Treats
4 tablespoons butter
4 cups mini-marshmallows or 10 ounce bag of large marshmallows
5 cups crisped rice cereal
1 cup sweetened, shredded coconut
Melt butter in large sauce pan over low heat. Add marshmallows and stir until melted and well-blended. Cook 2 minutes longer, stirring constantly. Remove from heat. Add cereal and coconut and stir until well coated. Using buttered spatula or waxed paper, press mixture evenly and firmly in buttered 13 x 9 inch pan. Cut into squares when cool and serve.
(96)