Every January, Healthy Solutions Spice Blends hosts a recipe contest. Of course this means I can't wait to enter.  All of their products are great low salt and low sugar options, without sacrificing taste.
This year I decided to experiment with the Ultimate Burger blend.  While the namesake might lead you to think that my recipe entry is a juicy burger, think again! I used it to make an amazing vinaigrette to create my Ultimate Beet Spiral Salad.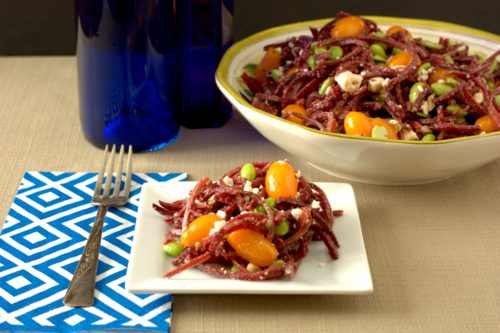 The Healthy Solutions Ultimate Burger blend is mixed with a bit of olive oil and red wine vinegar to make a well balanced and low salt dressing. I used the vinaigrette to dress a salad of raw beet spirals, shelled edamame, baby tomatoes, and feta for a light and healthy salad that is sure to be a crowd pleaser.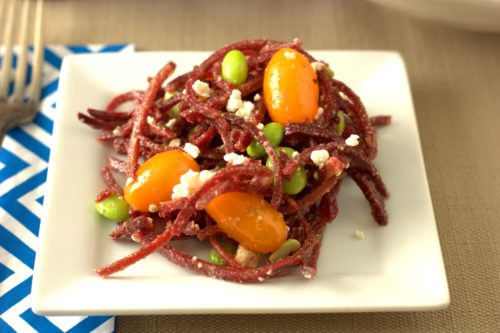 ---
Ultimate Beet Spiral Salad
10.7 oz. (~4 cups) red beet spirals
½ cup shelled edamame, cooked and cooled
1 cup orange baby tomatoes
½ cup feta cheese
½ cup olive oil
¼ cup red wine vinegar
2teaspoons Healthy Solutions Spice BlendsTM Ultimate Burger
Place the beet spirals, edamame, baby tomatoes, and feta in a large bowl and stir to toss.  In a separate, small container, mix together the oil, vinegar, and Ultimate Burger spice blend until uniform.  Pour the dressing over the beet salad and toss to coat.  Serve.
(140)