When I plan a special meal, such as holiday gatherings or a Valentine's Day dinner, I like to start with a fancy salad. Making a special salad such as this Endive and Watercress Salad looks and tastes impressive, yet doesn't require much more effort than your everyday iceberg and tomatoes version.
I took inspiration from two different salad recipes I had saved from magazines (one from Good Housekeeping  and one from Better Homes and Gardens), switching out the dressings for a balsamic vinaigrette and replaced walnuts with pecans. I added currants for extra sweetness and kept the presentation as a tossed salad, which was easier to prepare for a large gathering ( I made a double batch for our Thanksgiving dinner this past year).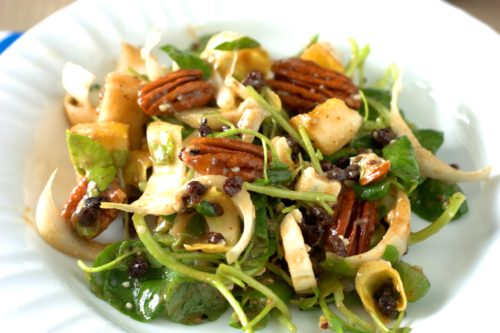 This Endive and Watercress Salad was a huge hit, and I had multiple family members ask for the recipe.  I'm sure it will be a keeper in your house too!
---
Endive and Watercress Salad
1 package of watercress, (2 cups chopped)
2 endives (1/2 pound)
1 large Bartlett pear, cored and chopped
½ cup dried currants
½ cup blue cheese crumbles
½ cup pecan halves
1/3 cup balsamic vinaigrette dressing
Remove the watercress from the package, and remove the roots.  Wash and roughly chop the watercress and place it in a large bowl.  Chop the endive in thin rings and add to bowl.  Add in the pear pieces, currants, blue cheese, and pecans and toss.  Pour over the vinaigrette and toss until coated evenly.  Divide between four salad plates and serve.
(117)