If flash fried brussels sprouts can take my husband from loathing to loving the mini cabbages, then I'm pretty confident this recipe will make everyone a lover of these little orbs.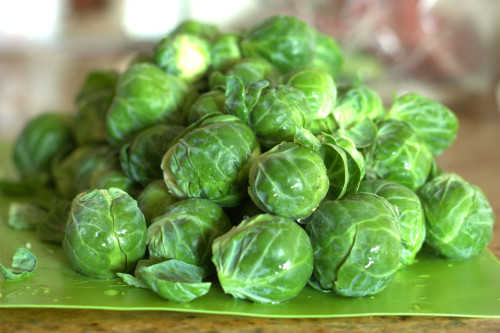 I haven't often made brussels sprouts since my hubby has made known how much he detests them. One of the last times I did, he declared that they, "tasted like dead zebra butt." Not that he or I knows what that would taste like, but the statement was certainly catchy enough for our toddler to parrot back the phrase.
Fast forward to a few weekends ago when we managed to slip off for a date and the waitress (who we have never met) told us to trust her and that we just had to try the brussels sprouts. On a whim we did, which turned out to be a great decision. We fell in love with the flash fried dish, so much so that we order a second helping!
With a new found love of flash fried brussels sprouts I knew I had to recreate the dish at home. A quick, 5-minute dip in the fryer is all these veggies need to turn them into the tasty, golden appetizer.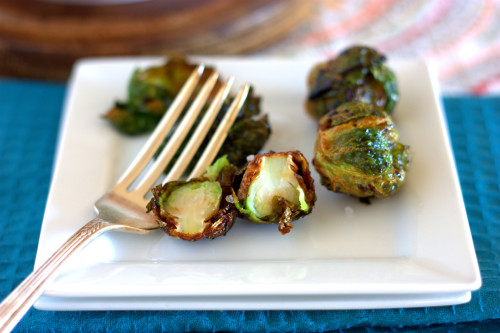 A generous lather of balsamic reduction and a sprinkle of sea salt finishes off the dish, which can be eaten as an appetizer or served as a side with dinner (if the chef can keep from eating them all before they hit the table). These are now such a hit that I'm going to add them to our Thanksgiving menu!
---
Flash Fried Brussels Sprouts with Balsamic Drizzle
1 ½ lb brussels sprouts, washed and dried
Enough vegetable oil, about 60-70 ounces
½ cup balsamic vinegar
2 tablespoons honey
Coarse sea salt
Add the vegetable oil to a deep fryer or to a large pot and bring to 375 °F. Trim the ends off the brussels sprouts and cut any large ones in half. Working in batches, fry the brussels sprouts for 5 minutes. After 5 minutes of frying, remove the brussels sprouts from the oil and place them on a paper towel lined platter to drain and cool.
Add the vinegar and honey to a small sauce pan. Place over medium heat and stir frequently, until the vinegar is reduced by half and begins to coat the back of a spoon, about 5 minutes. Transfer the brussels sprouts to a large bowl and pour the reduced balsamic vinegar over the brussels sprouts and toss to coat.  Sprinkle with sea salt to taste.
(14426)