The fresh, perfectly ripe nectarines looked so inviting on my latest trip to the grocery store that I just had to stock up to make a crisp. Even with peak August heat, turning on the oven to make the bubbly, oat topped treat is so worth it.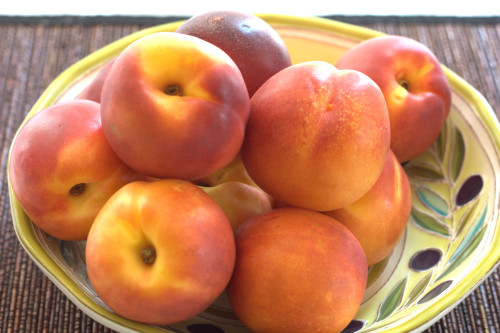 What I love about making crisps is that they are super easy to throw together. To make this nectarine and blueberry crisp I tossed together chopped nectarines, blueberries and corn starch.
Then, the fresh fruit is topped with a simple mixture of rolled oats, brown sugar, and flax seed meal cut with butter to make a crumbly crust. Just 30 minutes in the oven is all is needed to transform the dish into a perfect end-of-summer dessert.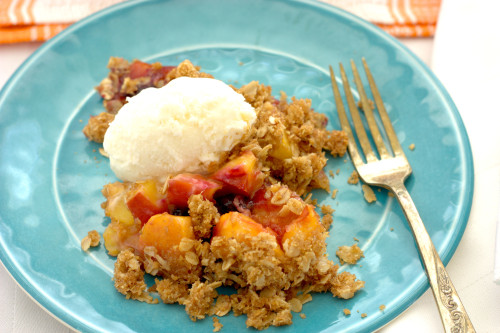 If you are lucky enough to have some leftovers, it makes a delicious breakfast too!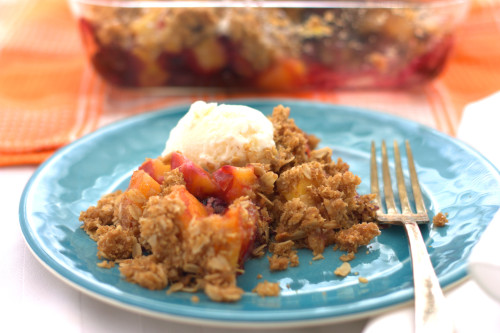 ---
Nectarine and Blueberry Crisp
6 ripe nectarines, pitted and chopped (about 4 cups)
1 cup fresh blueberries
3 tablespoons cornstarch
1 cup rolled oats
½ cup flax seed meal
½ cup light brown sugar
1 teaspoon apple pie spice
½ cup butter, chopped
Vanilla ice cream (optional)
Preheat the oven to 350 °F. Place the nectarines and blueberries in a 2-quart square baking dish. Sprinkle the cornstarch over the top and toss gently to coat. In a separate bowl, stir together the oats, flax seed meal, brown sugar, and apple pie spice. Cut in the butter until crumbly. Sprinkle over the nectarine mixture. Bake, uncovered, for 30 minutes. Serve warm, with ice cream, if desired.
(1651)