I don't know how I have never heard of fried olives until now.  On a recent work trip I noticed them on a menu and I was instantly intrigued.  I just HAD to make these at home. A multitude of recipes abound on the internet, but for my first batch I decided to stick with a classic mozzarella filling for the fried olives.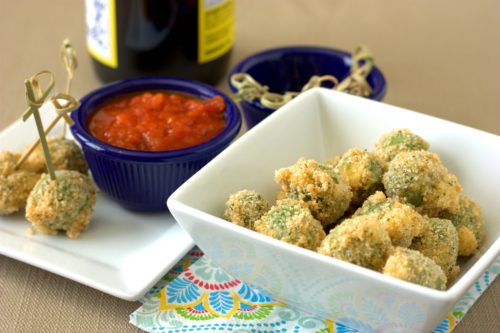 I also wanted to keep it simple – I used a mozzarella cheese stick cut into nibs that would easily slide into the center of the pitted olives.  A dredge in flour and then a dunk in egg and seasoned bread crumbs is all the coating that is needed.  The olives are fried for only a minute, but that is long enough to give them a crunchy exterior.
It should come as no surprise that they were a hit with my hubby, so you can be sure these fried olives will be made for our next family gathering!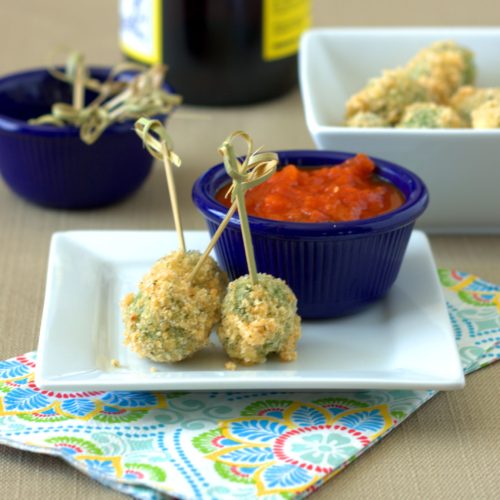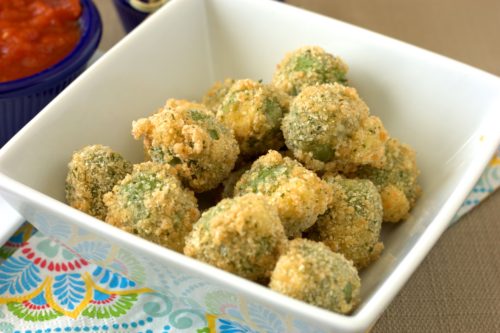 ---
Fried Mozzarella Stuffed Olives
Canola oil for frying
One, 0.75 ounce mozzarella cheese stick
24 pitted Castelvetrano olives, drained (about 4 dry ounces)
1/8 cup all-purpose flour
1 large egg, beaten
¼ cup seasoned bread crumbs
Marinara sauce for serving
Place oil in a deep fryer according to manufacturer's instructions, or add oil to a large pot to a depth of 2 inches. Heat oil to 350°F.
While oil is heating, cut the cheese stick in quarters lengthwise and then cut each piece into 6 equal sized segments to make 24 mozzarella nuggets. Place one piece of mozzarella in each olive cavity.  Dredge the olives in the flour then coat with the egg and finally coat with the bread crumbs. Fry the olives for 45-60 seconds and then remove from oil and drain on a paper towel lined plate.  Cool for a few minutes then serve with marinara sauce.
Note: I tried these with gluten free flour and bread crumbs, and it doesn't impact taste or quality
(605)