In April I wrote about coming up with creative ways to eat broccoli,  setting a goal of discussing seven different recipes.  Today I want to discuss four more ideas to bring the tally to seven.
First up is my most creative twist – Fusilli Primavera with Broccoli Pesto.  I subbed in steamed broccoli for basil to create a unique and tasty pesto.  It worked great as the sauce for a primavera style pasta that was stocked full of baby tomatoes and summer squash.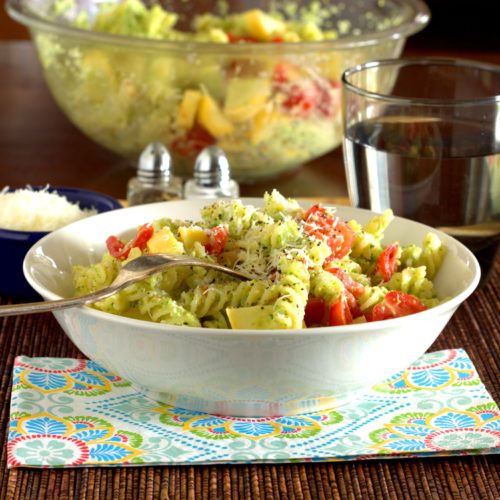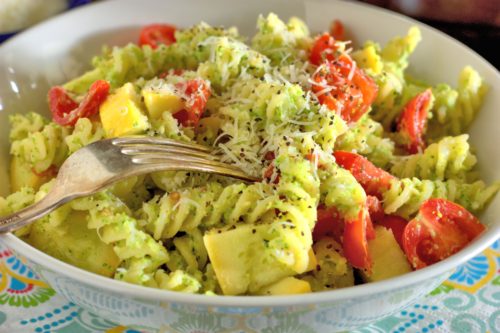 The next kitchen experiment used a grocery store find I have been waiting to try – sriracha powder. Blanched broccoli and honey roasted peanuts get a kick from a light sriracha mayonnaise dressing.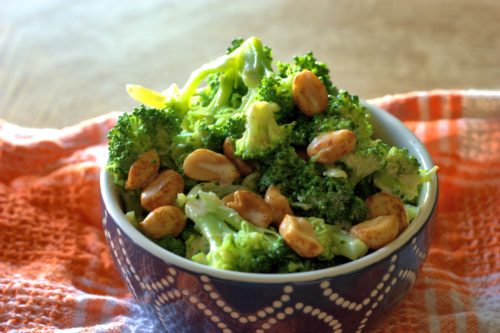 Third up is flash fried broccoli. I used my recipe for flash fried Brussels sprouts, though you only need to fry the broccoli for 2-3 minutes to get a crisp exterior.  This was just as much of a hit with my husband as the fried Brussels sprouts.
As the seventh and final way to eat broccoli in a week I'd be remise if I didn't go with the classic crudité plate. My dipping sauce these days for fresh broccoli is a poblano ranch dressing.
Phew! Seven different ways to eat broccoli in a week.  Now you are either sick of broccoli or an addict.
---
Fusilli Primavera with Broccoli Pesto
¾ lb fusilli
½ lb fresh broccoli
½ cup pine nuts
¼ cup olive oil
¼ cup grated pecorino-romano cheese
¼ teaspoon salt
¼ teaspoon black pepper
1 cup chopped baby tomatoes
1 yellow squash, chopped
Cook fusilli according to package directions.  Meanwhile, steam the broccoli for 5 minutes.  Add the steamed broccoli to a food processor and process until finely chopped.  Add the pine nuts and process until mixed, then with the food processor running, pour in the oil.  Scrap down the sides of the food processor if necessary, and blend until smooth.  Remove the bowl from the food processor and stir in the pecorino, salt, and pepper.  One the pasta is done, drain and place in a large bowl.  Pour the pesto over the pasta and stir to coat.  Add in the tomatoes and the squash, stir until combined and serve.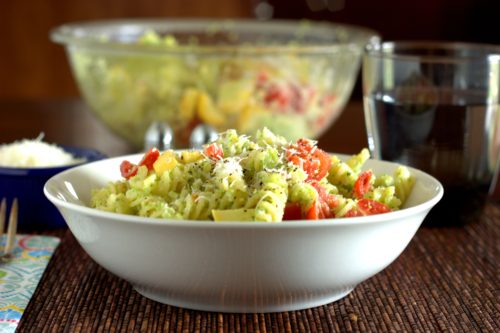 ---
Sriracha Broccoli salad
½ lb fresh broccoli
1/3 cup mayonnaise
1 teaspoon sriracha powder
¼ cup honey roasted peanuts
Blanch the broccoli,  drain and place in a large bowl.  In a separate small bowl, stir together the mayonnaise and sriracha powder until a smooth sauce is formed.  Pour over the broccoli, add the peanuts and stir to coat.  Serve immediately or store in the refrigerator until ready to serve.
(397)