This Kiwi "Sushi" recipe is one that came to me just as I was falling asleep. I was relieved that the idea hadn't faded overnight and I couldn't wait to prepare and photograph the snack. After making my Curry Corn Fritters I knew I had to try a sweet recipe for the So Delicious snackable contest, this time featuring the So Delicious French Vanilla coconut milk creamer.
First the creamer gets stirred with some Saigon cinnamon and chia seeds, then refrigerated to make a pudding. Next some kiwi fruit is peeled using a spoon to achieve a smooth exterior, then cut in half widthwise and cored using a cannoli form (or apple corer) to create a ring of kiwi. The kiwi rings are filled with the chia seed pudding, then garnished with some goji berries and strips of dried mango.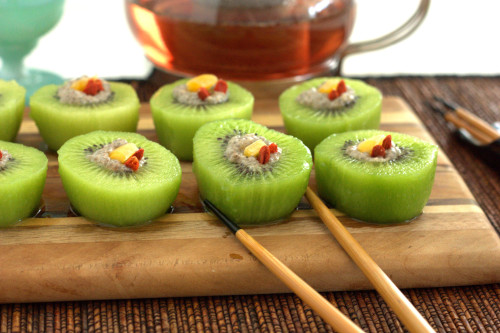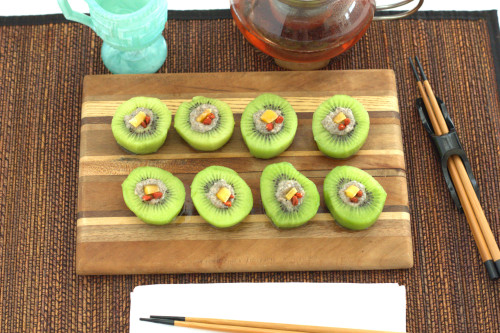 The result is a stunning presentation of Kiwi "Sushi" that is the perfect snack to fix any sweet tooth.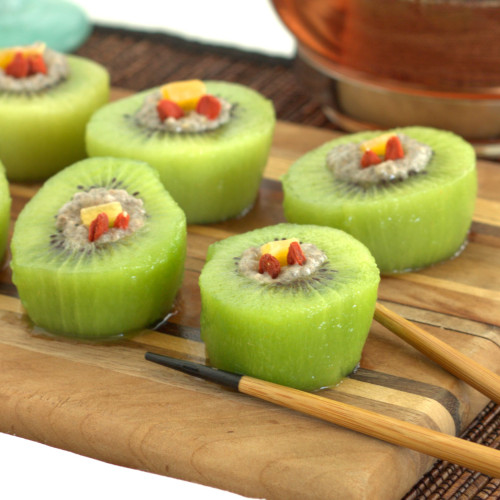 ---
Kiwi "Sushi"
½ cup So Delicious French Vanilla coconut milk creamer
1/8 cup chia seeds
¼ teaspoon Saigon cinnamon
8 large kiwi fruit
1 strip dried mango
16 dried goji berries
In a small bowl, mix together the So Delicious French vanilla coconut milk creamer, chia seeds, and Saigon cinnamon. Refrigerate for 30 minutes. When creamer and chia seeds are chilled and have formed a very thick pudding, prepare the kiwi. Cut the tops and bottoms off of each kiwi (about 1/4th an inch from each end). Next, peel the kiwi fruit using a spoon by sliding a spoon between the skin and the fruit and slowly circling the fruit. Slide the fruit out of the skin and cut in half widthwise. Next, core the kiwi using a cannoli form or an apple corer and reserve the fruit removed from the core for another use. Evenly fill the center of each of the kiwi rings with the chia seed/creamer mixture; set aside. Cut the mango strip into 16, ½-inch by ¼-inch strips. Finally, gently garnish the center of each kiwi "sushi" with two goji berries and one piece of mango pushed into the chia seed pudding center. Makes 16 servings. Serve immediately; refrigerate any leftovers.
(1645)