If you are in search of a quick and easy dessert, look no further.  Grilling angel food cake makes this dish look accomplished with minimal effort.  In addition, by grilling the cake it gains a toasted marshmallow flavor which is always a crowd pleaser.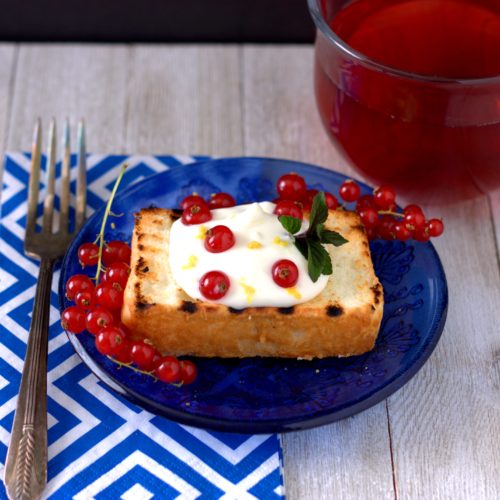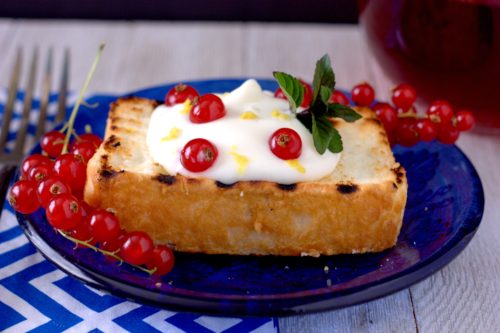 The grilled angel food cake is merely a vehicle for the two other flavorful toppings – lemon Noosa yogurt and fresh currants.  The lemon Noosa has a generous amount of lemon curd mixed into it's creamy base, such that it really tastes like you are eating a lemon whipped cream.  The fresh currants add both a pop of color and burst of tart/sweet to finish the dessert. The final dish is the perfect summer treat. It is both refreshing and light, and requires minimal effort in the kitchen!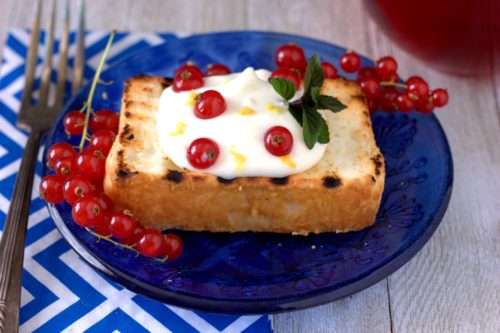 Lemon and Currant Grilled Angel Food Cake
6, 1.5 ounce slices of angel food cake
8 ounce tub lemon Noosa yogurt
6 ounces fresh red currants, de-stemmed
Fresh mint (optional)
Heat a grill to medium heat.  Grill the slices of angel food cake for 1.5-2 minutes per side or until grill marks are formed; remove from the heat.  Stir the noosa yogurt to distribute the lemon curd, then plate by topping each of the grilled angel food slices with an equal amount of yogurt and fresh currants. Garnish with fresh mint if desired and serve.
(182)